The award supports a work of journalism in any medium on significant underreported subjects in the public interest. The Reporting Award's first recipient, Sarah Stillman, returned to Iraq — and made her first trip to Afghanistan — to pursue an investigative reporting project on the wars' third-country nationals. The second recipient, Jina Moore, investigated so-called "vulture funds," distressed debt investors who purchase delinquent debt of sovereign nations, many of them poor.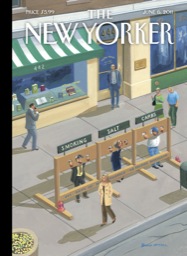 Sarah Stillman's piece, "The Invisible Army," appeared in the June 6, 2011 issue of The New Yorker. Sarah was a visiting scholar and inaugural recipient in 2010 of the Journalism Institute's Reporting Award. Using funds from the Award, which funds articles on under-reported subjects in the public interest, she reported in Iraq and Afghanistan on the plight of foreign workers on U.S. military bases there.
Subsequent awards have supported reporting on the following topics: Haitian earthquake victims; California farm workers; social services denial of parental rights for the mentally ill; the business of medical data collection; the effect of coastal zoning and climate change on residents in northern New England; a shelter for homeless pregnant women; and the health consequences of racial and ethnic inequalities in biomedical research.
In establishing the award, the Carter Journalism Institute's faculty cited the need for encouraging enterprise journalism during a time of extensive layoffs and budget cuts throughout the journalism industry. The American Society of News Editors has reported the loss of 16,200 full-time newspaper editorial jobs from 2003 to 2012, while Ad Age reports the loss of 38,000 magazine positions. These numbers are only partially offset by the growth of about 5,000 jobs at digital news organizations, as reported by the Pew Research Center.
"The severe reduction in resources has a negative impact on all kinds of reporting, but especially investigative because of the high cost of doing it well," said Stephen D. Solomon, associate director of the Institute. "Support provided by the Reporting Award and other nontraditional sources can help fill in some of the gaps."
The Institute will select up to two winners of the Reporting Award. Each winner may receive a different amount of money, at the discretion of the Committee. The maximum award is $12,500. The award is divided into two payments. Each winner will receive an advance of $2,500 on acceptance of the proposal and the signing of the agreement, and is eligible to receive the balance of the agreed-upon award on completion and acceptance of the Work by the November 1, 2016 deadline, provided the Institute's Awards Committee judges the work acceptable. The winner also has use of the Institute's facilities as well as NYU's libraries and other scholarly resources. The Institute expects that the completed work will be published in a reputable media outlet of wide circulation.
View the Reporting Award's recipients, or click here to see the rules for applying.