Event
NYU News Doc Film Festival 2023
The News and Documentary graduate program invites you to a film festival of student films.
February 3, 2023
6:00pm - 8:30pm (and February 4th, 2023 at 1:00pm - 8:00pm)
19 University Place, Room 102
Corner of University and 8th St.
NYU Journalism brings you this NewsDoc film festival featuring student thesis documentaries. These emerging filmmakers fully immersed themselves with their subjects: producing, directing, shooting, and editing as solo crews. The stories they captured reveal fascinating characters, and profound insights from around the world. NYU ID needed or RSVP here.
Each film will be followed by a Q&A with the director.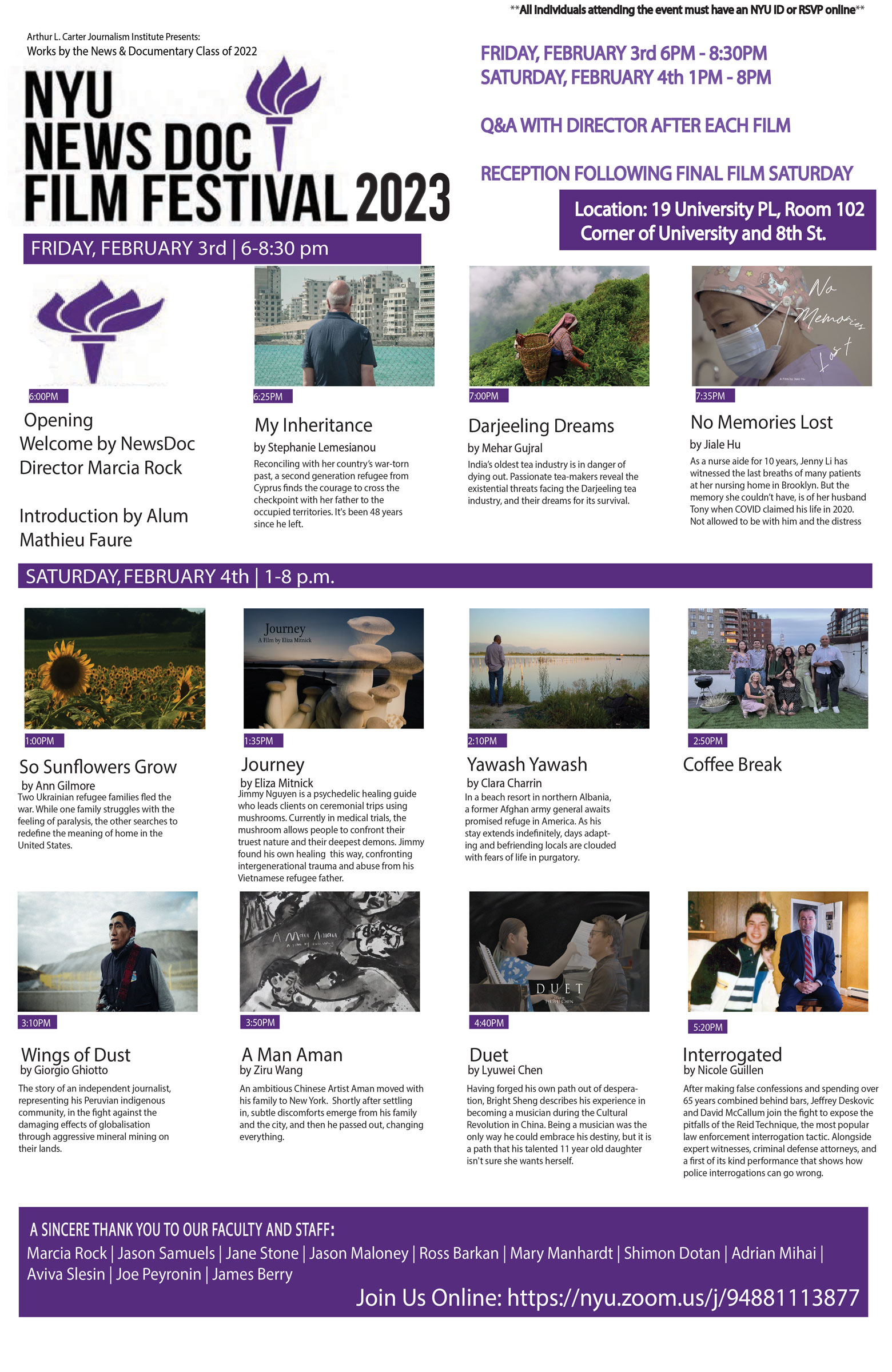 Screening Schedule:
February 3rd, 6:00 pm EST – Opening Remarks by Marcia Rock and Mathieu Faure
February 3rd, 6:25 pm EST – My Inheritance – by Stephanie Lemesianou
February 3rd, 7:00 pm EST – Darjeeling Dreams – by Mehar Gujral
February 3rd, 7:35 pm EST – No Memories Lost – by Jiale Hu
February 4th, 1:00 pm EST – So Sunflowers Grow – by Annie Gilmore
February 4th, 1:35 pm EST – Journey – by Eliza Mitnick
February 4th, 2:10 pm EST – Yawash Yawash – by Clara Charrin
February 4th, 3:10 pm EST – Wings of Dust – by Giorgio Ghiotto
February 4thrd, 3:50 pm EST – A Man Aman– by Ziru Wang
February 4th, 4:40 pm EST – Duet – by Lyuwei Chen
February 4th, 5:20 pm EST – Interrogated – by Nicole Guillen