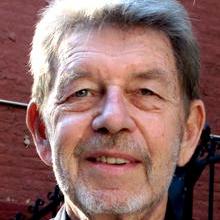 Pete Hamill
Distinguished Writer in Residence
Pete Hamill is a veteran New York journalist and novelist. He's the author of numerous books, including Downtown: My Manhattan, Diego Rivera and A Drinking Life. His nine novels include Snow in August and Forever, both of which were New York Times bestsellers.
Hamill was born in Brooklyn, the eldest son of Irish immigrant parents. After service in the U.S. Navy, he attended Mexico City College in 1956-57, as a student on the G.I. Bill. He began his journalistic career in 1960 at the New York Post. He has covered wars in Vietnam, Nicaragua, Lebanon and Northern Ireland, as well as the domestic disturbances in American cities in the 1960s. His work appeared in the Post, Daily News, and Village Voice. In addition to his many years as a columnist, he has served as editor-in-chief of both the New York Post and the New York Daily News.
At the same time, he wrote for many magazines: the Saturday Evening Post, New York (where he was a contributing writer for 25 years), Esquire and others. He has two daughters and one grandson. He and his wife, writer Fukiko Aoki, divide their time between New York City and Cuernavaca, Mexico.
---
Published Works