Institute Projects
The following are projects and publications that the Arthur L. Carter Journalism Institute sponsors. For more information on the Institute's student publications, click here.
Top Ten / 100 Works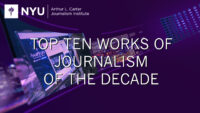 The Top Ten / 100 Works series is a collection of journalism honorees dating back to 1999, organized by Professor Mitchell Stephens. These lists celebrate high achievement in the field of journalism. Nominees were selected and reviewed by a panel of judges, along with faculty at the NYU Arthur L. Carter Journalism Institute.
---
GlobalBeat

GlobalBeat is the New York University Arthur L Carter Journalism Institute's international in-field reporting program for Masters candidates. The class provides students with an immersive opportunity to travel overseas and report on topics including human rights, ethnicity, religion and international development.
---
Urban Journalism Workshop

The Urban Journalism Workshop at New York University is designed to encourage teens to consider a career in journalism. Twenty high school juniors and seniors from the New York City metropolitan area (the five boroughs of NYC in addition to New Jersey, Connecticut and Westchester) are selected to spend 10 days attending an intensive, rigorous multimedia course at the NYU Arthur L. Carter Journalism Institute's new state of the art facilities in Cooper Square.
---
The Reporting Award

The award supports a work of journalism in any medium on significant underreported subjects in the public interest. The Reporting Award's first recipient, Sarah Stillman, returned to Iraq — and made her first trip to Afghanistan — to pursue an investigative reporting project on the wars' third-country nationals. The piece, published in the New Yorker, resulted in a change in federal legislation. Click here for more information on the award, or here for rules and how to apply.
---
Primary Sources

Primary Sources is an online archive of conversations, distilled for the web into short video chapters.  Curated links to online resources about all the subjects are in scrapbooks section and the works section has notes about their major work. The Primary Sources Library contains the full archive of conversations and supplemental material.