Rialda Zukic (2014) films her thesis documentary in Sarajevo, Bosnia.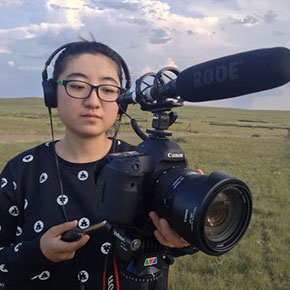 Xue Yu (2014) films her thesis documentary in Inner Mongolia, China.
News and Documentary prepares students to report and produce short form and long form journalism for traditional and non-traditional media. From the first class, students are on the streets reporting, shooting and editing. We emphasize not only the story, but the storytelling. Our goal is to have a student skilled in both form and content, able tell a story by effectively using all aspects of the medium.
The Reporting I class begins with the basics of short form stories in a variety of formats and genres. After a progression of reporting classes, the curriculum culminates with each student producing a thirty-minute documentary. Our News Magazine editing class coincides with the Advanced Reporting class to give extra support to the production of the documentary. News Doc students have the opportunity to take electives university wide.
NewsDoc Alumni on Producing their First Films at NYU
New Master Classes
Not only do students work with full time faculty, but we now have a series of Master Classes that bring in the best independent documentary filmmakers in New York City. We also host filmmaker screenings throughout the year so students can see current work and interact with filmmakers to learn more about the process and different styles.
Our students are in demand for internships at all the major broadcast news organizations and websites in New York as well as at smaller documentary production companies.
Our Specialness
NewsDoc is special because it is among the most creative programs in journalism education. Many journalism programs today use multimedia as a catch phrase: it has become short hand for scratching the surface of everything. The problem with that approach is that you master nothing.
NewsDoc still takes the long view. It values in-depth long form journalism and takes the time to get there. Its curriculum is made up of building blocks with each class and semester layering on what came before. The diverse backgrounds of the faculty – film documentary, broadcast news, TV news magazine, multimedia reporting, even magazine writing – is a testament to the program's respect for storytelling in all forms and exposes students to a variety of tools to draw from. That is how you truly master your craft and it is evident in the annual News Doc Film Festival. You leave us prepared to work in news at the networks, a documentary production company, VICE, New York Times video or on your own.
Fellow Students
NewsDoc also has a tradition of attracting students from all over the world. This commitment to creating an intimate international group each year is the best newsroom setting we can imagine. Students partner on projects, share feedback, and foster a strong professional environment. Most incoming students have two-three years of professional and intern experience in some aspect of journalism but that is not a requirement. We're interested in interesting students who have something to say.
Faculty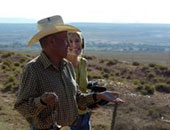 Prof. Rock shooting with Navajo Viet Nam Veteran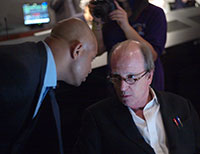 Prof. Samuels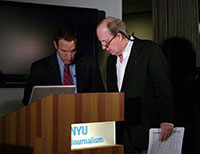 Prof. Joe Peyronnin
Follow Us
New Agenda New York
New Agenda New York is a student-produced site by NYU graduate journalism students. As New York prepares for its new mayor, we bring you a collection of multimedia stories from the city's neighborhoods on the issues that matter today. We cover gentrification, food security, education and more, through neighbourhoods in Queens, the Bronx, Brooklyn, and Harlem.
Please visit our NewsDoc site for more information about the program

Upcoming Events
Recent Published Work