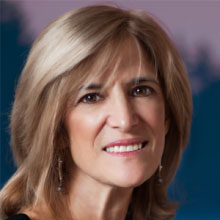 Marcia Rock
Associate Professor | NewsDoc, Director
MARCIA ROCK, producer/director/writer, is an author and three-time Emmy award winning independent documentary producer. Her work covers international dilemmas, women's issues as well as personal perspectives. She recently completed two films and a short on veterans. Warriors Return focuses on the struggle of Navajo veterans with Post Traumatic Stress and SERVICE: When Women Come Marching Home, reveals the issues women vets face when transitioning from military to civilian life. It won a NY Emmy. Both aired on PBS stations. Soldiers Period was a response by women veterans to the claim that they can't serve in elite combat forces because of PMS and had Buzzfeed and social media distribution.
In 2008 she produced Salt Harvesters of Ghana, that captures the beauty and dignity of women working in moon-like landscape, caught in an unrelenting cycle of work. In 2008 she also produced Writers' Rooms: The Making of a Mural. It gives the background of Elena Climent's mural hanging in the NYU building, 19 University Place. Before this, Rock worked with the personal documentary form in "Surrender Tango," on how partnering in tango relates to life, 2006 and in 2002 she produced Dancing with My Father, a story about how adult love is often shaped by what a child learns at home. It was featured at The Cleveland International Film Festival, the American Psychological Association and the Family Therapeutic Networker Conference and festivals around the country.
Her documentary on the women of Northern Ireland, Daughters of the Troubles: Belfast Stories won the American Women in Radio and Television Grand Award and Documentary Award; The Association of Women Journalists, Vivian Castleberry Award for Television; the Chris Award, 1st Place in the Columbus International Film & Video Festival; the Bronze Medal from Worldfest Houston; and the Silver Apple from the National Educational Media Network. It was chosen for the Cork Film Festival, the Women in Film Festival Dublin and the Southern Circuit Lecture Tour of four southern states. It aired in Ireland, Northern Ireland, Spain, Canada and on PBS stations in New York, Boston, Philadelphia, Washington D.C., Los Angeles, Detroit, Milwaukee and Denver.
In 1998 she produced, Back from Beyond: Women Abuse and Drugs, profiling a new approach to drug treatment, specifically geared to women addicts convicted of non-violent felonies. It received an honorable mention from the Chris Awards (1999). In 1994 she produced profiles of local NYC women called City Originals: Women Making It Work hosted by Donna Hanover. It received the Bronze Plaque from the Chris Awards in the social issues category (1994) and honorable mention in profiles, markets 1-25 from American Women in Radio and Television Commendation Awards (1995).
Rock has produced three major documentaries on Ireland and Irish Americans: McSorley's New York, a documentary essay that chronicles the history of New York's Irish immigrant community and won a New York Emmy in 1987. Sons of Derry (1992) profiles two men in Northern Ireland working to overcome the bitterness of the past. It won the Bronze Medal from the New York International Program Festival (1993). No Irish Need Apply (1993) is an historical tour with writer Peter Quinn of 1860s New York based on the scenes set in his novel, Banished Children of Eve.
In 1991, she received a New York Emmy nomination for Village Writers: The Bohemian Legacy, (1990) a documentary on the literary history of Greenwich Village. Rock produced the profile of North Carolina writer Reynolds Price in Reynolds Price: A Writer's Inheritance (1989) exploring the powerful relationship between family history and art. It won the Red Ribbon award from the American Film and Video Festival (1992). Rock was executive producer on two documentaries produced with her graduate students: Israel Through the News, 1988, a documentary on the media coverage of the Intifada and Turning Inward: Ethnic Tensions in Russia in 1999.
She won her first Emmy for The Singing Angels in China, a chronicle of a Cleveland youth choir's trip to China in 1984.