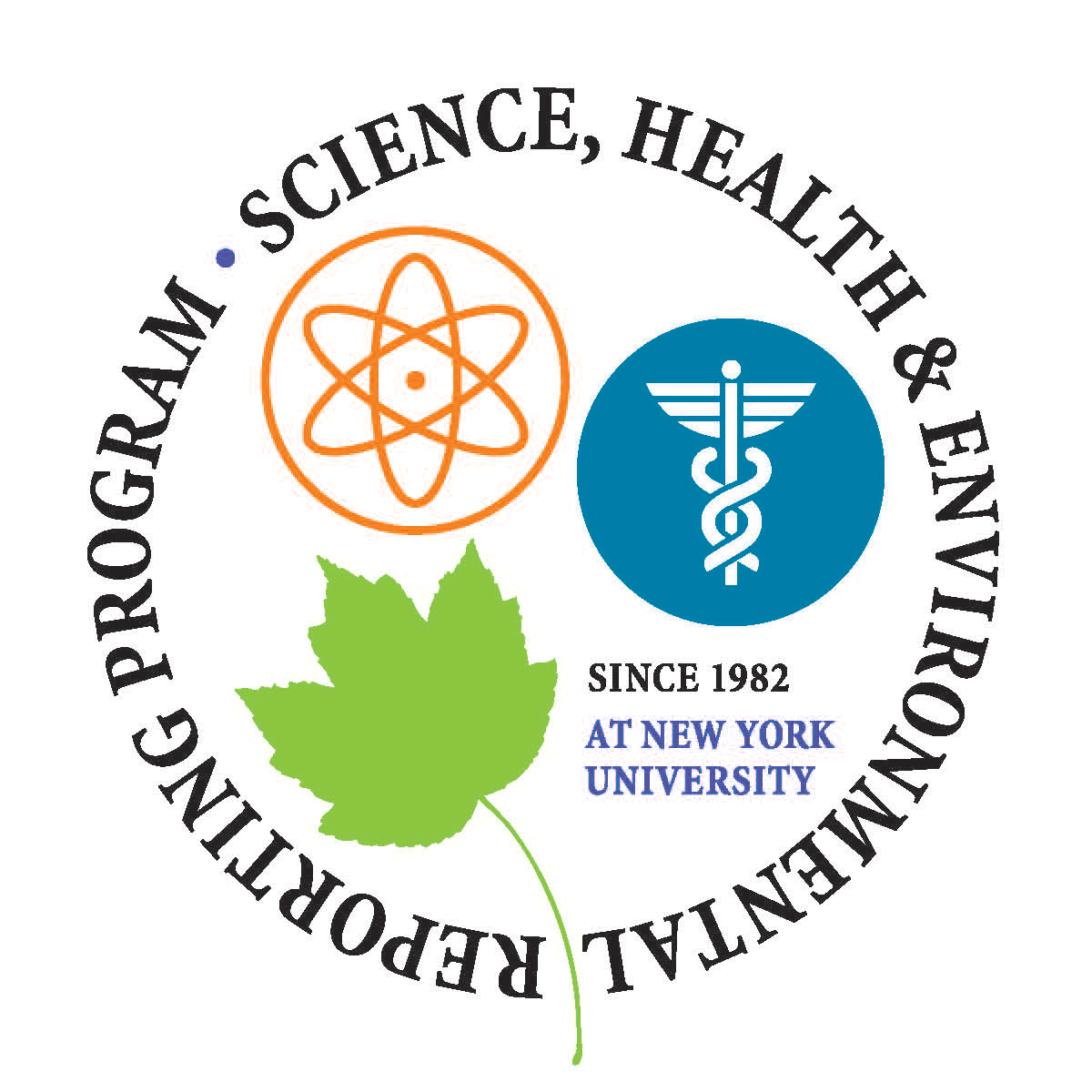 Where

Science Savvy

Meets Journalistic

Excellence
As a globally renowned science journalism program, the world's oldest, we seek curious thinkers and strong writers from diverse backgrounds who understand that science is too important to leave only to scientists, and journalism is too important to leave only to the scientifically illiterate. Building on a 40-year tradition of excellence and a tight network of more than 450 alumni at prominent media outlets around the world, SHERP trains the next generation of great storytellers committed to covering scientific, medical, and environmental topics with passion and precision.
Work and Learn in the

World Capital

of Science Journalism
There are more opportunities for aspiring science journalists in New York than anywhere else, and SHERP is the beating heart of this community. Our students publish and intern at a wide array of leading outlets, where their editors are often SHERP graduates. Class work is focused squarely on developing practical, high-level storytelling skills, including video, audio, programming and writing projects ranging from quick news stories to full-blown investigative features and even a book proposal. Students graduate with a diverse portfolio of clips published in professional outlets as well as in SHERP's award-winning in-house publication, Scienceline, which gets more than 2 million visits per year. We also leverage our position within NYU, a world-class science research institution, to bring in more than 100 guest scientists, journalists and other speakers from our community and around the world each year. Many visit SHERP classes; others take part in public events such as the Kavli Conversations on Science Communication at NYU.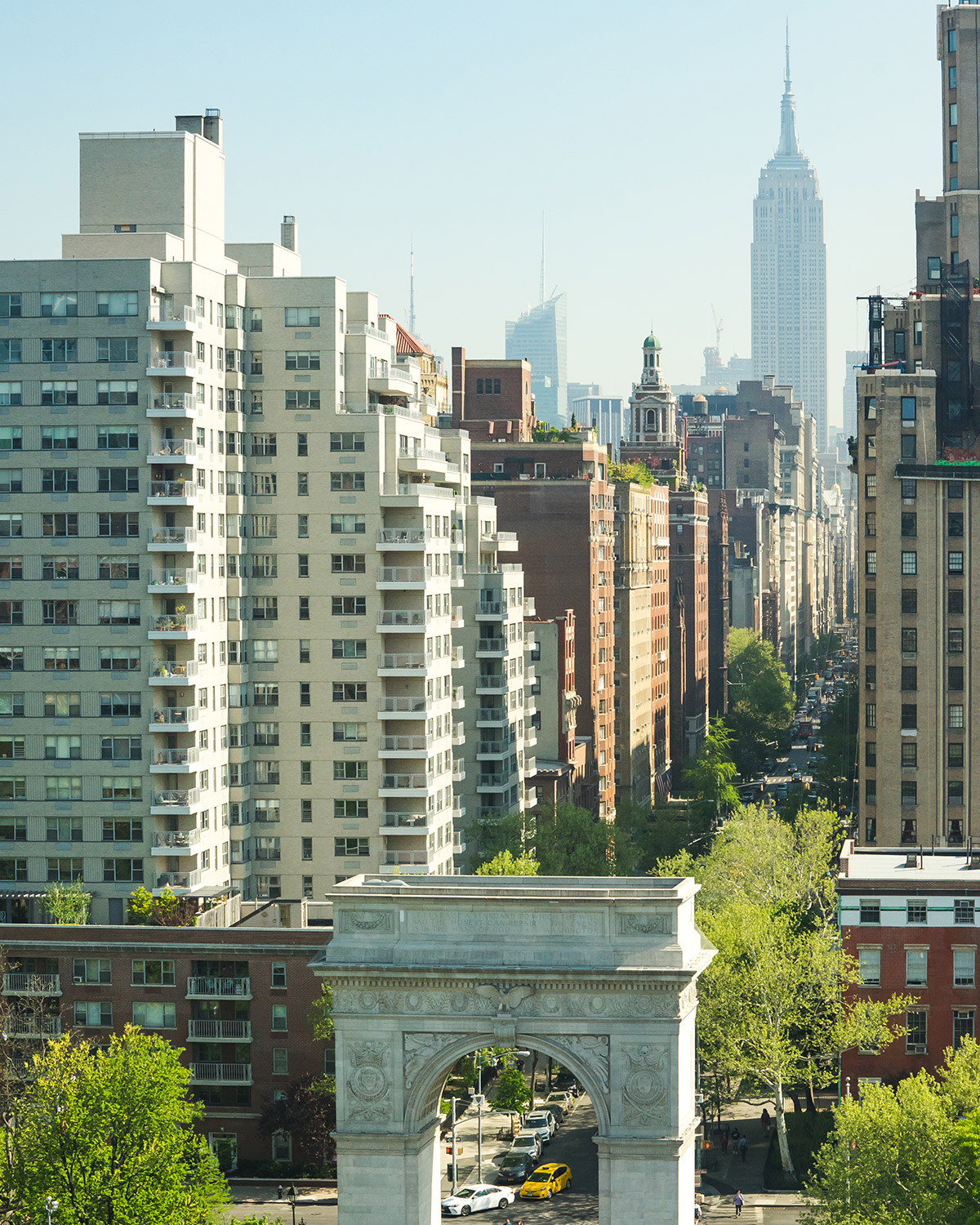 A Commitment to

Diversity

and

Affordability
Core to our mission at SHERP is to serve democracy by diversifying the ranks of science journalism. We seek high achieving students from varied backgrounds and support them with large financial aid awards funded by NYU and by our generous donors, including the Kavli, Simons, Robert Wood Johnson and Felsten Fishman Family foundations as well as our alumni and friends. For the three most recent SHERP classes, the average financial aid award per enrolled student has been approximately $59,300. (This includes only the aid we provide, not outside scholarships and loans, so the actual amount of aid per student is even higher.) If you think SHERP may be the right place for you, please don't let financial concerns discourage you from applying!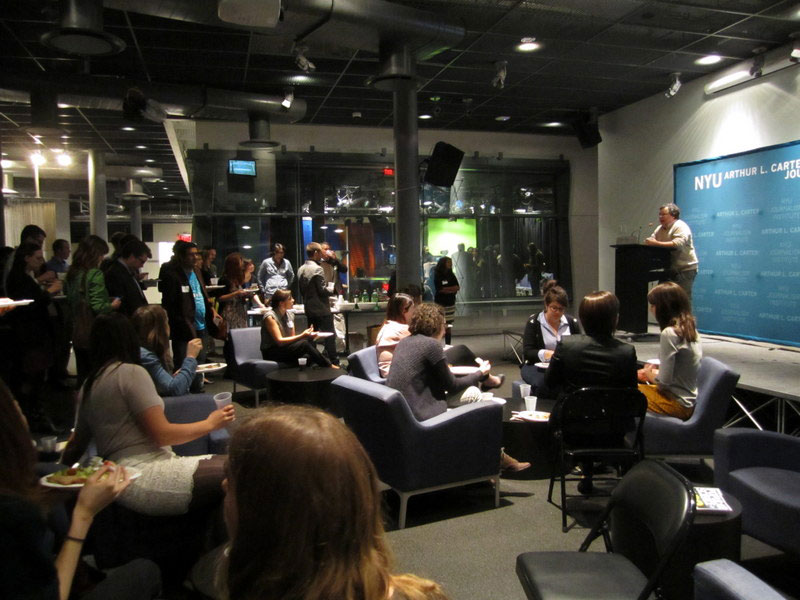 An

Unmatched

Reputation in the Science Journalism Job Market
SHERP's job placement track record is unequalled in science journalism. Graduates are working at outlets such as The New York Times, Vox, The Washington Post, FiveThirtyEight, The Wall Street Journal, ProPublica, Scientific American, Popular Science, Radiolab, Science Friday, Quartz, The Financial Times, National Geographic, and dozens of other major outlets. With the active assistance of SHERP's own internship supervisor, every student completes at least two high-level internships during their time at SHERP, giving them a major leg up in the job market.
An Alumni Network Spanning More than

25 Countries
Our alumni are a tight-knit group and are actively involved with our current students, both in the classroom and at networking and discussion events. That means you'll finish the program with not only a diverse story portfolio, a broad base of strong skills, and the experience of at least two high-level internships, but also connections to a network of successful journalists who understand exactly what you bring to the table.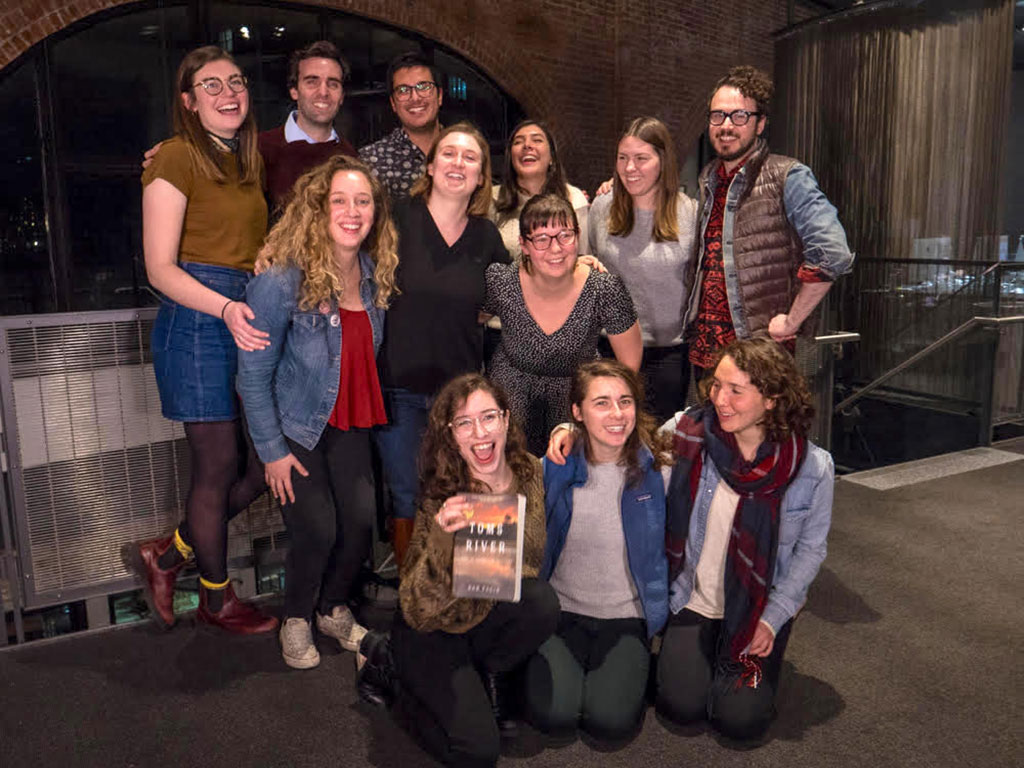 A World-Class Faculty
Every teacher at SHERP is a working science journalist and a leader in our rapidly changing industry. They are also all veteran instructors with proven track records of success in the classroom. Their journalism informs their teaching; their teaching informs their journalism. As busy as they are with their own reporting and editing, they make time to teach at SHERP (and painstakingly edit student work) because they get a charge out of being around bright, highly motivated students and nurturing the next generation of preeminent science storytellers.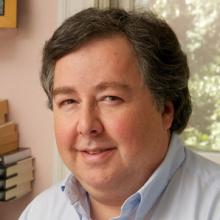 Dan Fagin
Professor | SHERP, Director
---
Dan Fagin is the director of the Science, Health and Environmental Reporting Program, in which he teaches Environmental Reporting and Current Topics in Science, Health and Environmental Journalism. He is also the founder and director of the Science Communication Workshops at NYU.
Awarded the 2014 Pulitzer Prize for General Nonfiction, Dan's latest book, Toms River: A Story of Science and Salvation, was described by The New York Times as "a new classic in science reporting." A Times bestseller, Toms River also won the New York Public Library's Helen Bernstein Book Award for Excellence in Journalism, the National Academy of Sciences' Communication Award and the Society of Environmental Journalists' Rachel Carson Book Award. Toms River was included in several lists of the best books of the year, including by NPR, which described Toms River as a "gripping, page-turning environmental thriller," and by Kirkus Reviews, which called it "fascinating" and "hard-hitting." Two Chinese language editions of Toms River were published in 2015, and it was named a Book of the Year by the Beijing News and the China Times.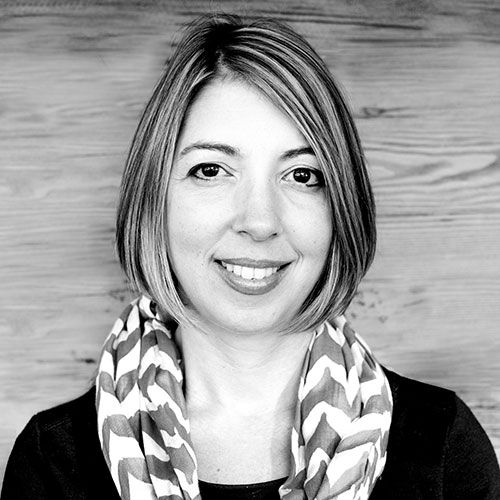 Rene Ebersole
Adjunct Faculty | SHERP 1999
---
Rene Ebersole, the internship professor at SHERP, is an award-winning independent journalist who contributes to a wide range of publications, including Outside, Popular Science, Modern Farmer, Audubon, Mental Floss, and National Geographic Explorer. As the former staff Features Editor at Audubon, she assigned and wrote many long-form articles, ranging from deeply reported investigative pieces to engaging profiles. Her book, "Gorilla Mountain," a children's biography of gorilla biologist Amy Vedder, was co-published by Joseph Henry Press and Scholastic. She received an MA from NYU's Science, Health, and Environmental Program in 1999.
Stephen S. Hall
Adjunct Faculty
---
Steve Hall, who teaches Writing and Reporting Workshop II in SHERP, has been reporting and writing about science for nearly 30 years. In addition to numerous cover stories in the New York Times Magazine, where he also served as a Story Editor and Contributing Writer, his work has appeared in The New Yorker, The Atlantic Monthly, National Geographic, New York Magazine, Science, Scientific American, Discover, The Sciences, Hippocrates, Smithsonian, the Hastings Center Report, and Technology Review (where he wrote the "Biology, Inc." column). He is also the author of six non-fiction books about contemporary science, including the critically acclaimed Invisible Frontiers (1987) and Merchants of Immortality (2003), which won the Science in Society Award from the National Association of Science Writers. In 2012 he was awarded a Guggenheim Fellowship, one of just three science writers so honored. Prior to writing about science, Hall wrote about sports for the Washington Post (1975), did foreign and financial reporting for the Journal of Commerce and other newspapers while based in Rome, Italy (1975-77), general assignment reporting for the San Francisco Chronicle (1977-1980), and award-winning travel writing for National Geographic Traveler and Travel & Leisure in the 1980s. He graduated with Honors in English Literature from Beloit College (1973). In addition to teaching at SHERP, he also teaches the Science Communication Workshops at NYU and has taught graduate seminars in science writing and explanatory journalism at Columbia University.
Stephen S. Hall teaches the Writing and Reporting Workshop II in the Science, Health and Environmental Reporting Program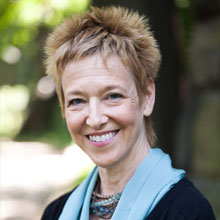 Robin Marantz Henig
Adjunct Faculty
---
Robin Marantz Henig is a freelance journalist, book author, and contributing writer for The New York Times Magazine. She has written nine books, most recently Twentysomething: Why Do Young Adults Seem Stuck? (co-authored with her daughter Samantha Henig) and Pandora's Baby: How the First Test Tube Babies Sparked the Reproductive Revolution (about the early days of in vitro fertilization research). She co-edited the Field Guide for Science Writers, and her articles were chosen to be in the Best American science writing anthologies in 2005, 2007, 2008, and 2014. Her articles have appeared regularly in The New York Times Magazine, as well as in Civilization, Discover, OnEarth, Scientific American, Smithsonian, Virginia Quarterly Review, and just about every woman's magazine in the grocery store. She also writes book reviews and opinion pieces for The New York Times, The Washington Post, and BookForum, and has written online for Archipelago, The Atlantic, National Geographic, New York, NYCityWoman, NPR, Psychology Today, and Slate. From 1998 to 2000 was a member of the board of contributors of USA Today. She served for ten years on the board of directors of the National Association of Science Writers, and is now its president.
Pandora's Baby was named Book of the Year by the American Society of Journalists and Authors, and won the Science in Society Award of the National Association of Science Writers. Her previous book, The Monk in the Garden: The Lost and Found Genius of Gregor Mendel (Houghton Mifflin, 2000), was a finalist for a National Book Critics Circle award. In 2009, she received the career achievement award from the American Society of Journalists and Authors, and received a Guggenheim Fellowship in 2010.
Recent Published Work
The work of our students, faculty, and alumni speaks for itself. Check out an array of recent published stories: