Who We Are: Storytellers with a Passion for Science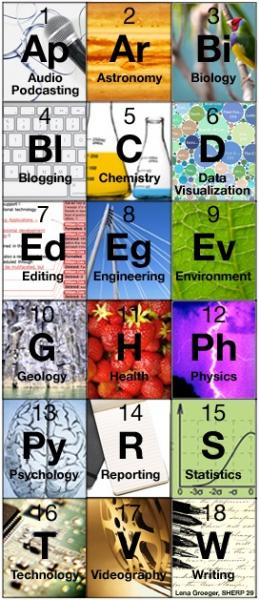 The Science, Health and Environmental Reporting Program (SHERP) at New York University is a globally renowned science journalism training program operating in the world capital of science communication: New York City.
Aspiring reporters, authors, editors, producers, videographers, podcasters, coders and social media managers (and various permutations thereof!) who complete the intensive 16-month program receive a Master of Arts degree in Journalism with a concentration in Science, Health and Environmental Reporting. They join an extended family of graduates (452 so far!) committed to covering scientific, medical and environmental topics with precision and passion.
SHERP alumni have diverse backgrounds and beliefs and work in many types of digital, print and broadcast media in more than 25 countries. What unites them are two deeply held convictions: science is too important to leave only to scientists, and journalism is too important to leave only to the scientifically illiterate.
Our track record of launching graduates into high-level jobs in science journalism is unequalled, but please don't take our word for that. Instead, judge for yourself by taking a close look at where our alumni (all of them!) are working, and even more importantly, what kind of work they are producing.
The SHERP community is tightly knit, and never frays. Our alumni are the heart of New York City's vibrant science journalism community, the world's largest. Many are involved in SHERP programming, serving as guest speakers, attending evening events and networking with colleagues and students for staff jobs and freelance work.
SHERP's current students are the newest links in a chain that stretches back to the program's founding in 1982 by Bill Burrows. Its director now is Dan Fagin, a longtime science and environmental journalist who was awarded the 2014 Pulitzer Prize in General Nonfiction for his best-selling book, Toms River: A Story of Science and Salvation.
What's New: Events and More Scholarships!
COVID-19 Update: The ongoing pandemic is a fresh reminder of the essentiality of accurate, impactful science journalism for mass audiences. SHERP alumni are playing leading roles in covering all aspects of the global pandemic, and our current students are too. We're also focused on making sure students and faculty are following public health guidelines as we do the important work of teaching and learning science journalism. Our plan for Fall 2020 is to offer most of our classes remotely.
In other news, we're thrilled to report that our two newest foundation supporters, the Robert Wood Johnson Foundation and the Felsten Fishman Family Foundation, are sponsoring generous fellowships for SHERP students. Combined, these fellowship programs, along with the new Harold Jacobs SHERP Fellowships, will support 20 fellows over the next 10 years and will be worth more than $1.1 million in aid (including matching funds from NYU's Graduate School of Arts and Science). Please see the How to Apply page for more details on SHERP's extensive financial aid arrangements. For the three most recent SHERP classes, the average financial aid award per enrolled student was approximately $56,500 (not counting outside scholarships and loans).
Now in their fifth year, the Kavli Conversations on Science Communication at NYU are interactive, live webcasts (join us!) featuring conversations between leading science journalists and eminent scientists. We also recently hosted Laura Helmuth as our fourth Simons Visiting Science Journalist. Previous visitors were Mary Roach, Kathryn Schulz and David Quammen, each of whom spent three days at NYU meeting with SHERP students, alumni, and faculty as well as participating in events, including a pitch slam for SHERP students and alumni.
With Donald Trump as president, science journalists in the U.S. are navigating in an altered landscape. Five current and three former SHERP faculty members spoke at a forum on the topic, and SHERP sponsored its own discussion as well. (Follow the links to watch.)
What We Do: A Customized Curriculum, a Hands-On Approach
Humans are a storytelling species, and the scientific enterprise is the wellspring of many of our greatest contemporary narratives. But how many of us possess the skills to make these narratives our profession? SHERP's customized curriculum is tailored to develop world-class science storytellers at a time of unprecedented change, challenge and opportunity in journalism. Our faculty of nationally prominent science journalists offers rigorous instruction in research, reporting, writing and editing through coverage of cutting-edge science, from nanotechnology and epigenetics to global climate change and cosmology. Coursework is built around case studies and learning by doing, not academic theory or rote memorization.
A key focus is reporting, writing and editing features and news for magazines and online sites, but students also dive into all forms of modern journalism, from books and long-form narratives to blogs, videos, podcasts, data visualizations and social media. Entrepreneurial skills, including self-marketing, are emphasized throughout the SHERP sequence. Investigative science journalism is also an important curricular focus, as evidenced by an investigation conducted by Professor Charles Seife and his SHERP students into fraudulent drug studies submitted to the Food and Drug Administration. The powerful results of this faculty-student collaboration were published in JAMA-Internal Medicine and Slate.
Visual and audio science journalism is woven into the curriculum from the first semester, when every SHERP student learns to produce videos and podcasts under the tutelage of expert teachers. There is also a class on data mining and analysis. The curriculum reflects our philosophy that effective journalism education today must be platform-agnostic: the content of the story should dictate its form, not vice versa. Whether they're working in print, online or over the air, our graduates thrive in the fast-changing world of science journalism because they are comfortable telling stories in many ways and on multiple platforms.
Prof. Fagin also directs the Science Communication Workshops at NYU, four-week short courses in which more than 800 NYU doctoral students, post-docs, medical students and faculty have learned the basics of communicating scientific research to the lay public. We encourage interaction between SHERP and SCW students, including collaborative publishing in our publications Scienceline and The Cooper Square Review.
The culture at SHERP is challenging but never cutthroat. We emphasize cooperative learning in an informal, intellectually rich environment. SHERP students work hard and love what they do. Thanks to the specialized curriculum and intimate atmosphere, "sherpies" form lifelong bonds during their time at 20 Cooper Square, including nine marriages so far!
Where We Work: NYC, the World Capital of Science Journalism
SHERP takes full advantage of its home base at the center of the science journalism firmament: New York City, where there are more journalism job opportunities than anywhere else in the world. Our neighborhood is a particularly fertile one for science storytelling because 20 Cooper Square is right in the middle of Lower Manhattan's booming Silicon Alley; Facebook and IBM's Jeopardy!-winning Watson computer are one block away. A small program nested comfortably in a large research university, SHERP utilizes the vast intellectual resources of New York University, including the NYU School of Medicine, to enrich student experiences. We also reach well beyond the university community. In addition to two full-time professors with many years of experience in professional science journalism, Dan Fagin and Charles Seife, the program's superb faculty includes current or former editors and writers at Scientific American, The New York Times, Science, Reuters, Nature and The Wall Street Journal, among other outlets. SHERP faculty work at the very highest levels of science journalism but are also deeply committed to the hard work of teaching well, with long track records of success in the classroom as well as the newsroom.
The curriculum also draws heavily on a roster of guest speakers constituting a who's who of science journalism and science research. In a typical year, nearly one hundred journalists and scientists visit SHERP to speak in classes or at evening seminars that have become gathering places for the New York science journalism community. There are also yearly field trips to Brookhaven National Laboratory, The New York Times, the American Museum of Natural History, Jamaica Bay Wildlife Refuge and CNN. When SHERP students go on a field trip, they do much more than tour; they pitch stories to editors and participate in seminars with leading researchers.
Science journalism internships at leading publications, programs and web sites are a crucial part of the SHERP experience and are fully integrated into the overall curriculum, not a tacked-on appendage. Every student completes two for-credit internships during the final eight months of the program, but the internship process actually begins much earlier. Starting in the first semester, SHERP's internship coordinator provides personalized support and advice, assisting students in landing positions and then making sure they get the most out of their internship experiences. SHERP interns don't get coffee, except for themselves; they get clips. Many choose to intern at outlets that have worked closely with SHERP for years; their supervisors are often alumni or current or former faculty. Others take advantage of the flexibility of the our internship program to secure internships at exciting new digital publishing ventures or places a little farther off the beaten track for science journalists.
Our Focus: Building Skills and Portfolios
To thrive in today's convergent media environment, science journalists need diverse skills and a broad portfolio of published work. SHERP delivers both. By graduation, a typical SHERP student has written and edited dozens of stories of all lengths and types, produced several video and audio pieces, built data graphics and slide shows and even authored a book proposal — all prepared in close collaboration with highly accomplished professors who are leaders in science journalism.
The stories SHERP students produce for their classes are of such high quality that every year many are published in professional media. In addition, students gain invaluable experience by assigning, reporting, writing and editing stories for Scienceline, an award-winning webzine run entirely by SHERP students. Scienceline's mix of news, features, profiles, blogs, videos, audio podcasts and data visualizations attracts approximately 7,000 visitors per day (more than 2.5 million per year) from around the world. In addition, Scienceline stories are regularly syndicated to the web sites of Scientific American, Popular Science, LiveScience.com, Space.com, OnEarth, The Scientist and other outlets, generating even more clips, exposure and opportunities for SHERP students. Finally, SHERP's unrivaled internship program puts students in position to publish their work in places like The New York Times, Wired and dozens of other globally prominent outlets.
Life After SHERP
Job placement is a proven strength of SHERP. Every year, several graduating students go to work full-time at places where they were SHERP interns; other job-seeking graduates tap the close-knit and extensive SHERP alumni network, which operates its own busy email list. Over the years, editors have come to trust the SHERP "brand," so graduates fare very well in the extremely competitive market for staff jobs and freelance work in science journalism.
SHERP alumni regularly return to Cooper Square to attend Kavli Conversations and other special events, serve as guest speakers in classes, and simply catch up with colleagues. There's a busy private Facebook group where alumni share job opportunities and other news. Alumni also assist their successors by generously contributing to the Bill Burrows SHERP Scholarship Fund. The tight bonds between current and former students and faculty (both present and past) are a distinguishing feature of SHERP and a crucial asset for "SHERPies" new and old. (Long after they've graduated, SHERPies love to collaborate with each other, whether on serious editor-writer partnerships or this parody video.)
Join Us!
If you think our program is right for you, we look forward to introducing you to our students, professors and alumni and showing you the unique, convivial culture of SHERP. Please see the How to Apply page for full details on how to proceed. All SHERP students start in September and are expected to complete the program by December of the following year. We are not able to enroll part-time students.
Please note that the formal application deadline is January 4 but we will consider late applications. We make admission decisions on a rolling basis starting in February. For 2021 applicants, the GRE test will not be considered by the admissions committee due to the COVID-19 pandemic. We expect to restore the GRE requirement for 2022 applicants.
Our Supporters
Our work preparing the next generation of great science storytellers is advanced by the generous support of the Simons, Robert Wood Johnson, Kavli and Felsten Fishman Family foundations, as well as our alumni and friends. We are deeply grateful to them all.
Upcoming Events
Recent Published Work