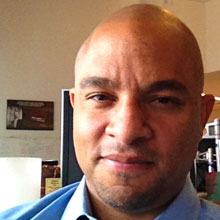 Jason Samuels
Associate Professor
Studio 20, NewsDoc
Jason Samuels is an associate professor of journalism at NYU, and a multiple Emmy Award-winning network news and documentary producer.
Jason currently serves as a senior consultant at Black Entertainment Television, where he has led the development of a slate of original award-winning documentaries, and news specials featuring Marc Lamont Hill and Melissa Harris-Perry.
Jason joined BET in 2015 after working as a senior segment producer at the HBO newsmagazine Real Sports with Bryant Gumble.
Before HBO, Jason spent three years at CNN where he worked as a producer with Soledad O'Brien, and wrote and produced the primetime documentaries: Obama Revealed: The Man, The President, Silicon Valley: The New Promise Land and Unwelcome: The Muslims Next Door.
Jason also previously worked as a senior producer at ESPN (E:60) and as a senior producer at ABC World News Tonight, where he developed and managed the first original network newscast for the web.
As a long-form producer at NBC News from 1995 to 2006, Jason produced several primetime documentaries including: A Pattern of Suspicion. This groundbreaking data-driven examination of racial profiling was awarded several of the most prestigious prizes in broadcast journalism including an Alfred I. duPont-Columbia University Award, an RTNDA-Edward R. Murrow Award and an Investigative Reporter and Editor Award.
Jason began his career in journalism as a news writer and producer at WCVB-TV in Boston.
---
Published Works