A Good Time To Be Born: A Book Discussion
A thrilling discussion on the fight against child mortality that transformed the way we as humans live.
October 15, 2020
6:00pm – 7:30pm
Online Event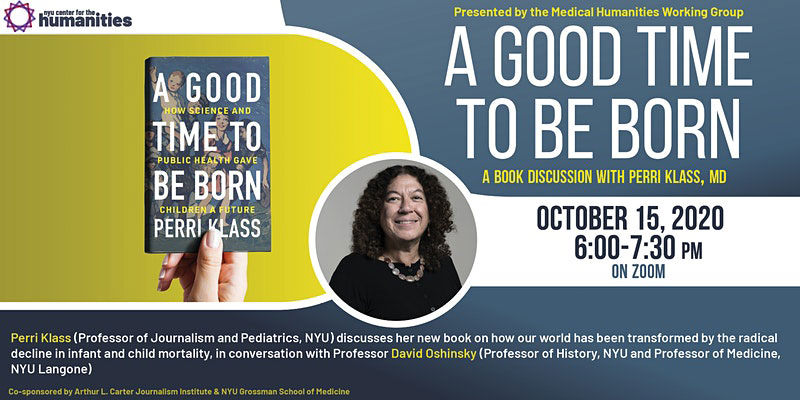 Join the Center for the Humanities and the Medical Humanities Working Group for a book discussion on Perri Klass' A Good Time to Be Born
Only one hundred years ago, in even the world's wealthiest nations, children died in great numbers—of diarrhea, diphtheria, and measles, of scarlet fever and tuberculosis. Not even the powerful and the wealthy could escape and for children of the poor, immigrants, enslaved people and their descendants, the chances of dying were far worse.In A Good Time to Be Born, Perri Klass pays tribute to groundbreaking women doctors like Rebecca Lee Crumpler, Mary Putnam Jacobi, and Josephine Baker, and to the nurses, public health advocates, and scientists who brought new approaches and scientific ideas about sanitation and vaccination to families.
Featuring
Perri Klass, Professor of Journalism and Pediatrics, NYU
David Oshinsky , Professor of History, NYU and Professor of Medicine, NYU Langone