Event
FAWPublicForum: It's a Matter of (Public) Opinion
How do cultural attitudes affect our ability to speak freely?
April 21, 2021
12:00 p.m. ET
Online Event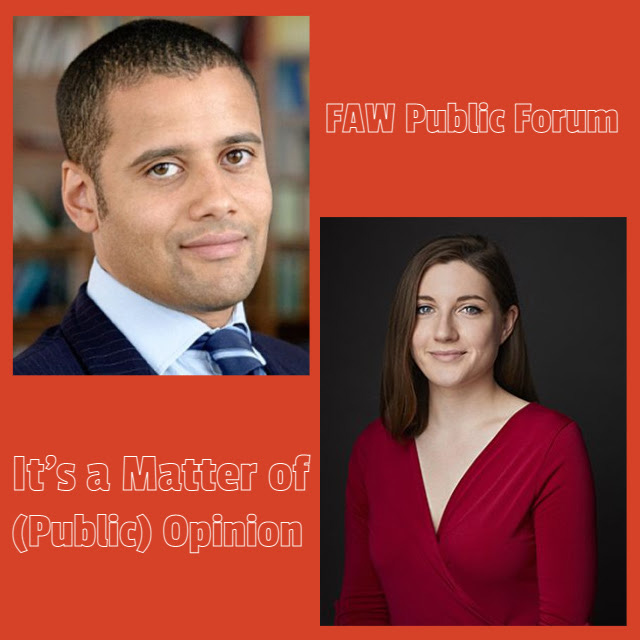 The 19th-century political philosopher John Stuart Mill warned that the greatest threat to free expression was not the government but the tyranny of the majority. Mill thought a society's beliefs about what sort of opinions should be tolerated could have a greater impact on individual liberty than state or national law. Bearing this–and our globalized world–in mind, how do private universities and companies, who aren't subject to the First Amendment, respond to public pressure for censorship or open debate? How do today's universities and companies that have campuses and relationships in other countries navigate conflicting public opinions on matters of free expression?
Join us on April 21st at 12:00 pm EST for our next #FAWPublicForum "It's a Matter of (Public) Opinion," where we will discuss controversies that highlight conflicting cultural attitudes about the bounds of free speech. Our special guests include Sarah McLaughlin, a writer and free speech advocate who currently serves as the director of Foundation for Individual Rights Education's targeted advocacy program, and lawyer and human rights activist, Jacob Mchangama, the founder and executive director of Justitia, a Danish think tank that promotes policies in favor of free expression. McLaughlin recently released a Substack, where she has written about blasphemy laws, social media regulation, and global censorship patterns. Mchangama is the author of an upcoming book "Free Speech: A History From Socrates to Social Media," which looks at how concepts like tolerance and intellectual diversity have evolved over 2,000 years.
We're also using this discussion to promote our freshman orientation program. Together with our partners at the Foundation for Individual Rights in Education, First Amendment Watch produces free educational resources that administrators, faculty, and students can use to discuss basic free expression principles such as academic freedom and offensive speech. Our newest modules "Social Media and Online Speech" and the "The Role of Student Publications on Campus" reflect two regions of expression where students' free speech rights are particularly vulnerable.