Event
Fall Info Session: Hearst
Please join us to learn about jobs and internships with Hearst Magazines and Hearst Newspapers! Julia […]
September 20, 2023
2pm-3pm
Virtual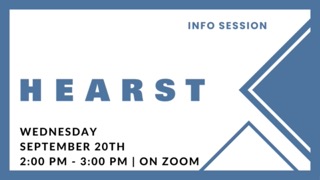 Please join us to learn about jobs and internships with Hearst Magazines and Hearst Newspapers!
Julia Mercado will talk about opportunities at Hearst Magazines in New York. Hearst Magazines include Car and Driver, Cosmopolitan, Elle, Esquire, Good Housekeeping, Harper's Bazaar, Oprah Daily, Runner's World, Seventeen, Town and Country, Women's Health and many more.
Hearst Newspapers' Recruiting Manager Brenda Velasquez and Senior Recruiter Megan Hughes will talk about their internships and other opportunities at Hearst Newspapers, including the Connecticut Post, Houston Chronicle, San Antonio Express-News, the San Francisco Chronicle, Seattlepi.com, SF Gate, The Telegraph, Times Union and more.
Open to NYU Journalism Students and Alumni Only