Event
Launch Event for Ethics & Journalism Initiative
This mini-symposium will launch the Ethics & Journalism Initiative with two panels of leading thinkers and practitioners on covering politics and AI.
November 29, 2023
6pm-8pm
NYU Arthur L. Carter Journalism Institute
7th Floor Commons
20 Cooper Square
New York, NY 10003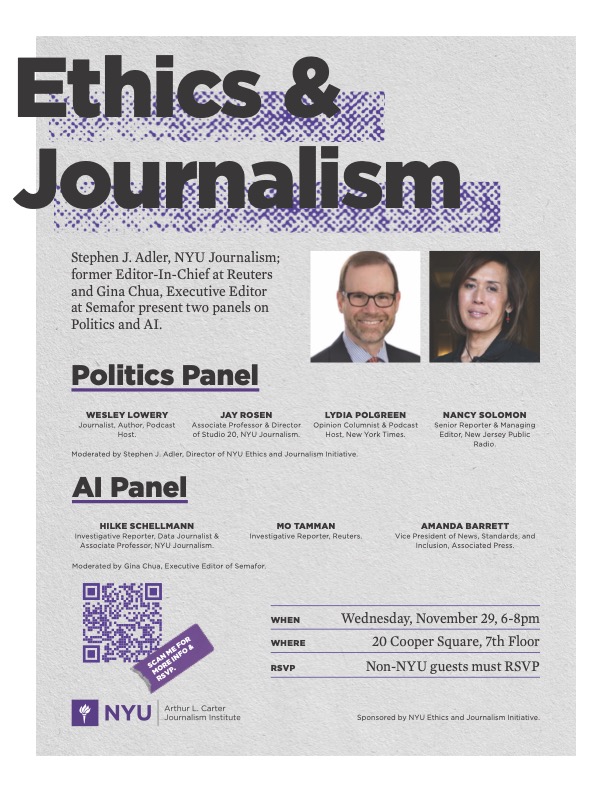 This mini-symposium will launch the Ethics & Journalism Initiative with one panel of leading thinkers and practitioners providing guidance on how to cover politics ethically and robustly in an age of polarization and disinformation; and one panel of tech and newsroom experts discussing how journalists can get the most value from AI while minimizing the risks of factual errors, deep fakes, and lost trust from the public. Related articles and practice guides will be provided.
Please RSVP below (NYU Journalism only):
---
Politics panel:
Wesley Lowery: Pulitzer Prize-winning journalist, author, and podcast host formerly at CBS News and The Washington Post; journalist-in-residence at the Craig Newmark Graduate School of Journalism at CUNY.
Jay Rosen: A leading press critic and reviewer; associate professor at NYU Arthur L. Carter Journalism Institute and director of Studio 20, which trains students to plan, design, prototype, test, improve, and launch innovative digital journalism products.
Lydia Polgreen: Opinion columnist and podcast host at the New York Times; former EIC of HuffPost; former NYT editor and reporter in Africa and Asia.
Nancy Solomon: Senior reporter and the founding managing editor of New Jersey Public Radio who has covered New Jersey politics for two decades.
Moderator: Stephen J. Adler, director of the NYU Ethics and Journalism Initiative and former EIC of Reuters and BusinessWeek.
---
AI Panel:
Hilke Schellmann: Investigative reporter, data journalist, and computer scientist with firsthand experience investigating AI; assistant professor, NYU Arthur L. Carter Journalism Institute.
Mo Tamman: Investigative reporter at Reuters, where he was previously editor-in-charge of computational/forensic journalism; formerly an investigative news editor at The Wall Street Journal.
Amanda Barrett: Vice President of News, Standards, and Inclusion at the Associated Press; in August 2023, she unveiled AP's influential guidelines for use of generative AI.
Moderator: Gina Chua, executive editor of Semafor; former executive editor of Reuters, where responsibilities included journalist security, data, graphics, and news innovation; former editor of The Asian Wall Street Journal.