Event
Reporting Pain: Women Covering Migration and Conflict
This panel discussion is part of the NYU Kevorkian Center's ongoing collaboration with the Global Engagement Initiative at the American University of Beirut.
September 27, 2023
5:30pm-7:30pm
Hagop Kevorkian Center for Near Eastern Studies
Richard Ettinghausen Library, 255 Sullivan St.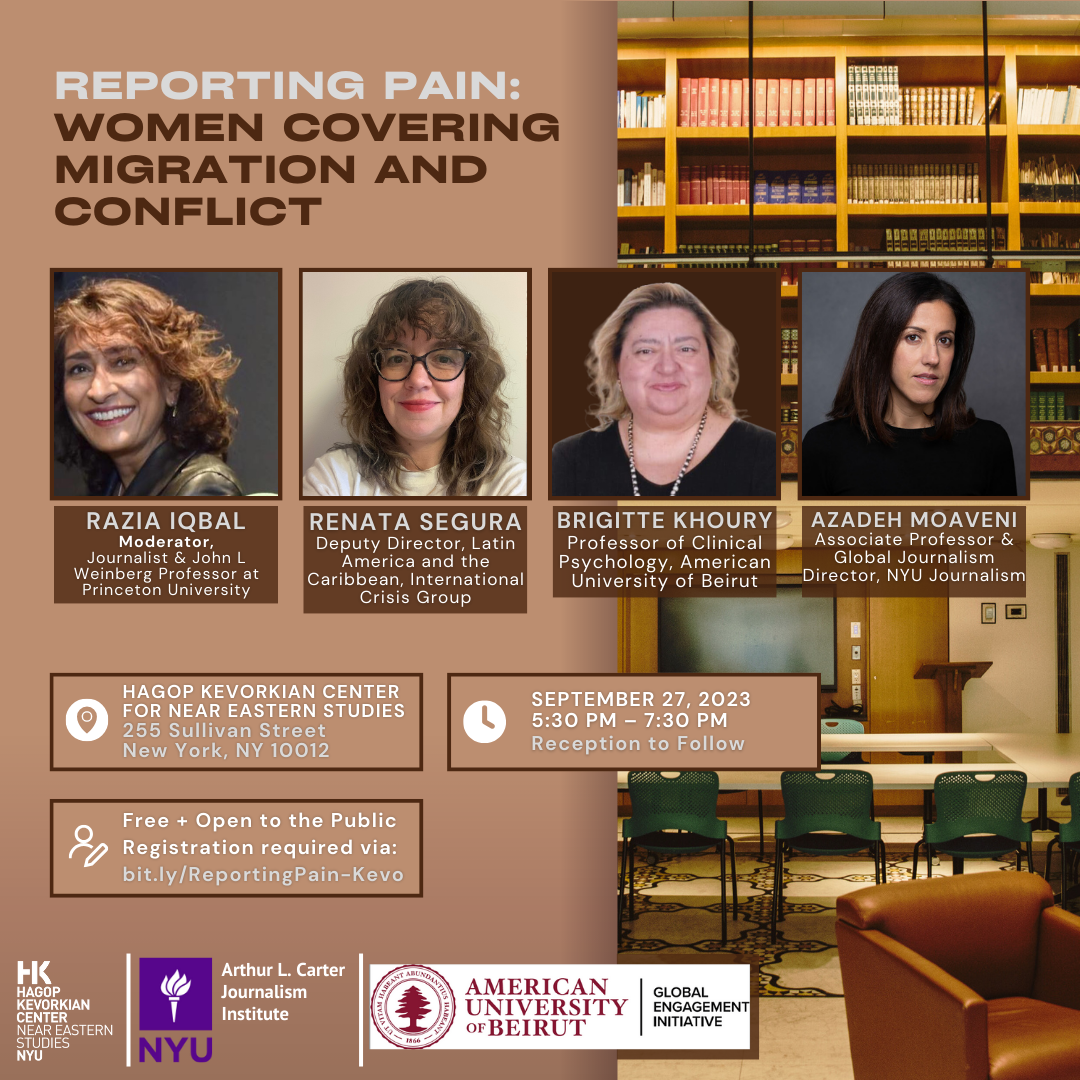 Gender-based violence is a notorious driver of both migration and political conflict. It sits at the heart of many international stories, shaping the decisions of women, men, and people of all genders to rebel against authoritarian regimes or escape them by taking the perilous journey to the global north. Reporters and policy analysts covering these stories face the most complex ethical challenges in our industry today: protecting sources from further trauma or harm, engaging weary audiences, and balancing storytelling with crucial political context.
Join us for a panel that will discuss contemporary coverage of migration and political conflict, and the special impact of work that accounts for gender and trauma. Women journalists and regional specialists who conduct research on Iran, Latin America, Syria and Ukraine will discuss the professional and ethical challenges of their work, and whether being a women journalist or researcher at the frontlines of these stories has shaped their work.
—
Razia Iqbal has been a journalist for more than three decades, working for BBC news. She has reported for the BBC in many countries, including the US, Germany, Turkey, Saudi Arabia, Pakistan, India & Sri Lanka. She now teaches International Affairs at Princeton university's School of Public & International Affairs.
Dr. Brigitte Khoury is a professor and clinical psychologist at the Psychiatry Department at the Faculty of Medicine, American University of Beirut. She is the vice chair for psychology affairs, director of the Clinical Psychology Training Program and the Director of the Arab Regional Center for Research and Training in Mental Health.
She is the founding president of the Lebanese Psychological Association, the past president of Division 52 (International division) at the American Psychological Association and the Vice President of the Arab Union for Psychological Science (AUPsyS). She is also a board member of the International Union of Psychological Science (IUPsyS), and the regional vice president for the Eastern Mediterranean region in the World Federation for Mental Health. She also holds the position of vice president of the Lebanese Order of Psychologists.
Azadeh Moaveni is a journalist, writer and associate professor at NYU, where she directs the Global Journalism Program. Her books and articles explore the interaction between gender and armed conflict, and how women's rights, security and political participation are impacted by war and authoritarianism. She has covered the wars in Iraq and Afghanistan, and has reported from Egypt, Iran, Lebanon, Syria, and Tunisia. She writes for the London Review of Books and the New York Times, among other publications.
Renata Segura, Colombian by birth, has been based in New York for more than 25 years. She got her Ph.D. in political science from the New School for Social Research in New York in 2007. Between 2002 and 2019, Renata worked at the Conflict Prevention and Peace Forum, a program of the Social Science Research Council, where she led over a hundred research projects and workshops examining challenges to democratic governance and peace in Latin America and the Caribbean. At Crisis Group, Renata supervises the production of reports and other outputs, as well as advocacy and outreach. She has published material on constitutionalism, conflict prevention & resolution, drug policy, mining & diaspora politics, among other issues.
This panel discussion is part of the NYU Kevorkian Center's ongoing collaboration with the Global Engagement Initiative at the American University of Beirut. Accommodation requests related to a disability should be sent to kevorkian.center@nyu.edu by September 20, 2023. A good-faith effort will be made to fulfill requests.