Event
This Changes Everything | This Changes Nothing
ChatGPT, Journalism, and the Future of Creativity. A Kavli Conversation with Joanna Stern and Jean Oh, moderated by Anna Rothschild.
March 22, 2023
6:30 PM
NYU Arthur L. Carter Journalism Institute
7th Floor Commons
20 Cooper Square
New York, NY 10003
And Online at journalism.nyu.edu/kc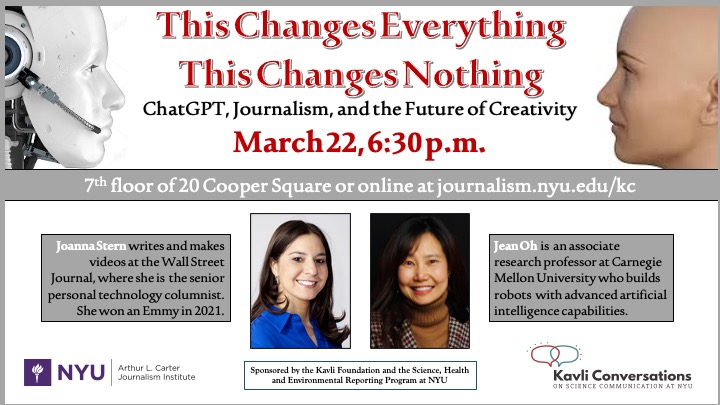 Speakers
Joanna Stern writes and makes videos at the Wall Street Journal, where she is the senior personal technology columnist. She won an Emmy in 2021.
Jean Oh is an associate research professor at Carnegie Mellon University who builds robots with advanced artificial intelligence capabilities.
Moderator Anna Rothschild is a science presenter, video producer, and journalist. A visiting scholar at the Carter Institute of Journalism, she is the senior video producer at ABC's FiveThirtyEight, where she also hosted the COVID podcast, PODCAST-19.
---

Kavli Conversations are hosted by NYU's Science, Health and Environmental Reporting Program with support from the Kavli Foundation. Events are open to the public. Online livestream will begin at 6:30pm ET.