February 26, 2015
Q&A with NewsDoc Alumnus Aaron Howell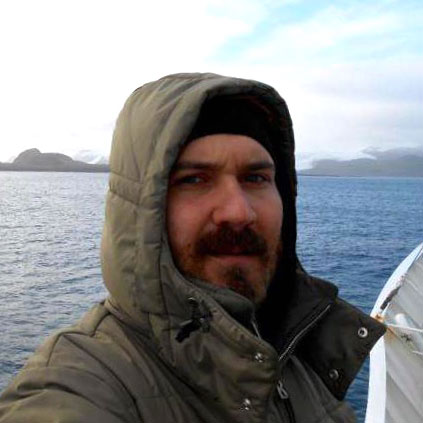 Aaron Howell is an alumnus of the 2010 NewsDoc Class. Howell is currently an Associate Producer at Antenna Films where he has been working alongside award-winning filmmakers Scott B. and Sandy Guthrie on a film about Burt Rutan, a famous aerospace designer (check out the Kickstarter campaign here).
We decided to catch up with Aaron to find out more about his life between then and now and to give us a first hand perspective on the documentary filmmaking world.
What made you get into journalism in the first place?
While in my twenties I remember that I felt a need to contribute to the world in a positive way. With an interest in journalism, I decided to further my education. While applying for graduate school I was working in reality television and thought – "Why not step away from the written word and apply for News and Doc program in New York?" So far I haven't regretted one minute I spent at NYU and my time since.
In what way did your experience at NYU NewsDoc program lead you to where you are now in your career?
While at NYU not only did I receive the technical training in shooting and editing that landed me many great jobs when I moved back to Los Angeles and sent me on an epic journey to associate produce in Antartica for the show Whale Wars, but I learned how to produce and write for film and television. These skills allowed me to be involved in the development side of things. For instance, through the post-production skills in AVID that I learned, I recently landed this great job with a production company name Antenna Films and have been equipped to help them move forward with a feature documentary about aerospace legend Burt Rutan and the world of experimental aircraft. We just launched a fundraising campaign on Kickstarter so we can follow this amazing genius as he builds and test flies his newest aircraft. The film is tentatively called "Looking Up, Way Up! The Burt Rutan Story."
Do you have any advice or takeaways to people striving to or currently are pursuing a career in journalism?
If I could give one piece of advice to prospective or current students – never think that an idea you have for a project is too big to accomplish. If you have an idea the resources and advisers are there at NYU to make it a reality. I remember being stunned at the stories my classmates told. Not only did they travel all over, but they had such amazing ideas. I feel the way the program is setup it allows for people to accomplish almost anything. Research, development, editing, shooting, writing, interviewing, building proposals – we did it all at NYU, and I am so thankful to the great teachers that committed to our class to prepare us for real world jobs.
No one's a fortune teller, but if you could predict the future where do you see yourself?
For the future I plan to finish this feature documentary and to help develop with Antenna Films more ideas for film and television pieces. I feel I have found a great team to work with so I want to take advantage of their experience and knowledge and hopefully one day produce my own documentaries.