December 7, 2015
Prof. Mike Ludlum, long-time radio and television news professor, passes away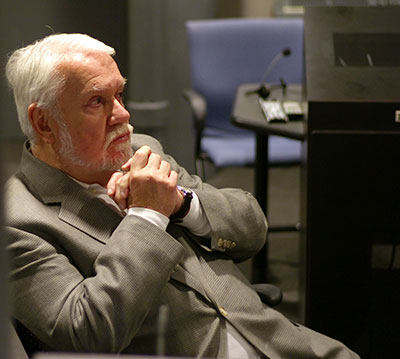 Prof. Mike Ludlum, a long-time professor of television and radio news at the Arthur L. Carter Journalism Institute, died Sunday, November 29, 2015, surrounded by his family. Prof. Ludlum was a warm, caring man and an excellent teacher—much loved by his students and colleagues. His love of broadcast news inspired many of his students to pursue careers in journalism. Before joining our faculty, he had a long career in broadcast journalism, including as news director of the CBS all-news radio station, WCBS, in New York.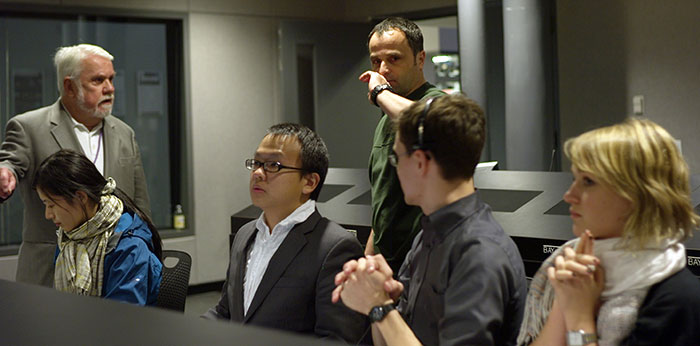 Mike Ludlum spent most of his broadcast career in New York City, where he worked in radio and television at both the local and network levels. During his more than 20 years at CBS, he served in many different capacities including news writer, editor, executive producer and news director. He was also heard on the air as the moderator of a weekly public affairs program. His favorite job was that of executive producer of a special enterprise and investigative reporting unit. Ludlum also worked at ABC Television as head writer of Good Morning America. In that capacity, he was in charge of the writing and research staffs and oversaw all scripts and interview material for the two-hour daily broadcast. He also briefed the on-air talent so they were well prepared to question major newsmakers, including presidents, prime ministers, cabinet secretaries and well-known people from all walks of life, from sports to show business.
During his years at the two networks, he was involved in coverage of such stories as the assassinations of Robert F. Kennedy and Martin Luther King Jr., the Johnson presidency, the end of the Vietnam War, the Watergate scandal, the Iran hostage crisis and many other events, from election campaigns to presidential inaugurations.
During Prof. Ludlum's time at NYU Journalism, he was instrumental in helping to build the department's broadcast offerings as well as serving as the director of undergraduate studies for a number of years. He was the first clinical professor to be hired in the Faculty of Arts and Science at NYU. Mike designed and ran the live November election broadcasts, and he taught abroad in Israel, Russia, London. In 2003, he was awarded the NYU College of Arts and Science (CAS) Golden Dozen Teaching Award for excellence in teaching; prior to that, while teaching as an adjunct, he received the CAS Outstanding Teacher Award.
Donations in his memory may be made to the Association for Frontotemporal Degeneration (theaftd.org).