March 10, 2016
Two NYU Grad Students win Prestigious OPC Foundation Awards
NEW YORK CITY …. Jesse Coburn and Alizeh Khohari, graduate students at New York University [Arthur L. Carter Journalism Institute, Global and Joint Program Studies], were awarded Overseas Press Club Foundation Scholar Awards at the Foundation's 2016 Annual Scholar Awards Luncheon held at the Yale Club in New York City.  Acclaimed Associated Press Senior Correspondent for Pakistan and Afghanistan Kathy Gannon was the keynote speaker.  Coburn and Khohari were among 15 aspiring foreign correspondents selected by a panel of leading journalists from a pool of 175 applicants from 50 different colleges and universities.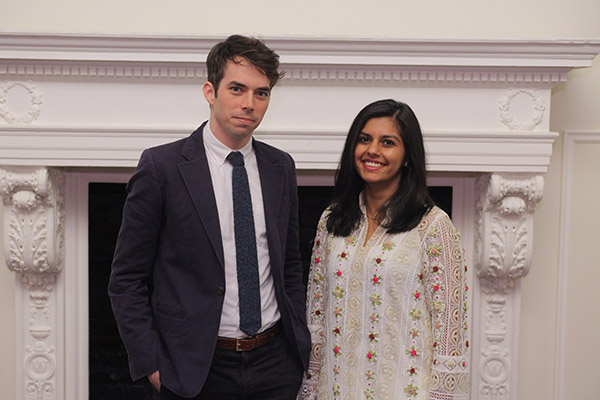 Jesse Coburn and Alizeh Khohari.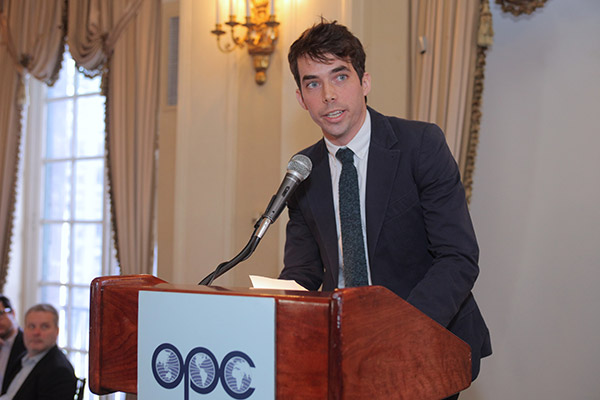 Coburn addressed the audience as he accepted the Overseas Press Club Foundation award at the Yale Club in New York City.
Coburn was the recipient of the Harper's Magazine Scholarship in memory of IF Stone.  He received his award from Rick MacArthur, publisher of Harper's.  In his winning essay, Coburn, a graduate of Wesleyan University, wrote about how tensions eventually subsided in the historically Protestant city of Hamburg, Germany, as a Lutheran church underwent conversion into a mosque.
Khohari received the Walter & Betsy Cronkite Fellowship from Tony Cavin, deputy foreign editor at CBS News.  She has an OPC Foundation fellowship at the Reuters bureau in Mexico City.   Khohari's essay was about the villages along the Indus River in Pakistan that bore the environmental consequences of the 1967 construction of the Tarbela dam. She is a graduate of the London School of Economics.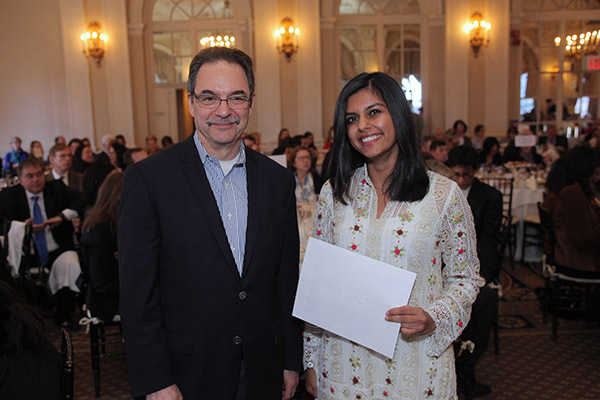 Khohari with Cavin.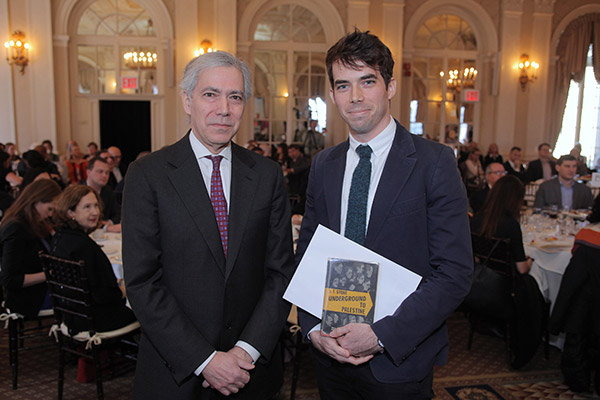 Coburn with MacArthur.
The award winners were also honored with a reception at Reuters the night before the luncheon, hosted by Reuters' editor-in-chief Stephen Adler.  On Saturday they received risk management and situational awareness training from Global Journalist Security at The Associated Press headquarters in New York City.  They also met privately with editors from BuzzFeed, AP and Reuters in a special breakfast held the morning of the awards presentation and at a post-luncheon panel.
The OPC Foundation is the nation's largest and most visible scholarship program encouraging aspiring journalists to pursue careers as foreign correspondents.  Media organizations at the luncheon included AP, Bloomberg, CBS News, GroundTruth Project, IBT Media, Reuters, and The Wall Street Journal.
For more information on the OPC Foundation and its scholarship/fellowship program, see overseaspressclubfoundation.org.
Contact: Jane Reilly 201-819-2639, foundation@opcofamerica.org