March 3, 2018
Dara Brown On the Changing Face of Broadcast News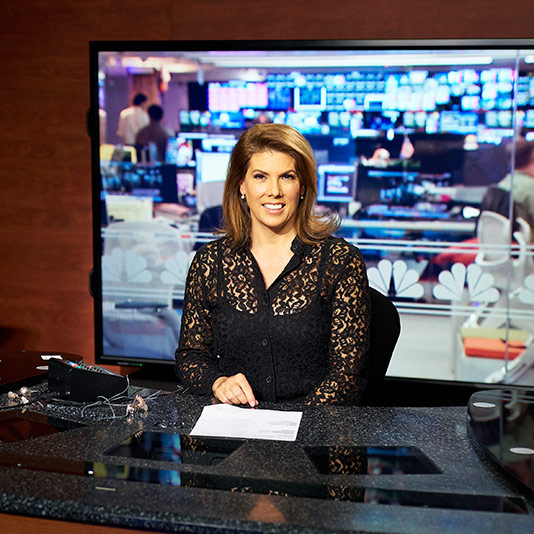 It's 9:30 on a Saturday night and NYU Journalism alum Dara Brown's cell phone alarm chimes— it's time to go to hair and makeup. She makes her way down cable-lined hallways to a fluorescent-lit room with a row of empty chairs. In the corner, a small television quietly plays the MSNBC broadcast. Brown sits down and a hairstylist and makeup artist set to work with an efficiency that could only be learned from years in the business. "Always be good to your makeup artist," Brown tells me as her makeup artist for the evening, Gil, applies cinnamon-colored shadow to her lids "They take care of you."
Once coiffed and made-up, Dara stops by the control room. She swaps stories about a technical snafu from the day before with the technical director before heading up to the video studio. Over the course of the night, Dara will present "cut-ins" every hour— those short news breaks between shows— all before her own show which broadcasts at 7:00am. Her role as overnight anchor is a little different from a typical "dayside" anchor job. Dara works with a smaller crew that turns over in the middle of the night; she'll program her own teleprompter and touch up her own lipstick, but that's only on quiet nights. When news breaks, Brown may be on air for hours for both NBC and MSNBC overnight, covering any news that unfolds. Brown was in the studio the night of the Pulse Nightclub shooting in 2016.
"We did hours on that, literally with no news other than 'there's been a shooting in Orlando.' There's really no preparation for that."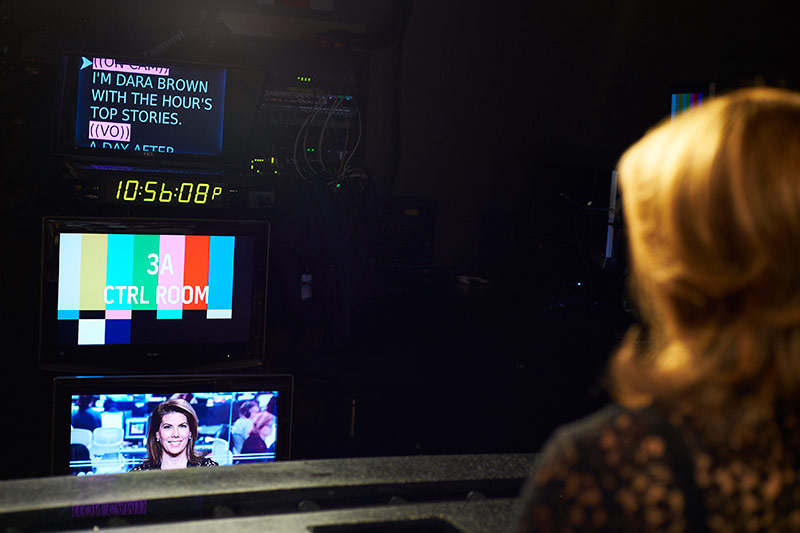 Brown is about as prepared as anyone could be in that position. As a child, she worked as an actor and after graduating from NYU returned to acting as a voiceover artist and TV host of scripted content. But the desire to return to news was always present. "It wasn't fulfilling. I ended up going in, and I'd be doing voice overs or reading scripts and grammatically correcting them, because it wasn't making sense."
In 2000, Brown started at MSNBC as an associate producer. "When I started here, I was not on camera. I just wanted to get back into writing and back into the meat and potatoes of what this business was."
MSNBC and Microsoft were a joint venture at the time, and Brown and her crew developed some of the earliest video news content for the web. "We pretty much did headline news in video content, but we covered 5 pm until 1 in the morning, so if people were on their computers after work or during those hours not watching a TV they could still get their headlines."
"We used to have 700 users, and we could track our users through the internet, thanks to Microsoft, as it was starting. But you know, 700 people? And that was huge!"
"Now it's a different world from 17 years ago, from where we started. We had creativity to do certain things." Brown and the online team at MSNBC were some of the first to use google chat and Skype to conduct interviews for video. "Whatever it was we could do that was cutting edge, we tried."
"We were the first group to jump on the viral videos, because people liked them, and that would get us huge clicks. We had interviewed this pilot who kept flying over the volcano in Iceland as it was erupting, and we Skyped him. Once Skype was available, it really opened up our world. We were pretty much the precursor to anything on the internet. We were number one for a very long time, now I don't know. The internet is so different now," she said with a laugh.
A lot has changed at NBC and MSNBC since the early days of internet video news. In recent months, journalists from a number of organizations have been fired following allegations of sexual harassment in the workplace. At NBC that person was anchor Matt Lauer. "I guess the difference is what you hear is now coming out in the media," Brown noted. "But I think that's the same with every business there's always been that rumor— that sort of unspoken gossip about what's going on. It's always been there, now it's just at a completely different level."
"I applaud those survivors for coming forward, because it should not be part of your job. We saw it in the movie industry, huge. We saw it in the news division. It's everywhere. It is pervasive. It's more than just the sexual assault side of it too, it's also not giving women the 100% chance to do what they can do. So it's more than just a #metoo movement, it's more about the equality, it's women coming up into being on an equal plane, and that's a societal issue."
"Women were minorities in the business when I started. Even growing up, when I watched tv, I watched Barbara Walters and Jane Pauley. They were female trailer blazers in this, women who were really forged their way ahead, and it was not easy. Thanks to them at least being a female reporter was acceptable."
Though Brown may very well be paving the way for the next generation, she doesn't consider herself a "female reporter." "I try to take those titles off of it," she said. "I think that this isn't just going to be a turning point for women, I think it's going to be a turning point for others as well. I think people have to start bringing down all inequalities lines, and hopefully, we'll live in a better world because of it."
The media landscape may be changing as a result of allegations against powerful figures at nearly every organization, but according to Brown there are more opportunities than ever for budding journalists. "I'm not so sure I would want to be in your position right now, only because there are actually almost too many opportunities now. It's got to be difficult to focus on where to go, where to find that niche, where to go explore those possibilities."
Her advice is simple, "ask questions, be aware of all the different components that are around you, sit in on whatever you can, whatever door opens explore every opportunity of it, because you never know. There was a time when I had much more fun sitting in a directors chair than I had on camera."