May 2, 2018
NYU and ProPublica collaboration about maternal mortality continues to garner awards: Polk, Peabody awards and Pulitzer finalist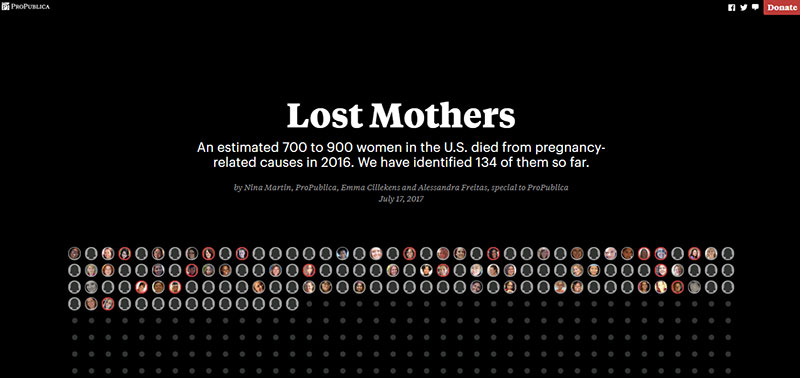 Eight NYU students, including Studio 20 students Emma Cillekens and Alessandra Freitas, are part of the ProPublica team which won the prestigious George Polk Award for their reporting on maternal mortality. In addition to the Polk and Goldsmith Awards, the project won a Peabody Award and was a Pulitzer Prize finalist.
"Lost Mothers" is an investigative series by ProPublica and NPR shining a spotlight of the number of women dying from childbirth-related complications in the U.S. It also shares the stories of the women who have died.
NYU's involvement started in Arthur L. Carter Journalism Institute graduate studies program under the guidance of adjunct professor Tom Jennings.
In 2017 students Clare Church, Emma Cillekens, Alessandra Freitas, Alexander Gonzalez, Lauren Gurley, Nina Hedevang, Eli Kurland and Razi Syed scoured social media for leads and reached out to the families of women who died to verify information for the project.
Emma Cillekens and Alessandra Freitas were contracted by ProPublica to continue researching and reporting on the stories.
"It's really a credit to the calibre of projects NYU exposed us to that we were able to achieve what we have thus far," Ms Cillekens said.
"What's more, it's really allowed a conversation to open up around the high rates of maternal mortality in the U.S.".
"It's been an amazing experience so far and we're really glad that we had the opportunity to work with such an amazing team on this incredible project," Miss Freitas added.
Mr Jennings says he's proud of the professionalism his students brought to the project.
The series is also in the finals of the National Magazine Awards for Print and Digital Media (Ellie Awards) and the Goldsmith Prize for Investigative Reporting.