Top Ten Works of Journalism of the Decade: Nominees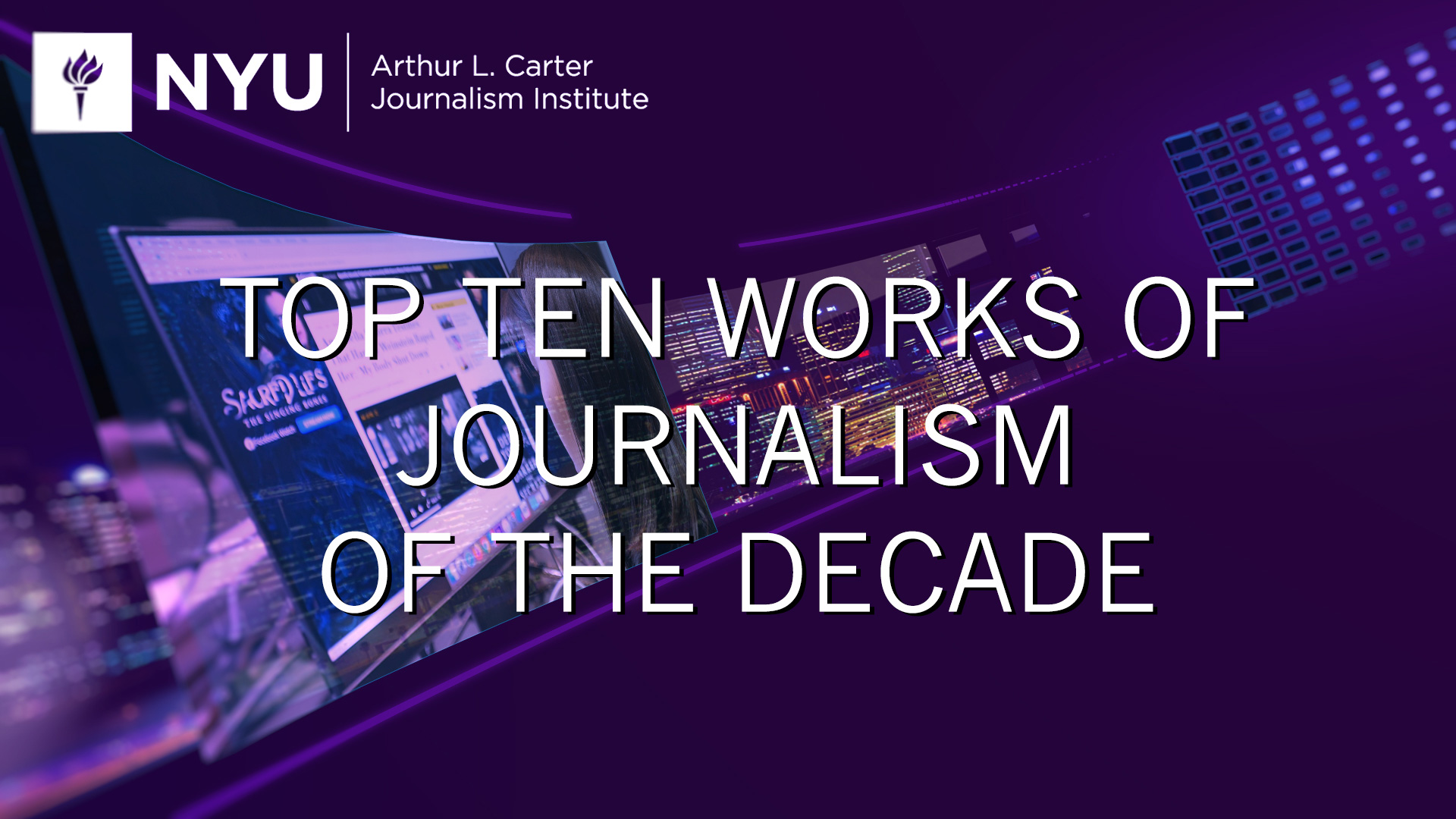 Our judges and NYU's Journalism faculty, along with some students and alumni, nominated 122 works of journalism for this honor.

2010
Michelle Alexander, The New Jim Crow: Mass Incarceration in the Age of Colorblindness. "The book demonstrates the ways in which the 'war on drugs,' and its resulting incarceration policies and processes, operate against people of color in the same way as Jim Crow. Powerful on its own terms and crucial as an engine toward transforming the criminality of our 'justice' system."
Dan Balz, Coverage of politics for the Washington Post, 2010-2019. "He has taken on the mantle of David Broder as the one political writer whose insights and judgements influence everyone else. And Balz has resisted the temptation to stay close to TV green rooms in Washington — and, instead, is an indefatigable reporter on the road."
Dan Barry, Writings for the New York Times, 2010-2019. "For simply being the writer who I would read on almost any topic for both his prose and his narrative gifts."
Charles Ferguson, Inside Job. "Angry and influential documentary exposing financial machinations behind the 2008 financial meltdown."
Michael Lewis, The Big Short: Inside the Doomsday Machine. "The only book that made sense of the 2008 financial crisis."
Siddhartha Mukherjee, The Emperor of All Maladies: A Biography of Cancer. "The book is about the ravages caused by cancer told in an elegant style."
Rebecca Skloot, The Immortal Life of Henrietta Lacks. "Extensively, and inventively researched, as well as gorgeously and compellingly written, the book weaves together a scientific journey with the story of a woman whose cells were crucial to major medical discoveries, all the while tracking both the bold and nuanced ways racism pervades these disciplines, and negatively impacts the lives of African Americans, and how it all relates to public health."
WikiLeaks (via Chelsea Manning), "Collateral Murder." "Uncovered U.S. Military's callous killing of civilians in Iraq, including two Reuters news staff. Not only is it a powerful work of journalism, it was done by an organization not often considered a journalistic outfit."
Isabel Wilkerson, The Warmth of Other Suns: The Epic Story of America's Great Migration. "It's a masterwork by one of our greatest writers and most diligent reporters. Exquisitely written as it is researched, embracing breadth and detail alike, essential reading to understand America." "A masterpiece of narrative nonfiction."
---
2011
Ames Alexander, Karen Garloch, Joseph Neff, David Raynor, Jim Walser, and Steve Riley, "Prognosis: Profits," Charlotte Observer. "Details huge salaries for some hospital executives, while the hospitals sue patients delinquent on their bills and send patients who couldn't pay to collection agencies."
Matt Apuzzo, Adam Goldman, Eileen Sullivan and Chris Hawley, NYPD spying on Muslims, Associated Press. "Powerful investigative reporting showing the systemic violation by the government of the rights of Muslim Americans in the years following 9/11."
Yasmine El Rashidi, Articles on the Arab Spring in Egypt, New York Review of Books. "The best analysis of what happened in Egypt that I've read — and one that often challenges liberal American perceptions."
Sara Ganim and members of Patriot-News staff, The Sandusky Scandal. "One of the first investigations of our era to probe the depths of sexual assault, and the ways that fame and celebrity shield perpetrators from justice."
Lourdes Garcia-Navarro, Coverage of the Arab Spring protests, NPR. "[Her] … stories were particularly insightful and exemplary, whether she was describing unfolding events or simply passing her microphone to everyday protesters or regime supporters. Often reporting at great personal risk, she filed reports directly from the battlefield, at times with the crackle of gunfire and bombs as her backdrop" — Peabody Awards website.
Mark Leibovich, Articles on national politics, 2011-2019, New York Times. "For cant-cutting profiles of political figures." "The best stylist on the political beat. He gets extra credit for his lacerating book on Washington called This Town."
Janet Reitman, Inside Scientology: The Story of America's Most Secretive Religion. "Lawrence Wright's 'Going Clear' received infinitely more attention, but this book, now out of print … is a fascinating, frightening account of a terrifically resistant subject."
Andrew Rossi, Page One: Inside the New York Times." This documentary "captures the excitement and the challenges in a newsroom when print is rapidly fading as the primary delivery system of serious news. Excellent time capsule."
---
2012
David Barboza, "Billions in Hidden Riches for Family of Chinese Leader," New York Times. "Striking exposure of corruption at high levels of the Chinese government. Well documented work published in the face of heavy pressure from the Chinese officials … no mean feat."
Katherine Boo, Behind the Beautiful Forevers: Life, Death, and Hope in a Mumbai Undercity. "Unbelievably well written and well reported portrait of a slum in Mumbai." "Vividly reports on the life of this slum's inhabitants."
Daniel Junge and Sharmeen Obaid-Chinoy, Saving Face. "A powerful short documentary about Pakistani women scarred by acid attacks and the fight to bring those responsible to justice."
Andrew Solomon, Far from the Tree: Parents, Children and the Search for Identity. "Wide-ranging investigation of how parents have dealt with, and should deal with, children who are 'different'….Through his reporting, empathy, and intelligence, Solomon achieves the rare feat of having us look at familiar issues in a wholly new way."
---
2013
"Scott Alexander," Slate Star Codex, 2013-2019. "This wide-ranging, self-critical blog, written under a portion of Alexander's real name, became among the most intellectually rewarding corners of contemporary journalism, exploring and then re-exploring subjects that range from psychiatry to economics to technology. Overflowing with interesting thinking about science, social science and life." The author suspended this blog in 2020, when the New York Times threatened to reveal his real name."
Sheri Fink, Five Days At Memorial: Life and Death in a Storm-Ravaged Hospital. "In the aftermath of Hurricane Katrina. This is narrative medical journalism at its finest: compelling, compassionate, and unsettling."
Ira Glass, Julie Snyder, Ben Calhoun, Alex Kotlowitz, Linda Lutton and Robyn Semien, "Harper High School," This American Life. "At Harper High School in Chicago, twenty-nine current or recent students were shot in the span of a single year. Learning of this staggering statistic, This American Life embedded three reporters at the school for five months" — Peabody Awards website.
Glenn Greenwald, Barton Gellman, with Laura Poitras and Ewen MacAskill, Revelations of NSA domestic surveillance based on documents from Edward Snowden, The Guardian US, Washington Post. "Changed the world."
Janet Malcolm, Forty One False Starts: Essays on Artists and Writers. "Sharp brilliant essays. This collection shows the pioneering journalist at the height of her talents working in innovative forms of essays."
Lawrence Wright, Going Clear: Scientology, Hollywood and the Prison of Belief. "Exposé on an organization and belief system that vigorously resists exposure."
---
2014
Roger Angell, "This Old Man," New Yorker. "An intensely observed look at the aging process from a personal point of view, written in a style so moving it might as well be music. This piece is so elemental — about the ultimate in current events, one's approaching demise."
Rukmini Callimachi, Reporting on Al-Qaeda and ISIS, New York Times. "No one has done a better job of lifting the veil."
John Carreyrou, Christopher S. Stewart, Rob Barry, Christopher Weaver, Anna Wilde Mathews, Tom McGinty, Janet Adamy, Martin Burch, Chris Canipe, Madeline Farbman, Jon Keegan, Palani Kumanan and Stuart Thompson, "Medicare Unmasked" Wall Street Journal. "An investigation and interactive presentation that exposed abuses in Medicare practices that cost billions to taxpayers."
Ta-Nehisi Coates, "The Case for Reparations," The Atlantic. "Beautifully written, meticulously reported, highly persuasive …" "The most powerful essay of its time." "Ground breaking." "It influenced the public conversation so much that it became a necessary topic in the presidential debate."
Jonathan Jones, T. Christian Miller, "Firestone and the Warlord," Frontline and ProPublica, "Documentary and articles investigate the relationship between Firestone and the infamous Liberian warlord Charles Taylor."
Suki Kim, Without You, There Is No Us: Undercover Among the Sons of North Korea's Elite. "Beautifully written, original reporting ….No other American journalist has gone undercover in North Korea, let alone focused solely on where power — in all systems — is nurtured and reproduced."
Sarah Koenig, Serial (Season One), This American Life, "Examined the murder of Hae Min Lee in 1999 in Baltimore and the questionable case against convicted teenager Adnan Syed." "Justice, and the lack of it, are the main characters …" "It takes broadcast radio into a new dimension by following the rules, by breaking the rules and coming up with new ones." "This series had a profound effect on podcasting and ushered in an era of popular true crime journalism."
Elizabeth Kolbert, The Sixth Extinction: An Unnatural History. "Forces readers to consider the threat posed by human behavior to a world of astonishing diversity" — Pulitzer Prize website.
Evan Osnos, Age of Ambition: Chasing Fortune, Truth, and Faith in the New China. "Vividly depicts the hopefulness and disappointments, clarity, and confusion that we have come to recognize in China's dazzling drive toward modernization and economic sustainability" — National Book Awards website.
Laura Poitras, Citizenfour, "Documentary on Edward Snowden and the NSA leaks. Changed the world."
Claudia Rankine, Citizen: An American Lyric. "One of the most radical, innovative, lyric investigations of race in America. This is an important work that documents and pins down the nuances of race in America. Its publication was a cultural event."
John Jeremiah Sullivan, "The Ballad of Geeshie and Elvie: On the Trail of the Phantom Women Who Changed American Music and Then Vanished Without a Trace," New York Times Magazine. "A critical detective cracking a case that had left scores before him completely empty-handed; suspenseful, gratifying, a great tall tale that turns out to be true."
Jason Szep and Andrew R.C. Marshall, Reports on the violent persecution of the Rohingyas in Myanmar, Reuters. "A series of courageous reports on the violent persecution of the Rohingya, a Muslim minority, in Myanmar that, in efforts to flee the country, often fall victim to predatory human-trafficking networks" — from Pulitzer Prize website.
---
2015
Staff of the Associated Press, "Slavery in the Seafood Industry." "An investigation of severe labor abuses tied to the supply of seafood to American supermarkets and restaurants, reporting that freed 2,000 slaves, brought perpetrators to justice and inspired reforms" — Pulitzer Prize website.
Ta-Nehisi Coates, Between the World and Me. "It is as if this book was written as part of a call and response to W.E.B. Du Bois, The Souls of Black Folks from more than a century earlier; now updated to a new century and even more searing. The problem of the 21st Century is still the color line." "Explosive, deeply moving and revelatory."
Nikole Hannah-Jones, The Problem We All Live With, This American Life. "Powerful argument for the 'one thing that really works' in improving the performance of minority students but 'we are not really talking about, and … very few places are doing anymore': integration."
N.R. Kleinfield, "The Lonely Death of George Bell," New York Times. "A detailed examination of what happens after the death of an obscure hoarder — followed by an account of the man's life that lifts him out of obscurity. Kleinfield's article represents the pinnacle of narrative feature writing — scrupulously reported, ingeniously structured, and written with clear-eyed empathy."
Jill Leovy, Ghettoside: A True Story of Murder in America. "By following a homicide detective on an unsolved homicide case, Leovy, a Los Angeles Times reporter, illuminated the processes by which violence against black men continues. Dogged, painstaking reporting; fierce analytical insight; clear prose with the rarest gift — a path toward help: The book illuminates ways policing can be improved and also implicates the media's role in perpetuating the systemic murder of black men."
T. Christian Miller and Ken Armstrong, A series of articles investigating police and prosecutors' handling of rape, ProPublica and the Marshall Project. "[S]tartling examination and exposé of law enforcement's enduring failures to investigate reports of rape properly and to comprehend the traumatic effects on its victims" — Pulitzer Prize website.
Diane Sawyer and David Sloan, "Bruce Jenner: The Interview," ABC. "This interview, with this very public figure — Jenner's last before her transition — was a major cultural moment for the transgender community."
Kathryn Schulz, "The Really Big One," New Yorker. "This meticulously researched and well-argued piece describes an earthquake that will wipe out most of the coastal Northwest; not if but when. Science disguised as a thriller."
Lindsey Smith, "Not Safe to Drink," Michigan Radio, NPR, "Radio documentary challenged state officials and helped break the story of Flint's horribly unhealthy new water system …"
Joby Warrick, Black Flags: The Rise of ISIS, "A deeply reported book of remarkable clarity showing how the flawed rationale for the Iraq War led to the explosive growth of the Islamic State" — Pulitzer Prize website.
Staff of the Washington Post, Police shootings database 2015 to present. "The definitive journalistic exploration and documentation of fatal police shootings in America. In a decade defined, in part, by the emergence of Black Lives Matter, this project set a new standard for real-time, data journalism and was a vital resource during a still-raging national debate." "In the wake of Ferguson, newsrooms across the country took up admirable data reporting efforts to fill the longstanding gaps in existing federal data on police use of force. This project stands out both in its comprehensiveness and sustained dedication."
Frederick Wiseman, In Jackson Heights. "From-the-ground-up portrait of a Queens neighborhood in transition, from the dean of American documentarians. Wiseman has been doing amazing work for more than half a century."
---
2016
Svetlana Alexievich, Secondhand Time: The Last of the Soviets. "Everyday Russian citizens recount the past thirty years, showing us what life was like during the fall of the Soviet Union and what it's like to live in the new Russia left in its wake."
Shane Bauer, "I Went Undercover With a Border Militia. Here Is What I Saw," Mother Jones. "Shane Bauer is this generation's Ted Conover."
Steve Capus, Chris Licht, Sharon Hoffman, "Nowhere to Go, Europe's Migrant Crisis," CBS News. "DuPont award winning Coverage of Europe's Migrant Crisis."
Matthew Desmond, Evicted: Poverty and Profit in the American City. "An amazing work of immersion journalism." "Gripping … offers not only a close-up examination of its subjects lives but a meta-analysis of the larger problem." "The reader understands profiteering from the ground up."
Ava DuVernay, 13th. "This thought-provoking documentary … explores how the Thirteenth Amendment led to an epidemic of mass incarceration in the United States." "Shows the systematic enslavement of people of color through incarceration."
Ezra Edelman, OJ: Made in America, ESPN Films. "A more than seven-hour-long documentary, shown in parts on television and later released in theaters, which employs the extraordinary rise and fall of this star football-player and successful television personality, who was later tried for murder, to frame a story of race in America."
Chris Estey, "How the Homeless Listen to Music: Low-Income, No Income, and Twelve-Step Subculture Is Its Own Music Scene," The Common Reader: A Journal of the Essay (Washington University). "A subject no one else had ever addressed presented in a clear, unsentimental, detailed manner. Of all the cultural pieces I came across over the last decade, this, by a record publicist and cartoonist, not a writer, hit me the hardest."
Eric Eyre, Three articles revealing how the state and drug companies, ignored regulations and allowed 780-million painkillers to pour into West Virginia counties while overdoses skyrocketed, Charleston Gazette-Mail. "[Exposed] the flood of opioids flowing into depressed West Virginia counties with the highest overdose death rates in the country" — Pulitzer Prize website.
David A. Fahrenthold, Series of articles demonstrating that most of candidate Donald Trump's claimed charitable giving was bogus, Washington Post. "By contacting hundreds of charities — interactions recorded on what became a well-known legal pad — Fahrenthold proved that Trump had never given what he claimed to have given or much at all, despite, in one instance, having sat on the stage as if he had."
Marisa Kwiatkowski, Mark Alesia and Tim Evans, "A Blind Eye to Sex Abuse: How USA Gymnastics Failed to Report Cases," IndyStar. "Their investigation … showed USA gymnastics executives had failed to report all allegations of sexual abuse involving coaches and other officials."
Jane Mayer, Dark Money: The Hidden History of the Billionaires Behind the Rise of the Radical Right. "Mayer spent five years looking into the Koch brothers' activities, and the result is this thoroughly investigated, well-documented book" — New York Times Ten Best Books of the Year.
John Oliver, Last Week Tonight, HBO. "A unique and bracing blend of satire and journalism. Oliver's 'main stories,' the centerpiece of his show, have cumulatively invented a new genre — comedy investigative journalism." In particular, episode 84, in 2016, on the failure to close Guantanamo Bay, "as told through the testimony of 14-year former inmate . . . and covering, among other things, how he survived the torture of constant heavy metal music by embracing it. Sardonic, sarcastic, setting you up for one thing and then changing voice and language so fast your head is spinning — leaving you heartbroken and laughing at the same time. A story covered by countless others who, unlike Oliver, didn't really get the story."
Jennifer Percy, "I Have No Choice but to Keep Looking," New York Times Magazine. "A brilliant account of a husband's unrelenting search for his wife, missing after the tsunami in Japan."
Marc Smerling, Zac Stuart-Pontier, Crimetown, (Season 1), Gimlet Media. "Podcast detailing the recent history of crime and corruption in Providence, Rhode Island. A rare blend of thorough, revelatory reporting and riveting listening."
Wright Thompson, "The Secret History of Tiger Woods," ESPN Magazine. "The best write-around ever, bar none."
---
2017
John B. Boles, Jefferson: Architect of American Liberty. "Critical examination of this slave-owning, human symbol of the American Revolution."
Susan Carroll, David Hunn, Ryan Maye Handy, James Osborne, Mark Collette, Matt Dempsey, Emily Foxhall, Mihir Zaveri, Lise Olsen and Tony Freemantle, "Developing Storm," Houston Chronicle. "A seven-part series explains why the damage of Hurricane Harvey — the most destructive storm in Houston's history — was both a natural and man-made disaster."
Jim DeRogatis, "Parents Told Police Their Daughter is Being Held Against Her Will in R. Kelly's 'Cult'", Buzzfeed. "A consequential article that brought into the spotlight new and old allegations of abuse by the singer R. Kelly."
Maggie Haberman, White House reporting, 2017-2019, New York Times. "When the final histories of the Trump years are written, Haberman will be the reporter whose work is cited the most frequently for giving contemporary insights into the dysfunction and ego-mania of the 45th president. Those who criticize her as a Trump enabler fail to realize the rules that even today govern reporters who are not columnists or magazine writers."
Glenn Kessler and Fact Checker Team, Database of Donald Trump's false or misleading statements, Washington Post. "A rigorously reported and continually updated list of false statements by the president, numbering more than 19,000 by June 2020. The project is a sterling example of what journalists should do — holding the powerful accountable by using reporting and facts."
Azmat Khan and Anand Gopal, "The Uncounted," New York Times Magazine. "A deep investigation into civilian casualties resulting from the US war on terror."
Jonathan Olshefski, Quest: A Portrait of An American Family. "Cinema verite-style documentary portrait of a North Philadelphia family over almost a decade. With sensitivity and shoe leather, tells the sort of story that is not told enough — an … African-American family, making their way through life."
Alexandra Petri, Political humor column, 2017-2019, Washington Post. "For her innovative ways to find humor in the Trump years. What has impressed is how adroitly she has avoided the obvious laugh lines and predictable form of mockery to write humor that is both lacerating and original. With the long-ago death of newspaper humor columns (like those written by Russell Baker in the Times), I find it particularly refreshing that Petri has almost single-handedly revived a venerable journalistic art form."
Elle Reeve, Charlottesville: Race and Terror, Vice News Tonight on HBO. "Remarkably revealing and disturbing interviews with and images of white nationalists converging on Charlottesville."
Richard Rothstein, The Color of Law: A Forgotten History of How Our Government Segregated America. "An examination of a long overlooked aspect of America's promotion and sanctioning of segregation."
Tom Toles, Editorial cartoons during the Trump presidency, Washington Post. Example: "Trump offers advice for those problematic arrests." "Toles's editorial cartoons over the last years have been the most imaginative, scabrous, and funny anywhere. I chose this almost blind; a hundred others are as good. I gape whenever I see the person with the pancake on his head."
Emily Yoffe, College campus rape accusation stories, The Atlantic. "Are colleges denying the accused due process in their efforts to crack down on sexual assault?"
---
2018
Rania Abouzeid, No Turning Back: Life, Loss, and Hope in Wartime Syria. "Best book of reportage on Syrian War. As literary as it is wide-ranging and accurate. Its breadth and originality, both in the genre of war reportage and as a work of literary journalism, but also in its implicit conception of what constitutes 'stories of war.' Exquisitely written."
Tonya Alanez, David Fleshler, Stephen Hobbs, Lisa J. Huriash, Paula McMahon, Megan O'Matz, Scott Travis, Aric Chokey, Dana Banker, Randy Roguski and David Schutz, "Unprepared and Overwhelmed," South Florida Sun Sentinel. "This minute-by-minute feature on the Parkland shootings utilizes information gathering and multimedia to show how failures by undertrained and overwhelmed employees cost children their lives at Marjory Stoneman Douglas High School."
Sandy Allen, A Kind of Mirraculas Paradise: A True Story About Schizophrenia. "Social history of mental illness and mental health treatment told through the author's reworking of a schizophrenic uncle's autobiography. Original in all ways — swath of information covered, narrative structure, and analysis."
Anne Applebaum, "A Warning From Europe: The Worst Is Yet to Come," The Atlantic. Perhaps the most powerful of her articles "… putting Trump in the framework of the authoritarian temptation that also now governs politics in parts of Europe." "Applebaum, historian of Central and Eastern Europe and a staunch opponent of Communism, has become a crucial journalistic voice against right-wing dictatorial tendencies not just in Europe but in the United States."
Staff of the Associated Press, "Torn Apart: Immigration in the Era of Trump." "Few events captivated the public in 2018 as powerfully as the many scenes of children separated from their parents at the U.S.-Mexico border ….Throughout the year, the Associated Press focused a critical spotlight on how these most vulnerable — the children — were affected by the president's approach to migration" — Robert F. Kennedy Human Rights Awards website.
Madeleine Baran, In The Dark, (Season 2), Minnesota Public Radio and American Public Media. "A narrative, investigative podcast uncovering the story of a black Mississippi man who was tried six times for the same murders. It is a master class in narrative and investigative journalism, and the team's reporting led not just to the man's release after more than 20 years, but to the Supreme Court ruling that the prosecutor in the case showed racial bias in jury selection."
David Barstow, Susanne Craig and Russ Buettner, "Trump Engaged in Suspect Tax Scheme, As He Reaped Riches From His Father," New York Times. "An enterprising, exhaustive examination of dodges and misrepresentations in the president's family's taxes."
Shane Bauer, American Prison: A Reporter's Undercover Journey Into the Business of Punishment. Based on a 2016 article for Mother Jones, "My four months as a Private Prison Guard." "Undercover investigation of private prisons in America. Rigorous investigation, highly ethical and redefining of our notion of what constitutes courageous reporting — in its accountability for oneself as well as holding others accountable."
David W. Blight, Frederick Douglass: Prophet of Freedom. "In-depth examination of this singular American icon."
Julie K. Brown, "How a Future Trump Cabinet Member Gave a Serial Sex Abuser the Deal of a Lifetime," Miami Herald. "Investigative journalist examines a secret plea deal that helped Jeffrey Epstein evade federal charges related to sexual abuse." "Brown essentially picked up a cold case; without her reporting, Epstein's crimes and prosecutors' dereliction would not be known." "Great investigative reporting." "Documenting the abuses of Jeffrey Epstein when virtually everyone else had dropped the story. "What makes this particularly compelling for me is that Brown did the reporting amid the economic collapse of a great regional paper." "A remarkable effort to empower victims."
John Carreyrou, Bad Blood: Secrets and Lies in a Silicon Valley Startup. "Impressive account of the frauds perpetrated by Elizabeth Holmes and her once-hot medical start-up Theranos, based on the investigative reporter's stories on the company for the Wall Street Journal."
Robin DiAngelo, White Fragility: Why It's So Hard for White People to Talk About Racism. "Deals with rarely considered aspects of race relations."
Eliza Griswold, Amity and Prosperity: One Family and the Fracturing of America. "A human examination of fracking." "Documenting the damages of the energy boom on a poor Appalachian town ….Top-notch investigative and empathic reporting and beautiful writing … Inspiring without sentimentality."
Zora Neale Hurston, Barracoon: The Story of the Last "Black Cargo." "Lengthy interview and discussion in Alabama in 1927 with one of the last African slaves brought to the United States."
Barbara Laker, Wendy Ruderman, Dylan Purcell and Jessica Griffin, "Toxic City: Sick Schools," Philadelphia Inquirer. "Many Philadelphia schools are filled with environmental hazards that are making kids sick. Almost won the Pulitzer, led to widespread changes and saved kids' lives."
Mick LaSalle, "Ask Mick LaSalle" column, San Francisco Chronicle. "An example taken at random from the best and most unpredictable arts column in the country, where in 700 or so words covering three to five questions on film theory is delivered through wise-cracking deep thought. If Raymond Chandler had written a movie column, this might have been it."
Bing Liu, Minding the Gap. "Director Bing Liu pulls off a remarkable feat of cinematic sleight of hand. What at first appears to be a film celebrating the joys of skateboarding turns into a deeply emotional journey of three young men — Keire, Zack, and the filmmaker himself — coming of age in a Rust Belt city." — Peabody Awards website.
Beth Macy, Dopesick: Dealers, Doctors, and the Drug Company that Addicted America. "Account of the opioid crisis from both the supply side (big pharma and lax government oversight) and demand side, telling the story of affected people on the ground."
Scott Pelley, Sharyn Alfonsi, Oriana Zill de Granados, Michael Rey and Emily Gordon, "On the Border," 60 Minutes. "This nuanced and newsmaking reporting looked at the Trump administration's policy of separating families at the Mexican border, [through] the poignant lens of aspiring immigrants going through it." — text of Columbia-duPont award.
Nathaniel Rich, "Losing Earth: The Decade We Almost Stopped Climate Change," New York Times Magazine. "Rich does an impeccable job recounting the facts of one of the greatest blunders in American political history. He vividly outlines the systemic corruption and the willful ignorance of the U.S. oil industry that largely contributed to the magnitude of the crisis now facing future generations decades later."
Adam Serwer, "The Cruelty Is the Point," The Atlantic. "This essay documents Donald Trump's harsh policies on immigration and social issues, and 'the ritual rhetorical flaying of his targets before his supporters.' The piece speaks to America's polarized political and public life, and the title alone has taken on an iconic status." "The most important article for understanding the first three years of the Trump Administration."
Ben Taub, "Iraq's Post-ISIS Campaign of Revenge," New Yorker. "A detailed, gripping analysis of how Iraq is 'dealing' with ISIS prisoners and the larger problem of terrorism."
Karen Tumulty, Columns on politics for the Washington Post, 2018-2019. "She has made the transition from reporter to columnist with aplomb. Her judgements are sound and having a column has given her the platform to express her views with passion and evidence-based reporting."
Staff of the Wall Street Journal, Investigation revealing President Trump's payoffs during his campaign to two women who claimed to have had affairs with him. "Important exposé of misbehavior during the 2016 Trump campaign."
---
2019
Roger Cohen, "Trump's Inhumanity Before a Victim of Rape," New York Times. "Cohen's columns over the past few years have been consistently the most honest and unflinching examinations of the idea and the practice of patriotism to be found anywhere. This one knocked the bottom out of the bottom."
Chris Durrance and Barak Goodman, Slay the Dragon. Documentary on Gerrymandering. "If there is nothing more fundamental in a democracy than free elections, there is no greater threat to freedom than the invidious and systemic efforts to subvert the process. Cheating, especially when orchestrated in backrooms by powerbrokers, is never pretty."
Carol Dysinger and Elena Andreicheva, Learning to Skateboard in a Warzone (If You're a Girl). "A class of young girls from disadvantaged neighborhoods in war-torn Kabul learn to read and write, and grow together in confidence through the joy of skateboarding" — Academy Awards website.
Ronan Farrow, Catch and Kill: Lies, Spies, and a Conspiracy to Protect Predators. "His investigation of the sexual abuse allegations against Harvey Weinstein and others and his own travails in reporting them. Originally reported for the New Yorker." "This is one of the defining issues of our times, one whose impact will be felt for a long time."
Dominic Gates, Steve Miletich, Mike Baker and Lewis Kamb, Series of investigations of the government and Boeing failings that contributed to the fatal crashes of the 737 MAX, Seattle Times. "Groundbreaking stories that exposed design flaws . . . that led to two deadly crashes and revealed failures in government oversight" — Pulitzer Prize website.
dream hampton, Joel Karsberg, Tamra Simmons, Jesse Daniels and Brie Miranda Bryant, Surviving R Kelly (Season One), Lifetime. "Six-part documentary series, exposed decades-worth of alleged sexual misconduct and abuse of underage girls and young women of color by the R&B superstar" — Peabody Awards website.
Nikole Hannah-Jones, Matthew Desmond, Jeneen Interlandi, Kevin M. Kruse, Jamelle Bouie, Linda Villarosa, Wesley Morris, Khalil Gibran Muhammad, Bryan Stevenson, Trymaine Lee, Djeneba Aduayom, Nikita Stewart, Mary Elliott, Jazmine Hughes, Anne C. Bailey, The 1619 Project, New York Times Magazine. "Explores the beginning of American slavery and reframes the country's history by placing the consequences of slavery and the contributions of black Americans at the very center of our national narrative." "A definitive work of opinion journalism examining the lingering role of slavery in American society."
Jodi Kantor and Megan Twohey, She Said: Breaking the Sexual Harassment Story That Helped Ignite a Movement. Based on their reporting for the New York Times. "A chronicle of the #MeToo era." "A pitch-perfect primer on how to take a hot-button-chasing by-the-minutes breaking story and investigate it with the best and most honorable journalistic practices." "This is one of the defining issues of our times, one whose impact will be felt for a long time."
Patrick Radden Keefe, Say Nothing: A True Story of Murder and Memory in Northern Ireland. "The author goes back in time to an incident in Northern Ireland at the time of the Troubles, and asks whether violence is ever justified and whether forgiveness is ever possible. This book makes an eloquent case for how history is never really in the past." "A gripping 'thriller' that widens to illuminate the horrors of the conflict in Northern Ireland." "A masterful history of the Troubles." "Unbelievably rich storytelling and deep … reporting reveals the complexity of political conflict in Ireland (and he solved a murder along the way)."
Ibram X. Kendi, How to Be an Antiracist. "Great book for our time."
T. Christian Miller, Megan Rose and Robert Faturechi, "Fight the Ship: Death and Valor on a Warship Doomed by Its Own Navy," ProPublica. "Officials ignored warnings for years before one of the deadliest Navy crashes in decades."
Nadia Reiman and staff of This American Life, with Molly O'Toole of the Los Angeles Times and Emily Green with Vice News, "The Out Crowd." Winner of first Pulitzer Prize for "audio reporting." "Revelatory, intimate journalism that illuminates the personal impact of the Trump Administration's 'Remain in Mexico' policy" — Pulitzer Prize website.
Omaya Sosa Pascual and Luis J. ValentÌn Ortiz, "El Saqueo a los Fondos Públicos Detrás del Chat," ["The looting of public funds behind the chat"], Centro de Periodismo Investigativo (CPI). "Puerto Rico's Center for Investigative Journalism revealed private messages between Governor Ricardo Rosselló and cabinet members, which revealed a multi-million dollar network of corruption and resulted in massive protests on the island and Rosselló's resignation."
Brian M. Rosenthal, "They Were Conned: How Reckless Loans Devastated a Generation of Taxi Drivers," New York Times. Investigative series on "New York City's taxi industry that showed how … predatory loans … shattered the lives of vulnerable drivers," reporting "that ultimately led to state and federal investigations and sweeping reforms" — Pulitzer Prize website.
Zadie Smith, "Fascinated to Presume: In Defense of Fiction," New York Review of Books. "A defense of the novelist's ability to imagine the other. This essay will go down, along with Ralph Ellison's 'The World and the Jug,' as a seminal analysis of literature's power — and a response to identity politics."
Ben Taub, "Guantánamo's Darkest Secret," New Yorker. "A devastating account of a man who was kidnapped, tortured and deprived of his liberty for more than a decade at the Guantanamo Bay detention facility, blending on-the-ground reporting and lyrical prose to offer a nuanced perspective on America's wider war on terror" — Pulitzer Prize website.
Jia Tolentino, Trick Mirror: Reflections on Self-Delusion. "Jia is an expert at articulating the millennial digitized life."
Gene Weingarten, One Day: The Extraordinary Story of an Ordinary 24 Hours in America. "Random events in random places happening to random people reveal far more causality and commonality that one would ever suspect. The heartbeat of this book is one basic concept: it all matters and we need only to pay attention."
Craig Whitlock, "At War with the Truth," Washington Post. "A confidential trove of government documents reveals that senior U.S. officials failed to tell the truth about the war in Afghanistan throughout the 18-year campaign, making rosy pronouncements they knew to be false and hiding unmistakable evidence the war had become unwinnable."