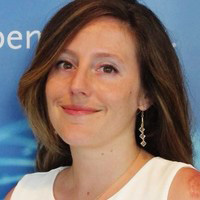 Andrea Brown Murga
Undergraduate Student Adviser
As the undergraduate student adviser at NYU Journalism, Andrea provides guidance on the academic aspects of the Institute's journalism major and two journalism minors. If you have questions about program requirements, need help planning out your journalism courses, or just need some advice on how to juggle everything, she's here to help! Email her or schedule an advising appointment.
Andrea has worked in higher education for nearly 15 years in student advising, research, and administrative capacities. Before NYU, Andrea worked at the Institute of International Education (IIE), conducting program evaluations of international scholarship, exchange, and training programs, including social justice and diversity-focused programs like the Ford Foundation International Fellowships Program and the U.S. Department of State's Gilman Scholarship Program. She also worked as a study abroad adviser at UC Berkeley.
Currently, Andrea is a doctoral student in the Higher and Postsecondary Education program at NYU Steinhardt, where her research focuses on evaluating university-based implicit bias trainings. She has a B.A. in Philosophy from UC Berkeley and an M.A. in International Education from NYU Steinhardt. She is also a proud former community college transfer student.