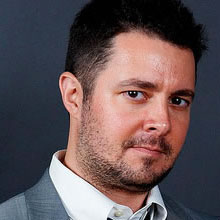 Anthony De Rosa
Adjunct Faculty
Anthony is the Reuters Social Media Editor, integrating the "ambient wire" that exists on social networks, where news now breaks before anywhere else, into Reuters platforms. He's also host of Reuters TV's "Tech Tonic" and a Reuters columnist.
Anthony began his career in 1999 by developing websites for Newmark, one of the largest commercial real estate firms in the world, where he grew their traffic 600% in one year. He left Newmark after that year and for the next six years he went on to work for Merrill Lynch and Bristol Myers Squibb, managing large scale technology projects.
In 2006, he began working for a software startup that was later merged with Thomson Reuters and in 2010 he moved over to Reuters Media to manage their News API.  Throughout this time he contributed articles for places like IFC, Mediaite, Brandchannel, Nomad Editions and Gawker. A year later, he was asked to join the editorial team at Reuters, as their Social Media Editor. In 2011, he received a Reuters Journalism Award for Best Innovation in Storytelling, for his use of integrating social media elements into the traditional article format.
His integration of social media into traditional news formats has earned him praise from The New York Times, which declared him "The undisputed King of Tumblr," as well as Ad Week which named him one of twenty "Young Influentials" and Details magazine named him one of twelve social media mavericks.