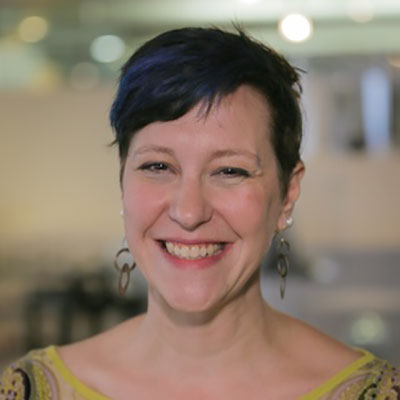 Ellen Horne
Adjunct Faculty
Ellen Horne is the founder of Story Mechanics, a production company specializing in podcasts, scoring/sound design, and live shows. Story Mechanics is currently producing podcasts about economics and science, as well as developing narrative journalism projects. In theatrical live shows, Story Mechanics past clients include television host Adam Conover (Adam Ruins Everything) and author Dan Barber (The Third Plate, chef/owner Blue Hill).
For 12 years, she produced Radiolab as Executive Producer. During her tenure at Radiolab, she led the award-winning editorial production team (George Foster Peabody Awards [twice], Murrow Awards, National Academy of Sciences' Keck Futures Communication Award, the Kavli Science Journalism Award, the National Community Broadcasters Association's Golden Reel Award [twice] and the Third Coast Audio Festival Award [five times…but who is counting?] ) While at New York Public Radio, she worked with On The Media, the Brian Lehrer Show, The Takeaway, she created several podcasts (IQ2US Live Debates, TED Audio Talks podcast) and hosted the Mad Men Pre-Game Show.
At Cornell College, she earned an undergraduate degree in Theater and Religion. Ellen has a soft spot for theatrical touring shows. She directed and produced three national touring productions for Radiolab. Ellen was Executive Producer for Original Content at Audible, where she created original programming (Ponzi Supernova, Twain's Feast, Pitch, Mortal City). Prior to her career in narrative audio storytelling, Ellen was a development director for a marine conservation non-profit.