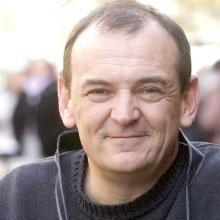 Jim MacMillan
Adjunct Faculty
Jim MacMillan is an independent multimedia journalist, university educator and instructional new media consultant, based in Philadelphia. MacMillan spent last year as an assistant professor on the convergence journalism faculty at the University of Missouri School of Journalism.
Previously, he served as the senior photographer, a photo-columnist and the first solo video journalist at the Philadelphia Daily News, where he worked from 1991-2008.
On leave from the Daily News in 2004-2005, MacMillan was a photographer and photo editor for the Associated Press in Iraq, personally covered over 200 combat missions and worked at times managing the AP's photo reports and staff development in Baghdad. MacMillan was honored with the Bayeux Prize for War Correspondents, and was included in the Associated Press photo team awarded the 2005 Pulitzer Prize for breaking news photography.
In 2006-2007, he was a Knight-Wallace Fellow at the University of Michigan, and an Ochberg Fellow with the Dart Center for Journalism and Trauma later in 2007. MacMillan led photojournalism workshops at Tufts University, and undergraduate courses at Temple University.
Last year, MacMillan was named one of the Five Biggest Photographers on the Internet by Photo District News, and Philadelphia Magazine's 2009 Best of Philly "Nuevo Journalist," both for his experiments in social media.
MacMillan also serves as the journalist-in-residence at War News Radio at Swarthmore College, and leads journalism innovation seminars at Temple University.