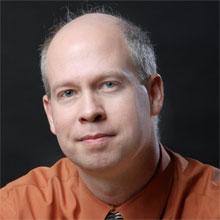 Kenneth Paulsen
Adjunct Faculty
Kenneth Paulsen has taught journalism to undergraduates since the fall of 2003, starting with Reporting I and continuing with the course's successor, Journalistic Inquiry. He is currently the associate city editor of the Staten Island Advance, a daily newspaper serving New York City's smallest borough. His duties include coordinating local news coverage and story development for both print and online publication. Paulsen also has experience at the paper as a reporter, features editor and page designer.
Previously, he served as classroom publications editor/content manager for Newsweek magazine's education program, producing its Web site and coordinating production of news-education materials such as wall maps that focus on critical global issues. One such map, "Land Mines: Eliminating the Threat," is used around the world to raise awareness and prevent tragedies resulting from these remnants of war. Five other publications have been recognized for excellence by the Association of Educational Publishers.
In the spring of 2005, his first book, Living the College Life, based on interviews with more than 150 students around the country, was published by John Wiley and Sons.
He is an alumnus of NYU's Journalism Department, having earned a master's degree in 1992. He is a 1990 graduate of Syracuse University's S.I. Newhouse School of Public Communications.