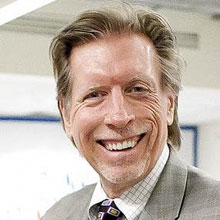 Kevin Convey
Adjunct Faculty | Studio 20
Kevin R. Convey was most recently editor in chief of the New York Daily News, where he spearheaded the paper's transition to digital-first newsgathering and publication, while reconnecting the brand to its outer-borough roots and historic urban voice, strengthening its local report and opening its first-ever bureau in Harlem.
Prior to that, Convey served as editor in chief of the Boston Herald, as well as editor in chief of Community Newspaper Company, where he was responsible for the editorial operations of more than 100 community weeklies and four suburban dailies.
He has also worked as a Sunday editor, arts editor, city editor, magazine writer and editor; political editor and reporter; and business, investigative and general assignment reporter in a career stretching back to 1977. He began his journalism career at the age of 9 when he began distributing a neighborhood newsletter he printed himself on a toy press.