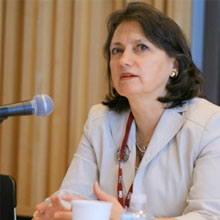 Leslie Wayne
Adjunct Faculty
Leslie Wayne is an award-winning former business reporter for The New York Times. In more than two decades at The Times, she produced over 1500 bylines on topics ranging from Wall Street to the economy to financial scandals. She has specialized in business investigations and been on The Times' campaign finance team in every Presidential election from 1996 to 2008.
Her Times' assignments have included enterprise reports on major American corporations, executives and business trends. She has covered aerospace and defense, municipal finance and reported from Times' bureaus in Washington, Los Angeles, London and Paris.  Ms. Waynehas worked as a senior writer for The International Consortium of Investigative Reporters in Washington DC and was the lead reporter on "Lux Leaks," which exposed on Luxembourg's secret corporate tax breaks. In 2015, Lux Leaks earned a George Polk award, a New York Press Club award and a SABEW (Society of American Business Editors and Writers) award.
Ms. Wayne has appeared on CNBC, MSNBC, Fox News, CBS Radio, Bloomberg television as well as Times' podcasts and videos. She has an M.B.A. from Columbia Business School and was a Knight-Bagehot Fellow in Business Journalism at Columbia. She is a graduate of The University of Michigan, was a state house reporter at The News and Observer in Raleigh, N.C. and a special assignment reporter at The Philadelphia Inquirer. She was selected in 2010 as the inaugural Donald W. Reynolds visiting professor in business journalism at Arizona State University and was a visiting professor in the Global Business Journalism program at Tsinghua University in Beijing in 2012.  Ms. Wayne is a five-time winner of The New York Times "Publisher's Award," part of a team that won a Gerald Loeb award and a winner of the "Best of Bagehot" award honoring the best work from a Bagehot Fellow.