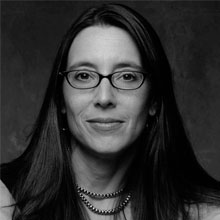 Lori Grinker
Adjunct Faculty
Lori Grinker is an award-winning documentary photojournalist. While a student at Parsons School of Design, she conducted a photo essay on young boxers who worked with legendary trainer Cus D'Amato, included in this group was a 13 year-old Mike Tyson who she continued to photograph for the following decade. Since then she has worked in over 60 countries covering stories from child soldiers in Cambodia to the September 11, 2011 attack on the World Trade Center.
Grinker's work has been exhibited and published internationally, garnering many awards, including a World Press Photo Foundation Prize, New York Foundation for the Arts Grant, W. Eugene Smith Memorial Fellowship, Open Society Community Engagement Grant, the Ochberg Fellowship and a Hasselblad Foundation Grant. Her photo-essays have featured in numerous publications such as Life; The New York Times Magazine; Newsweek; People; Paris Match, London Sunday Times magazine; Stern, and GEO. Her photographs are held in the collections of the International Center of Photography (ICP), New York; Museum of Fine Arts, Houston; Israel Museum, Jerusalem; San Francisco MOMA (among others).
Grinker has published two books: The Invisible Thread: A Portrait of Jewish American Women (co-authored with writer Diana Bletter) and Afterwar: Veterans from a World in Conflict, and is currently working on a book of her photographs of Mike Tyson.
In April 2003, Grinker was embedded on the USNS Hospital ship during the US invasion of Iraq, following this she reported on the Iraqi refugee crisis creating a traveling exhibition and educational program with Morningside Center for Teaching Social Responsibility. In 2008, this work was featured on Bill Moyers Journal. In 2012 Grinker worked on her first short documentary, The Little Freedom Church (for the Black Heritage Network). Grinker's 2013 multimedia piece, The Wilderness After War about the effects of PTSD on three former U.S. service members was featured in Acts of Witness and the PBS NewsHour online. Her current long-term project, Distant Relations, explores her family's diaspora.
A lecturer at Yale since 2010, and a faculty member at ICP, Grinker teaches photography workshops around the world. She is represented by Nailya Alexander Gallery in New York, and has been a member of Contact Press Images since 1988.