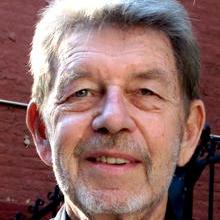 Pete Hamill
Distinguished Journalist in Residence, 2005-2020
Pete Hamill was a veteran New York journalist, novelist, and the author of 23 books, including "Downtown: My Manhattan," "Diego Rivera" and "A Drinking Life." His eleven novels include "Snow in August" and "Forever," both of which were New York Times bestsellers, along with three collections of short stories.
Hamill was born in Brooklyn, New York, the eldest son among seven children of Irish immigrant parents. After service in the U.S. Navy, he attended Mexico City College in 1956-57, as a student on the G.I. Bill, the School of Visual Arts and Pratt Institute in New York. He began his journalistic career in 1960 as a reporter at the New York Post. He has covered wars in Vietnam, Nicaragua, Lebanon and Northern Ireland, as well as the domestic disturbances in American cities in the 1960s, major sports events, political conventions and social trends. His work has appeared in the New York Post, New York Daily News, and Village Voice. In addition to his many years as a columnist, he has served as editor-in-chief of both the New York Post in 1993 and the New York Daily News in 1997.
He wrote for many magazines, including the Saturday Evening Post, New York (where he was a contributing writer for 25 years), Esquire and others.
Hamill passed away August 5, 2020. Read his obituary on NYTimes.com.
Major Awards and Honors
2014 George Polk Award, Career Award for 2013
2014 New York Media legend Award (May 8, 2014)
2014 Eugene O'Neill lifetime Achievement Award (Oct 20, 2014)
2011 Irish American of the year 2011 (Irish Echo)
2011 The Dewitt Clinton Award
2011 Pratt Institute Legend Award (Nov 11, 2011)
2011 The A.J. Liebling Lifetime Achievement Award. Boxing Writers of America
2010 The Louis Auchincloss Prize. Museum of the City of New York
2010 Doctor of Letters. St. John's University. Queens N.Y.
2010 Honorary high school diploma. Regis High School. New York, N.Y
2009 Museum of the City of New York: Chosen as one of 400 Most Influential New Yorkers in Past 400 Years
2005 Ernie Pyle Lifetime Achievement Award. National Society of Newspaper Columnists
2000 Lifetime Achievement Award. Columbia University Graduate School of Journalism.
1999 Listed as one of the noted Irish-Americans of the 20th Century. Irish-America magazine.
1998 Hall of Fame. Deadline Club/ Society of Professional Journalists
1998 Damon Runyon Award. Denver Press Club.
1993 ACE award. National Cartoonists Society
1992 Peter Kihss Award. Society of  Silurians.
1989 Lifetime Achievement Award. Society of Silurians.
1980 Doctor of Humane Letters (honorary). Pratt Institute.
1975 Grammy award for Best Liner Notes (Bob Dylan's "Blood on the Tracks")
1971 Spur award for best movie script ("Doc"). Western Writers of America.
1962 Meyer Berger Award. Columbia University Graduate School of Journalism.
Published Articles & Essays