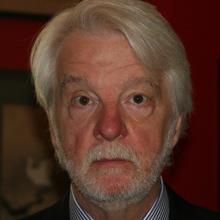 Robert Lee Hotz
Distinguished Writer in Residence
Robert Lee Hotz is a science writer at The Wall Street Journal where he reports on new research and its impact on society. Mr. Hotz has covered science and technology for 30 years.
He is president of the Alicia Patterson Foundation, which funds independent journalism projects around the world. He is an elected Fellow of the American Association for the Advancement of Science (AAAS) and is a past president of the National Association of Science Writers.
Professor Hotz is among America's most respected science journalists. He was a Pulitzer Prize finalist in 1986 for his coverage at The Atlanta Journal-Constitution of the legal, moral and social impacts of genetic engineering, and again in 2004 for his coverage at The Los Angeles Times of the space shuttle Columbia accident. Mr. Hotz shared in The Los Angeles Times' 1995 Pulitzer Prize for articles about the Northridge Earthquake. He has received many other honors, including national awards from AAAS, The Society of Professional Journalists, and the American Geophysical Union. He has traveled widely in Antarctica and the Arctic, including four trips to the South Pole.