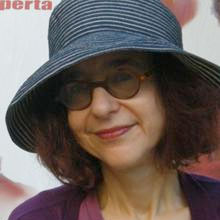 Susie Linfield
Associate Professor
Susie Linfield writes about the intersection of culture and politics for a wide array of publications. Recent essays have addressed Syrian torture photographs (the New York Times), war photography (Aperture and the Nation), the Zionist Left in Israel (the Boston Review), and an anti-Vietnam War classic (Bookforum).
Professor Linfield's book The Cruel Radiance: Photography and Political Violence (University of Chicago Press, 2010) was a finalist for the National Book Critics Circle Award in Criticism. It has been translated into Italian and Turkish and (forthcoming) Korean.
For six years, Professor Linfield was a critic for the Los Angeles Times Book Review. Her work has appeared the Washington Post Book World, the New Republic, Dissent, the Village Voice, the New Yorker, and Rolling Stone, among other publications. Her essays have been translated into German, French, Italian, and Spanish.
In 2013, Professor Linfield was the Holtzbrinck Fellow at the American Academy in Berlin. She serves on the editorial boards of Dissent and Photography and Culture, and is a member of the New York Institute of the Humanities.
Prior to joining the NYU faculty, Professor Linfield was the editor in chief of American Film, the deputy editor of the Village Voice, and the arts editor of the Washington Post.
Professor Linfield received her B.A. from Oberlin College, where she studied American history, and her M.A. in journalism from NYU (minor: documentary film). She was born and raised in New York City. For seven years she attended George Balanchine's School of American Ballet and danced with the New York City Ballet.
From its founding in 1995 until 2014, Professor Linfield was instrumental in building NYU's Cultural Reporting and Criticism program, first as associate director and then as director.
Professor Linfield will be on leave Academic Year 2014-15
---
Published Works