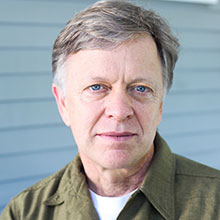 Ted Conover is the author of seven books, most recently Cheap Land Colorado: Off-Gridders at America's Edge. His best-known work is 
Newjack: Guarding Sing Sing
, an account of his ten months spent working as a corrections officer at New York's Sing Sing Prison.
Newjack
won the National Book Critics Circle Award in 2001 and was finalist for the Pulitzer Prize. Conover's other books include
Rolling Nowhere: Riding the Rails With America's Hoboes
,
Coyotes: A Journey Across Borders With America's Mexican Migrants
,
Whiteout: Lost in Aspen
,
The Routes of Man: Travels in the Paved World
, and
Immersion: A Writer's Guide to Going Deep
. A summa cum laude graduate of Amherst College, Conover spent two years at Cambridge University as a Marshall Scholar. He is the recipient of an honorary doctorate from Amherst and of a Guggenheim Fellowship. In recent years he has taught at the Bread Loaf Writers' Conference, Harvard's John F. Kennedy School of Government, and the University of Oregon. He contributes to publications including The New York Times Magazine, The New Yorker, Harper's, Vanity Fair, The Atlantic, T Magazine, National Geographic, and others.