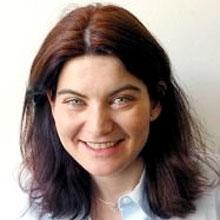 Veronika Bednarova
Part-Time Lecturer | Prague
Veronika Bednarova is a senior reporter and editor for the contemporary Czech cultural and international affairs magazine Reflex. She spent two years (2012-2014) as the managing editor of the Czech monthly Esprit and two years (2010-2012) as the senior reporter of the weekly magazine Pátek (Friday), both published by Lidové noviny, the most influential Czech daily newspaper known for its high-quality editorial supplements. Prior to joining Lidove noviny, she worked for 9 years as an international reporter for Reflex magazíne.
Bednarova specializes in cultural and foreign affairs. She has been reporting regularly from the U.S, the U.K and South Africa. She wrote a book feature on Silicon Valley, covered the situation in the Iraqi city of Basra, and wrote a travel column Somewhere in Africa while living in South Africa. She was awarded the 1st Ringier 2002 Award for the Best Cover Story of the Year (covering the 9/11 events in New York), and the 1st Ringier 2005 and 2009 Awards for covering the AIDS epidemic in South Africa.
After receiving her Master's Degree from Charles University, Bednarova spent two years (1999-2001) at New York University in New York as a Fulbright Scholar, earning a Master's degree in Arts Management. While there, she worked for the Lincoln Center of the Performing Arts.
Since 2002, she works as editor-in-chief of the Czech-English Festival Dailies at the annual International Film Festival in Karlovy Vary. During her career, Bednarova has interviewed many internationally known personalities (the former US Secretary of State Madeleine Albright, actors Robert De Niro, Danny DeVito, Robert Redford, Morgan Freeman, Harvey Keitel, Antonio Banderas, John Travolta, Mel Gibson, the film directors Milos Forman, Woody Allen and many others).
She has been teaching at NYU Prague since January 2006. In 2006, she also published a book of her successful travel stories, My American Beauty.