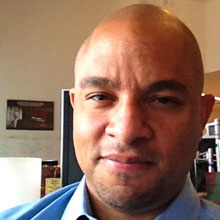 Jason Samuels
Associate Professor
Studio 20, NewsDoc
Jason Samuels is an associate professor of journalism at NYU, and an Emmy Award-winning network news and documentary producer.
Most recently Jason served as a senior segment producer with the HBO news magazine Real Sports with Bryant Gumbel.
Before joining HBO Jason spent three years at CNN where he was the writer and producer of the primetime documentaries: Obama Revealed: The Man, The President, Silicon Valley: The New Promise Land and Unwelcome: The Muslims Next Door.
Jason has also developed and produced original content as a senior producer at ESPN, BET and ABC News Digital, where he was the executive in charge of the World News Webcast with Charles Gibson, an innovative live network newscast produced exclusively for the web.
As a long-form producer at NBC News from 1995 to 2006, Jason produced several primetime documentaries including: A Pattern of Suspicion. This groundbreaking data-driven examination of racial profiling was awarded several of the most prestigious prizes in broadcast journalism including an Alfred I. duPont-Columbia University Award, an RTNDA-Edward R. Murrow Award and an Investigative Reporter and Editor Award.
Jason began his career in journalism as a news writer and producer at WCVB-TV in Boston (1993).
---
Published Works