Event
Discussion: Truth, Objectivity & Journalists of Color
What does objectivity in journalism look like for journalists of color? Is objectivity still a realistic goal?
April 11, 2023
6:00PM - 7:30PM ET
Online
About This Event
What does objectivity in journalism look like for journalists of color? Is objectivity still a realistic goal? Join us for a discussion featuring NYU Journalism's Professor Rachel Swarns and guest speakers Cody Gee Sheridan Hmelear(NY AAJA Vice President), Bonita Sostre (NY NABJ President), and Kiara Alfonseca (NY NAHJ Vice President).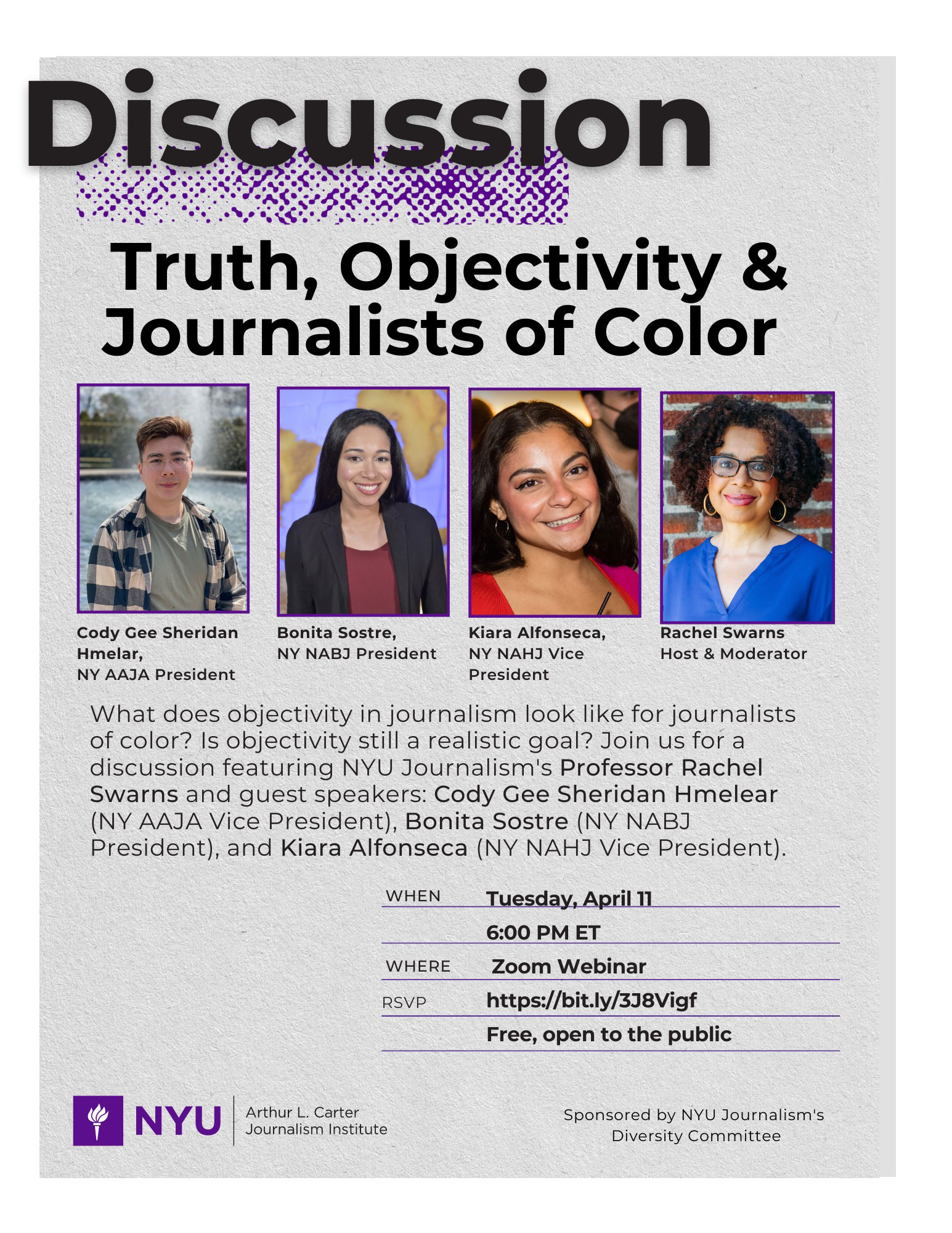 Visit the link below to reserve your spot.
Host and Panelists
Rachel L. Swarns is a journalist, author and associate professor of journalism at NYU, who writes about race and race relations as a contributing writer for The New York Times. Her articles about Georgetown University's roots in slavery touched off a national conversation about American universities and their ties to this painful period of history. Her work has been recognized and supported by the National Endowment for the Humanities, the Ford Foundation, the MacDowell artist residency program and other institutions.
Bonita Sostre is an Emmy award winning producer. She joined CBS News in 2015. She's traveled nationally and internationally on breaking news stories. She's covered everything from the Pulse Nightclub Shooting, the Ariana Grande Concert bombing and the 2020 social justice movement including Breonna Taylor and George Floyd.Before joining CBS she worked on the last season of BET's 106 and Park and as a Field Producer for ABC News. As a Field Producer she navigated breaking news, many live shots and worked with numerous correspondents.She began her career at NBC has a Page working on the Today Show, Saturday Night Live, Jimmy Fallon, MSNBC and CNBC. Before working as a production associate at "Early Today." She is currently the President of NYABJ, the NY chapter of the National Association of Black Journalists. Sostre graduated from Hampton University with a B.A. in Broadcast Journalism and minor in Political Science, she is a native New Yorker.
Kiara Alfonseca is a Race and Culture reporter and producer for ABC News, Good Morning America, and FiveThirtyEight. Her work focuses on social injustice, policing, education, LGBTQ issues and more. She's also the vice president of NAHJ NYC. Alfonseca previously worked as a producer at HuffPost, and has also written for NBC News Digital, ProPublica, and Rochester City Newspaper.
Cody Edward Gee Sheridan Hmelar works as a broadcast engineer at Salem Media and a freelance transportation reporter.