NYU GlobalBeat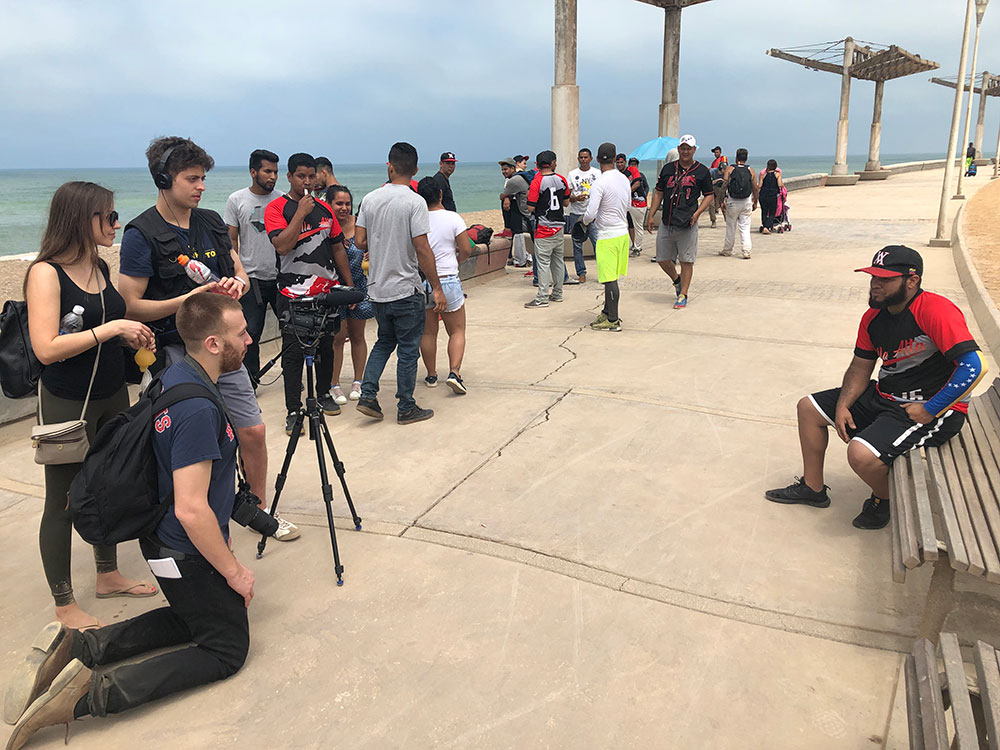 Alex Tabet, Kathleen Taylor and Leo Schwartz interview Venezuelan migrant in Lima, Peru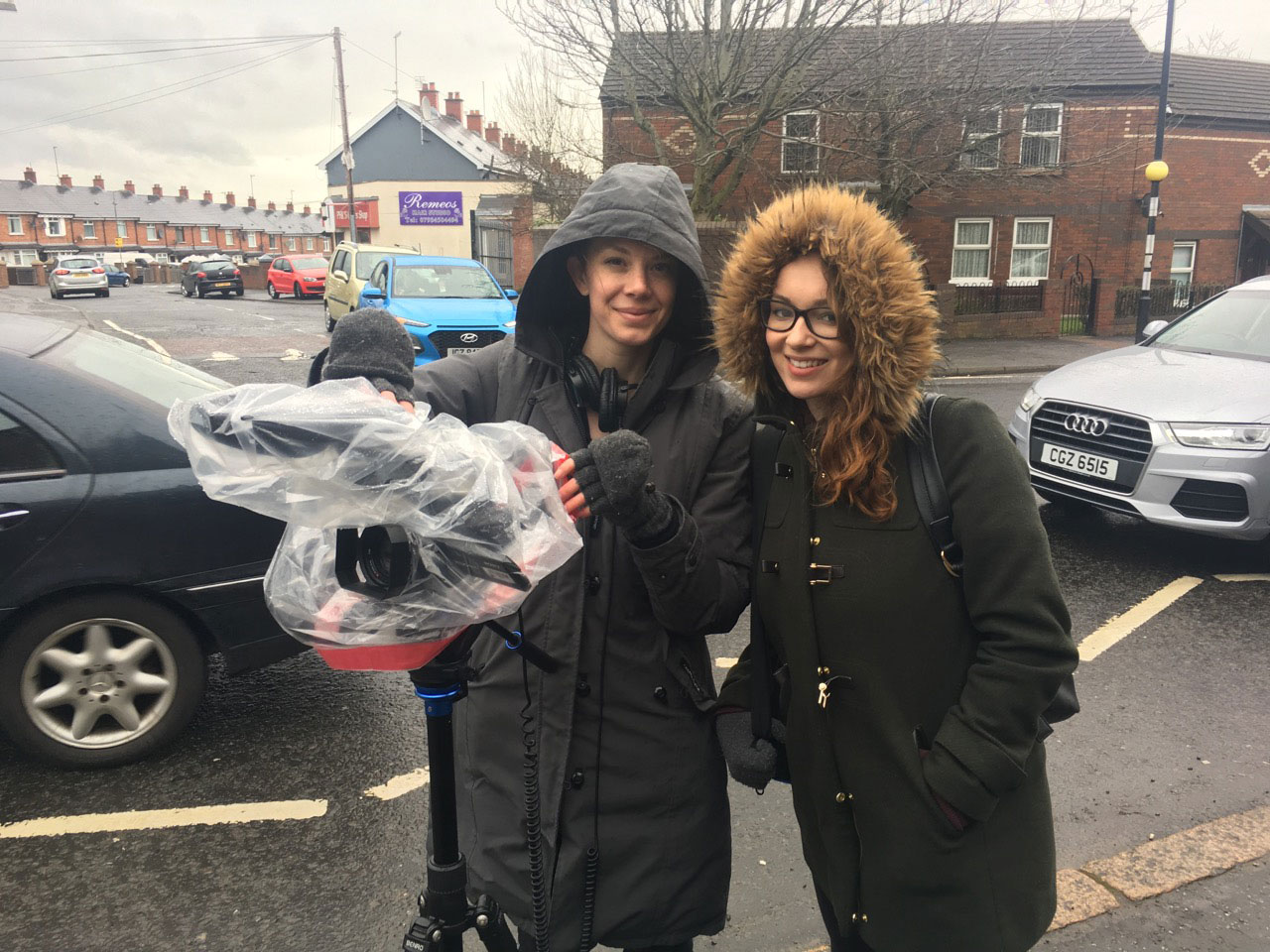 Emily Cameron and Jesselyn Cook filming in the Ardoyne, Belfast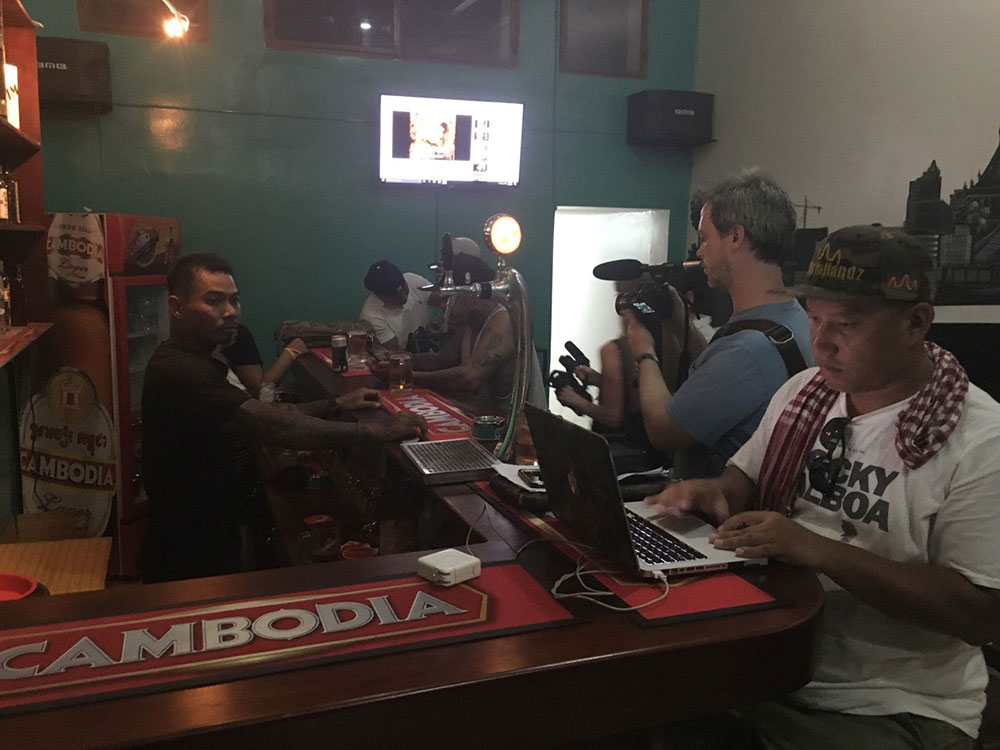 Ben Dalton filming in Phnom Penh, Cambodia with deportees from the US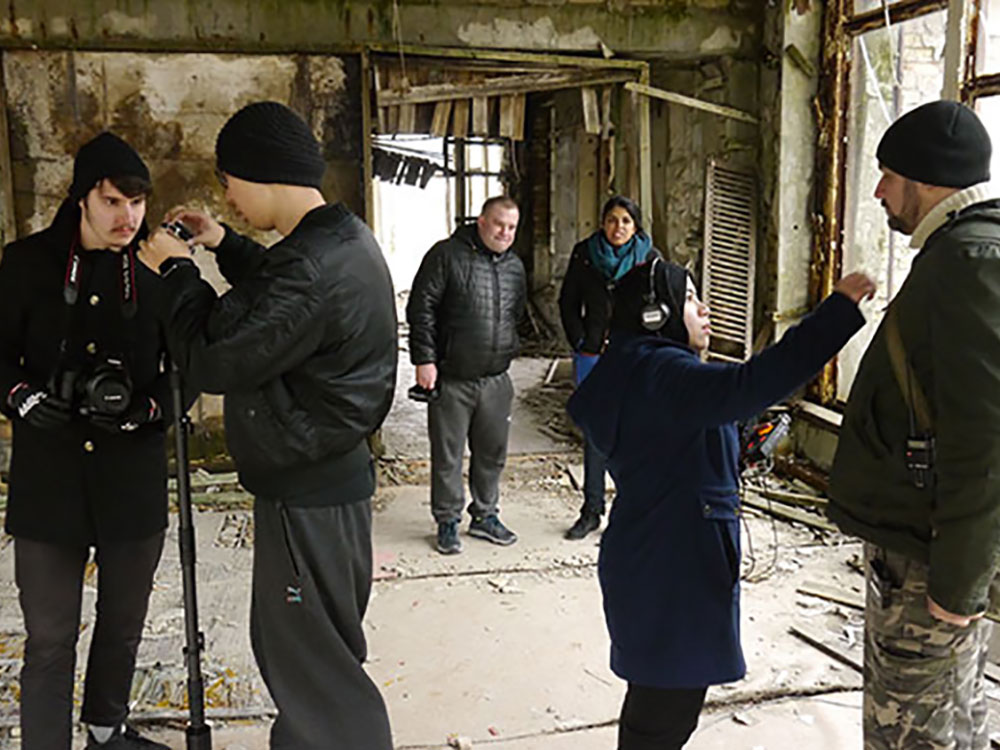 Preparing to film with 360 degree camera in irradiated ruins of Pripyat, Ukraine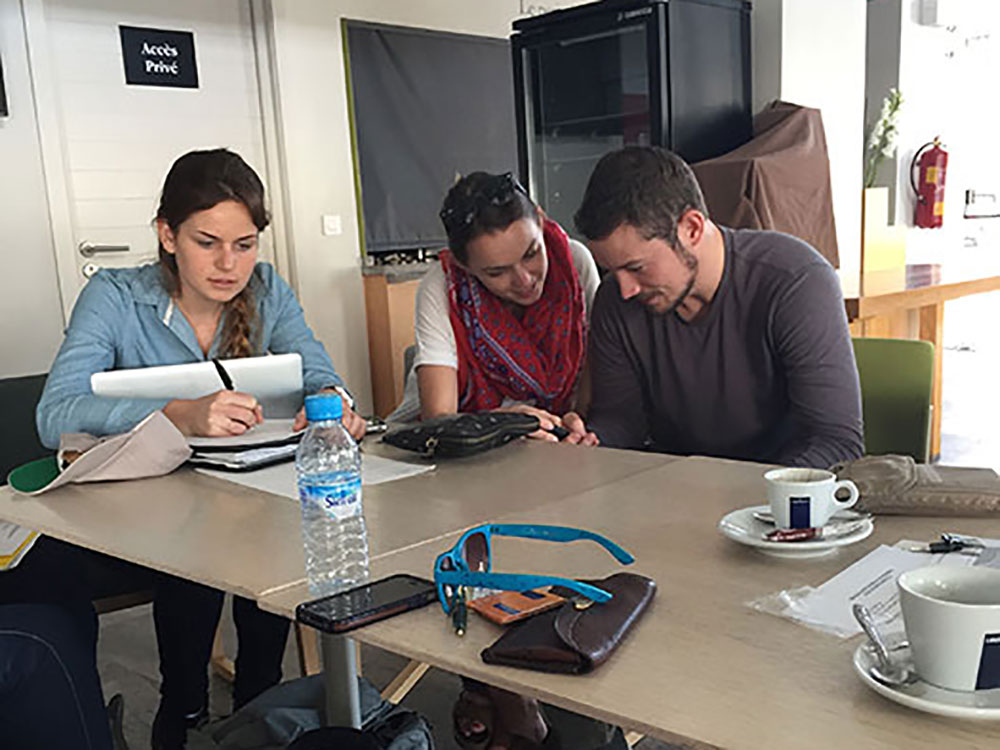 Kelsey Doyle, Zoe Lake and Kristopher Brant prepare their shoot day in Rabat, Morocco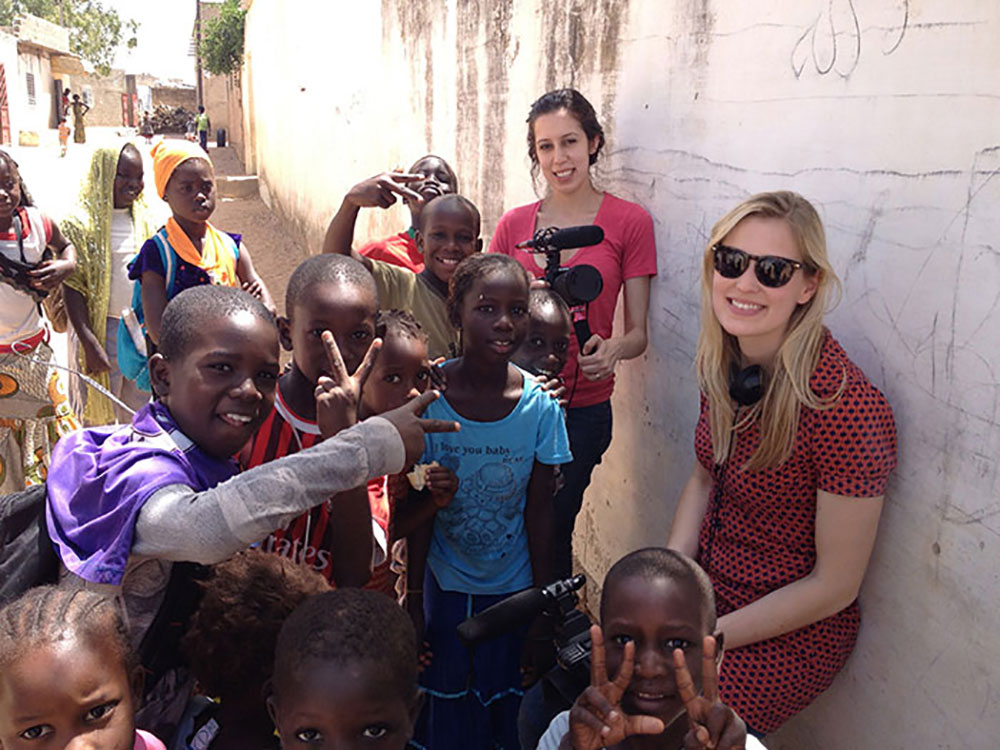 Kavitha Surana (l) and Elizabeth Flock (r) in Thies, Senegal
GlobalBeat is the New York University Arthur L Carter Journalism Institute's international in-field reporting program for Masters candidates. The class provides students with an immersive opportunity to travel overseas and report on topics including human rights, ethnicity, religion and international development. Borrowing from the "teaching hospital" model, students learn how to produce high-quality video journalism by working alongside professor Jason Maloney and his non-profit journalism organization the Bureau for International Reporting on one or more in-depth news segments for prominent American and international outlets. For seven weeks, students research and develop story angles, conduct pre-interviews and prepare logistics, both for the main television production and for stories of their own. During spring break, the students and professor Maloney travel to the location and film the complete report, as well as the student's own projects. The remaining weeks of semester are spent transcribing, writing and editing, as well as completing any follow-up reporting.
In addition to the learning experience of working with a seasoned veteran of international video reporting, GlobalBeat offers the opportunity to earn valuable credits and clips with high profile media outlets, as demonstrated by six years in partnership with the flagship public television nightly program PBS NewsHour and PBS NewsHour Weekend and with other partners like the New York Times and PBS FRONTLINE. And GlobalBeat is already producing journalism of the highest quality, as evidenced by an Emmy nomination and a Society for Professional Journalists student prize for its work in Senegal in 2014, a second place award in the series category at the Religion Newswriters Awards for its work in Morocco in 2015, and two nominations at the Online News Association awards for its work in Ukraine in 2016. The class is primarily focused on video reporting, but students have also been highly successful in publishing written articles with high profile outlets.
---
GlobalBeat 2019 – Peru
GlobalBeat added a fifth continent to its reporting resumé, with a trip to Peru in 2019! Our student teams deployed to the Andes, the Amazon and Lima to report three very different stories for PBS Newshour Weekend. Our first covered the nearly one million Venezuelans who have fled their homes and found sanctuary in Peru. The second story investigated the case of thousands of mainly indigenous women who claim the government sterilized them against their will in the 1990s. A student-lead team travelled deep into the mountains to document the Ministry of Justice registering women for a potential human rights case against former strongman Alberto Fujimori. Our final story ran as a two part series in September 2019, focusing on efforts to stop deforestation and illegal gold mining in Peru's Amazon. Our team got special access to accompany the Peruvian military, by helicopter and ATV, deep into the rainforest on the hunt for illegal miners.
As is the case most years with GlobalBeat, our PBS programs are the only television news reporting to air on American media on these under-reported topics.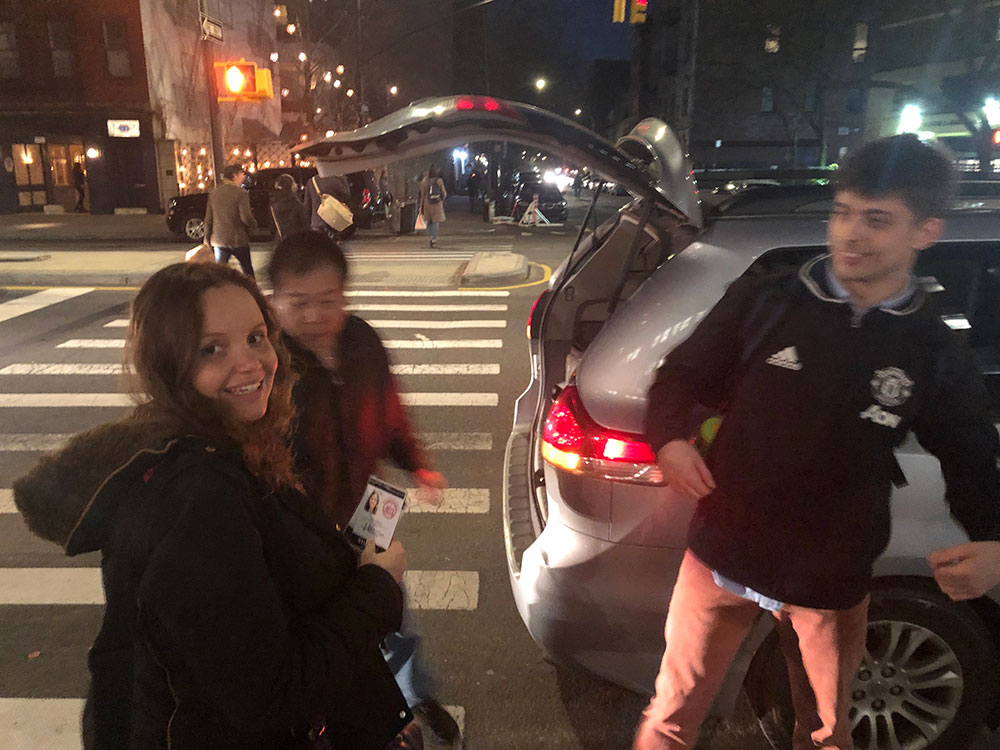 Press passes in hand, Laura Zéphrin and Alex Tabet load up at NYU for the trip to the airport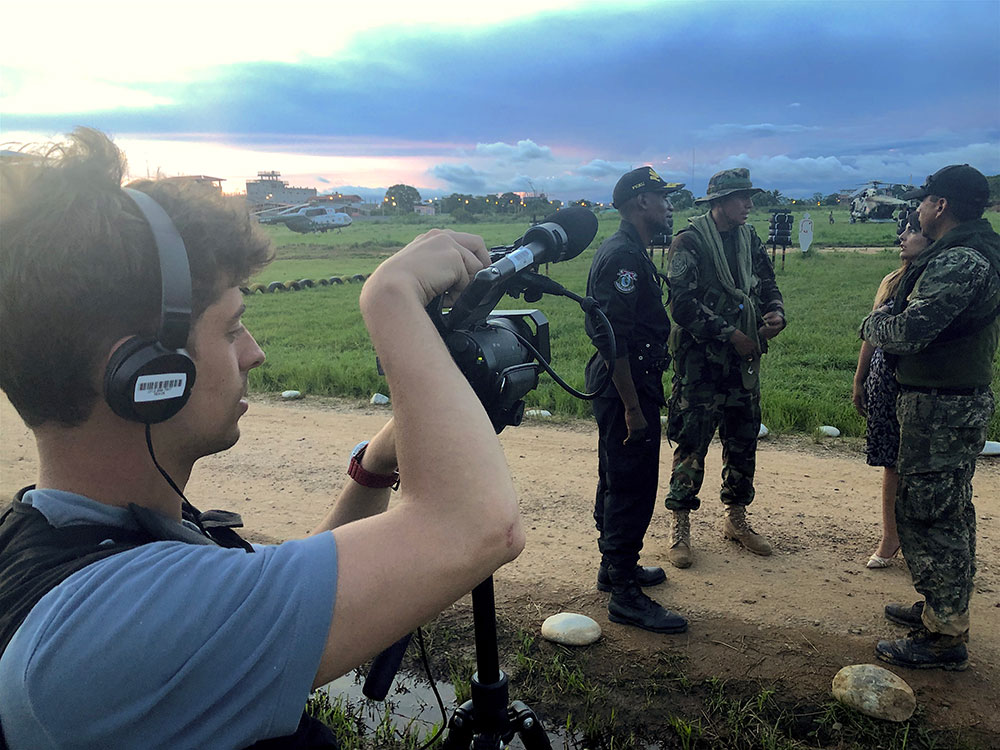 Alex Tabet films army, police and justice leaders of Peru's state of emergency in the Amazon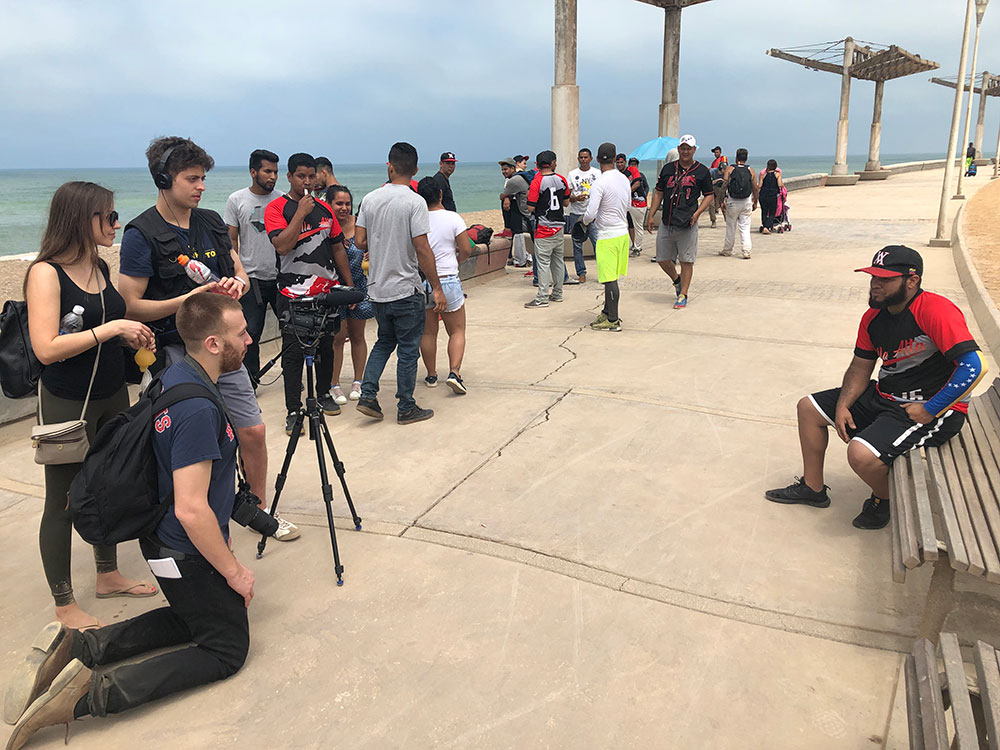 Alex Tabet, Kathleen Taylor and Leo Schwartz interview Venezuelan migrant in Lima, Peru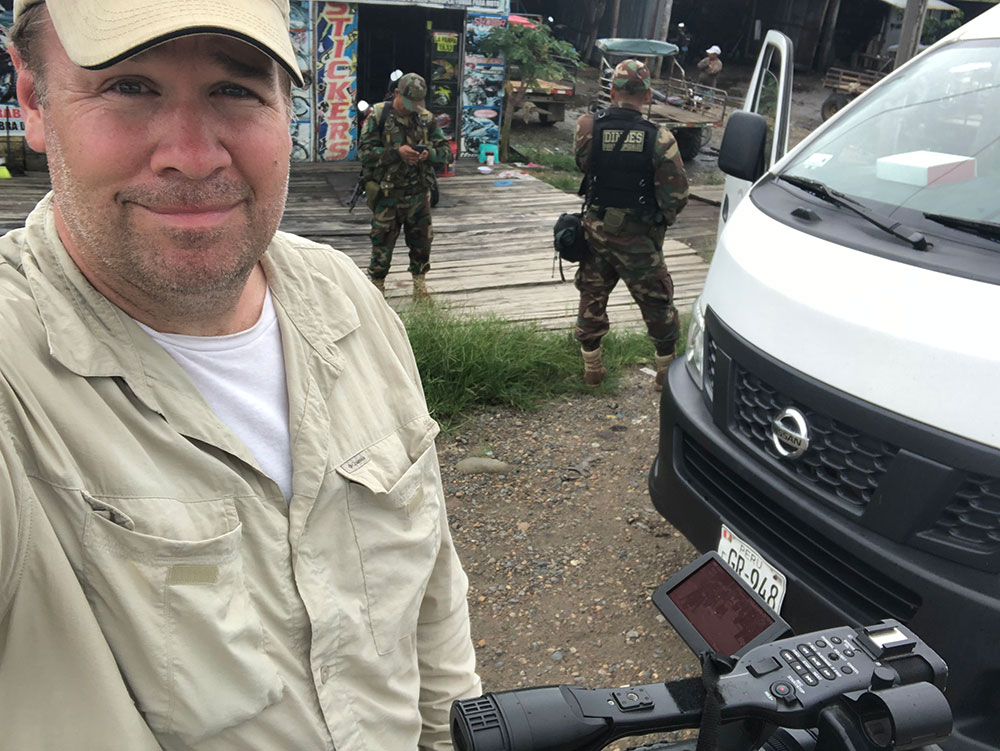 Professor Maloney films in Madre de Dios with police escort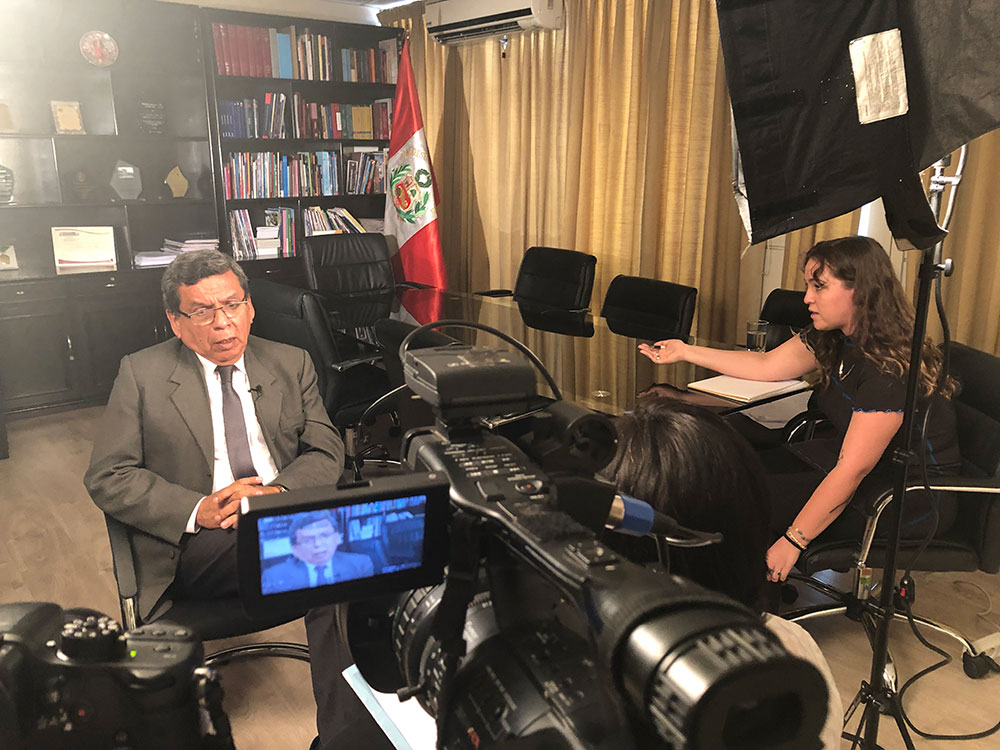 Jacquelyn Kovarik interviews Congressman Hernando Cevallos in his office in Lima, Peru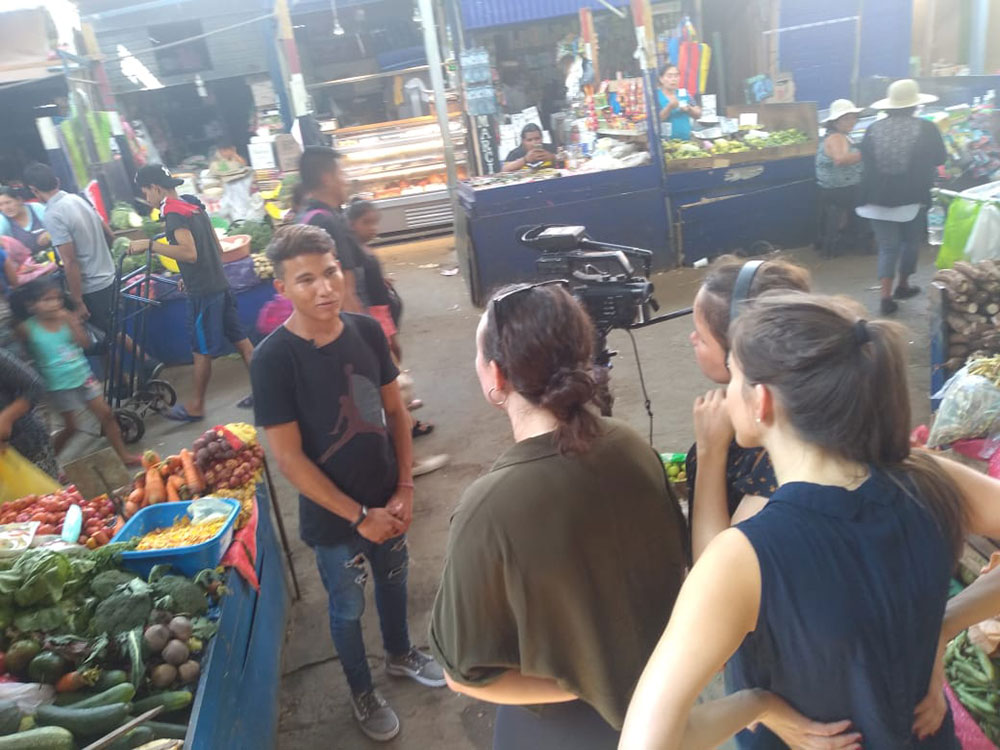 Opheli Garcia Lawler, Laura Zéphirin and Kathleen Taylor interview Venezuelan migrant in San Juan de Lurigancho, Peru
Venezuelans facing tumult at home flood into Peru
Peruvian women alleging forced sterilization seek justice
Gold mining leaves heart of Peruvian Amazon a wasteland
Peru looks for reforms after mining decimates the Amazon
---
GlobalBeat 2018 – Northern Ireland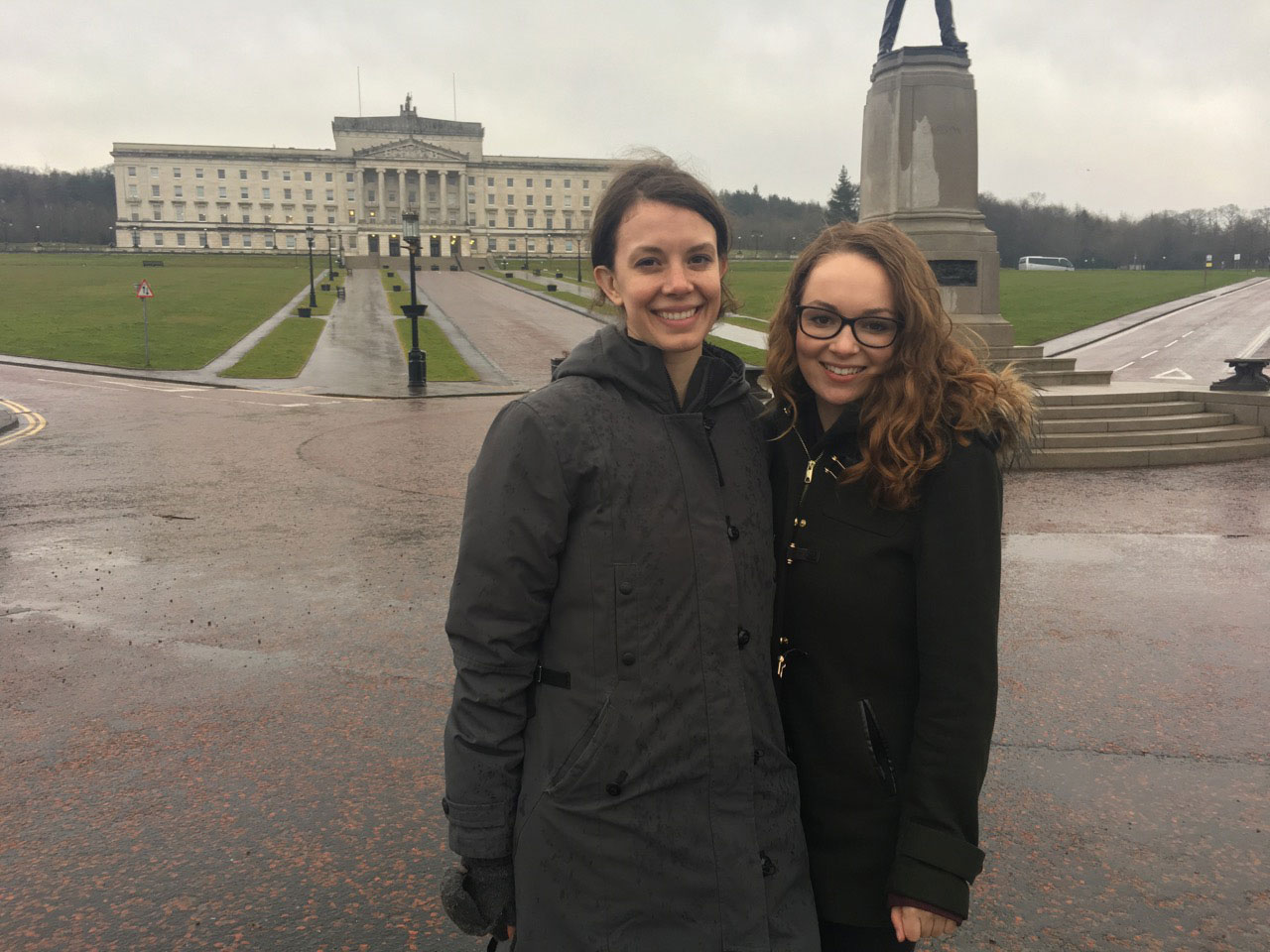 Emily Cameron (l) and Jesselyn Cook (r) visiting the Northern Ireland Assembly Buildings at Stormont
April 2018 marked the 20th anniversary of Northern Ireland's Good Friday Agreement, which brought an end to the decades-long conflict known as the Troubles. GlobalBeat was there, from the streets of West Belfast to the rural lanes of County Fermanagh, to cover the various ways peace has impacted life across the region and also examine what fragilities remain. The signature report for PBS Newshour Weekend aired on April 8 and was backed by three student-lead videos on pbs.org. These 360-degree, virtual reality reports were the first ever filmed on Northern Ireland's conflict.
While on the island, GlobalBeat also sent a crew to Dublin to cover the run up to Ireland's landmark popular referendum on abortion  This report was produced by students from NYU's News and Documentary and Global Journalism programs, with faculty support, yet was the signature coverage by PBS on this important issue – a reminder of the way that GlobalBeat is not only an educational exercise, but also a public service enterprise that provides American viewers with vital news coverage that is otherwise uncovered.
Our team also published print reports: for the Intercept on the case of the Hooded Men; for the Financial Times on Belfast's famous muralists; and for the Huffington Post on Ireland's abortion debate.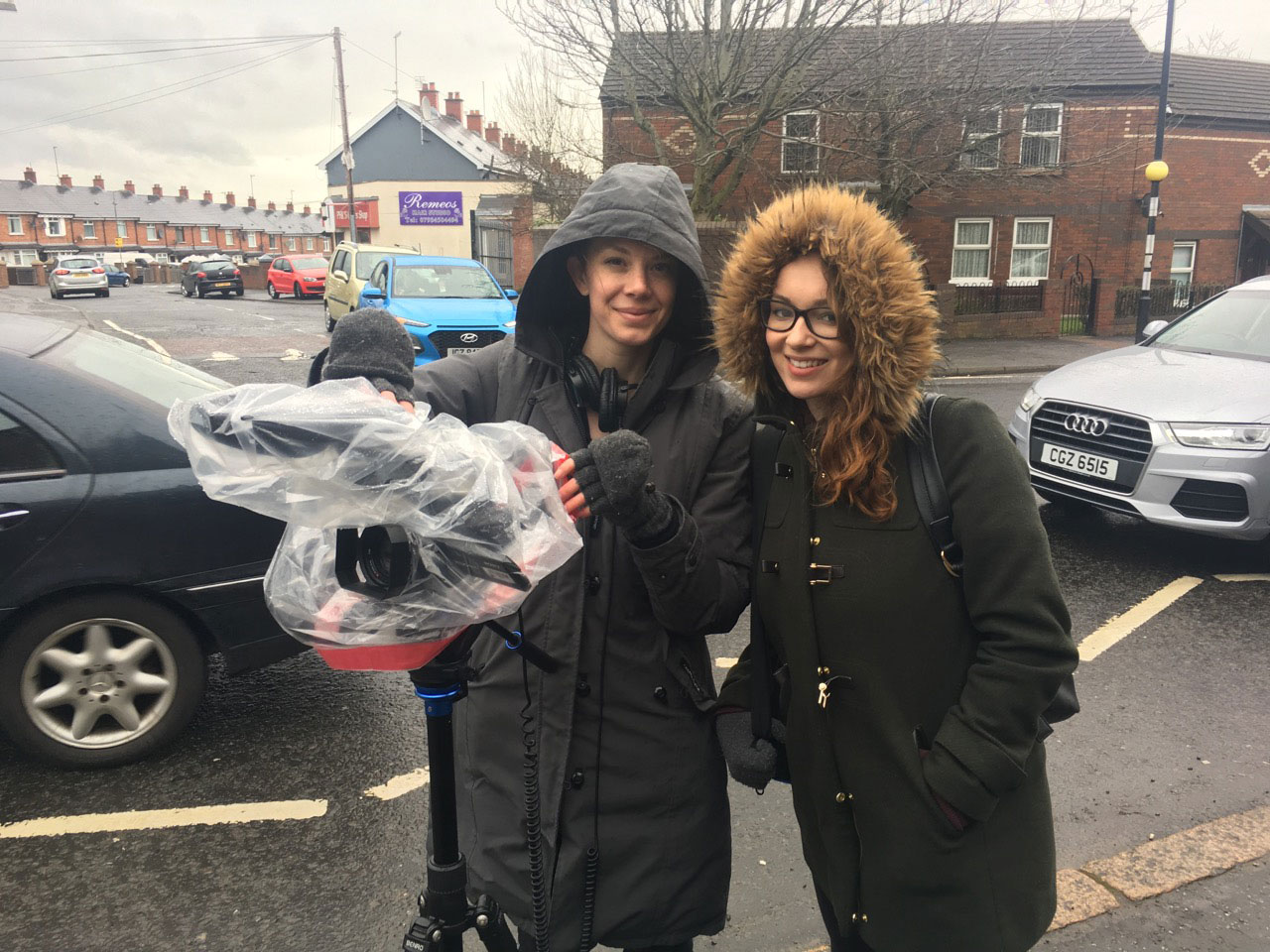 Emily Cameron and Jesselyn Cook filming in the Ardoyne, Belfast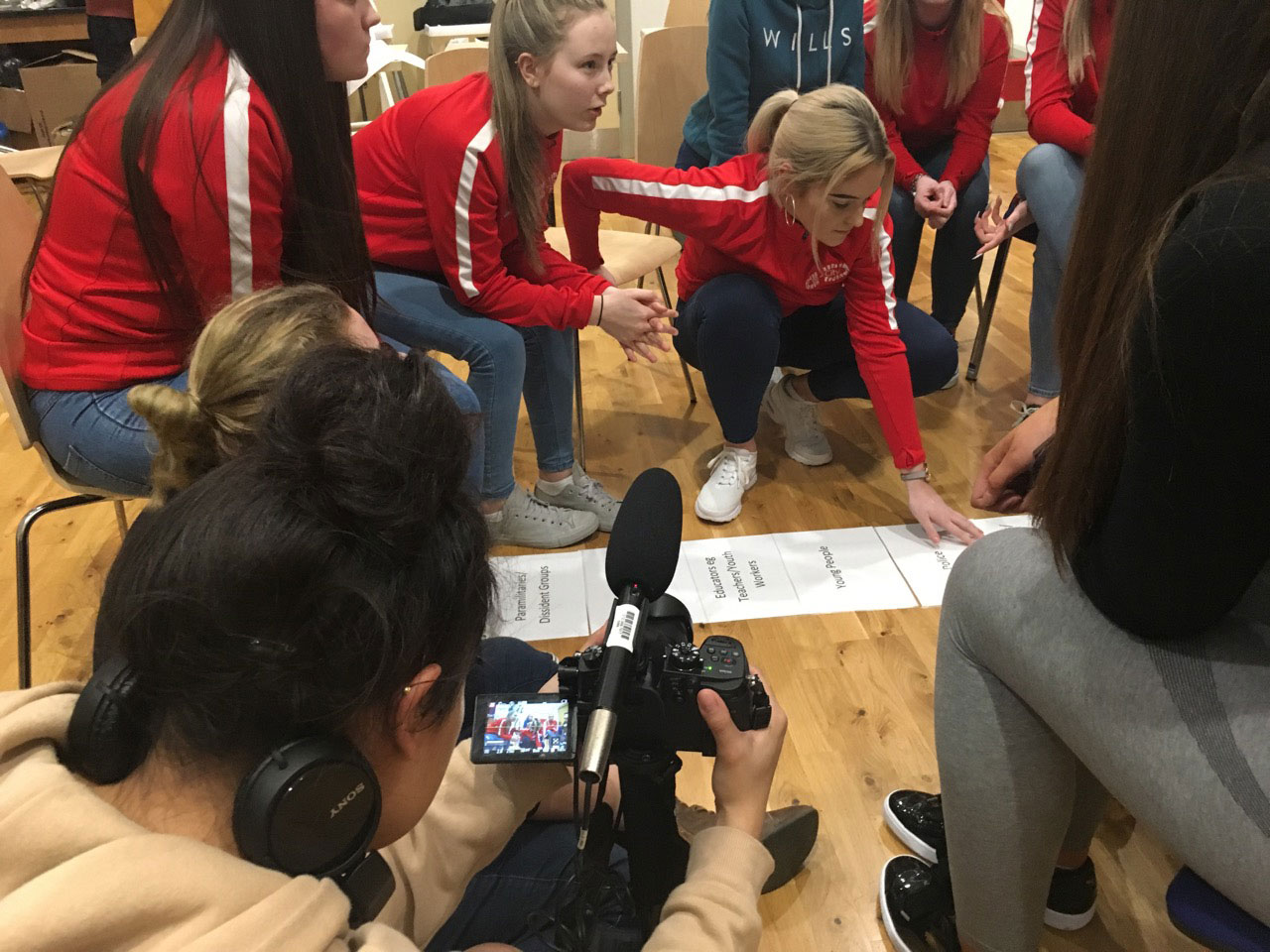 Rebecca Blandón filming with RCity, a cross-sectarian youth group in North Belfast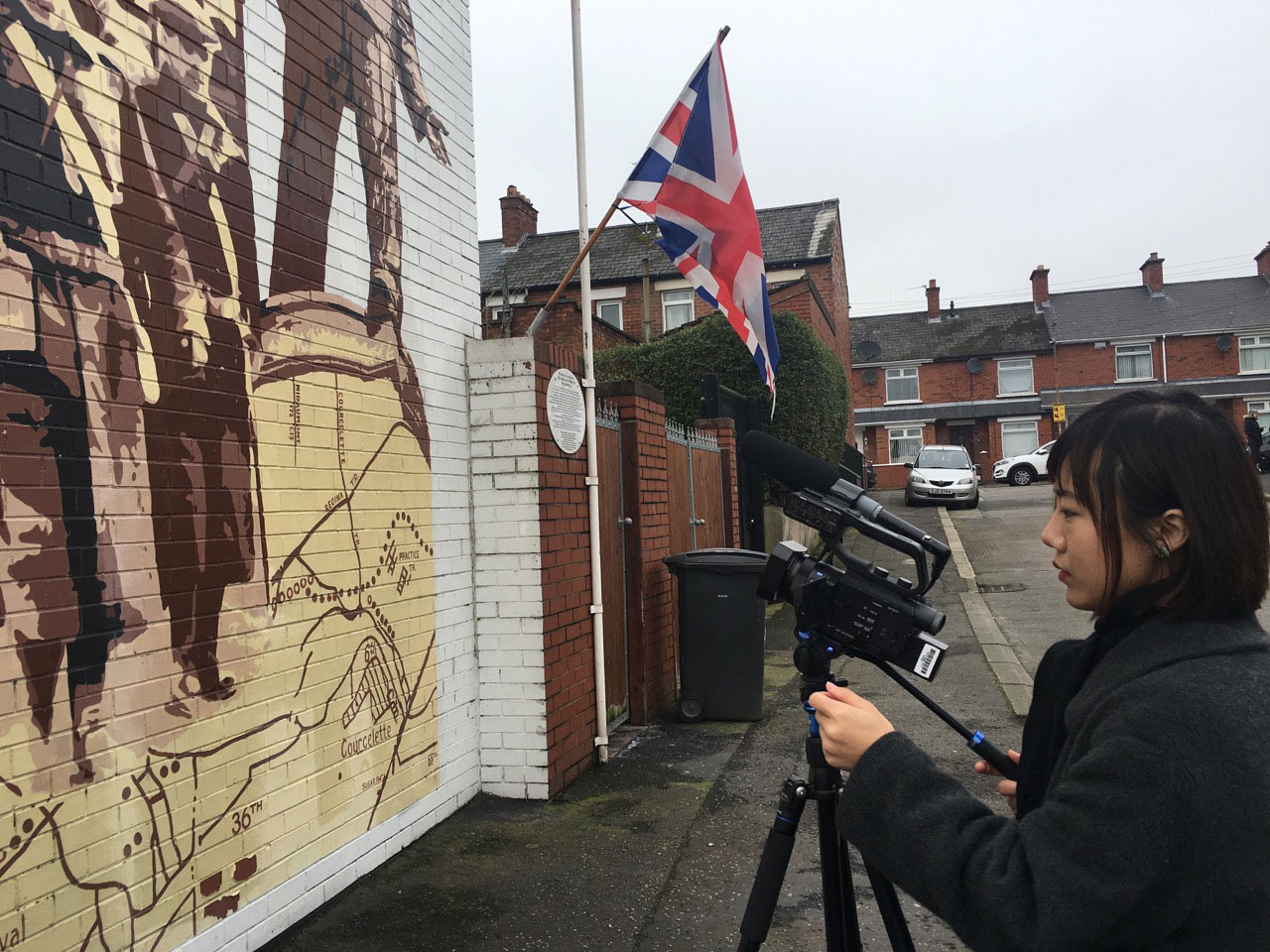 Elle Luan filming in Unionist East Belfast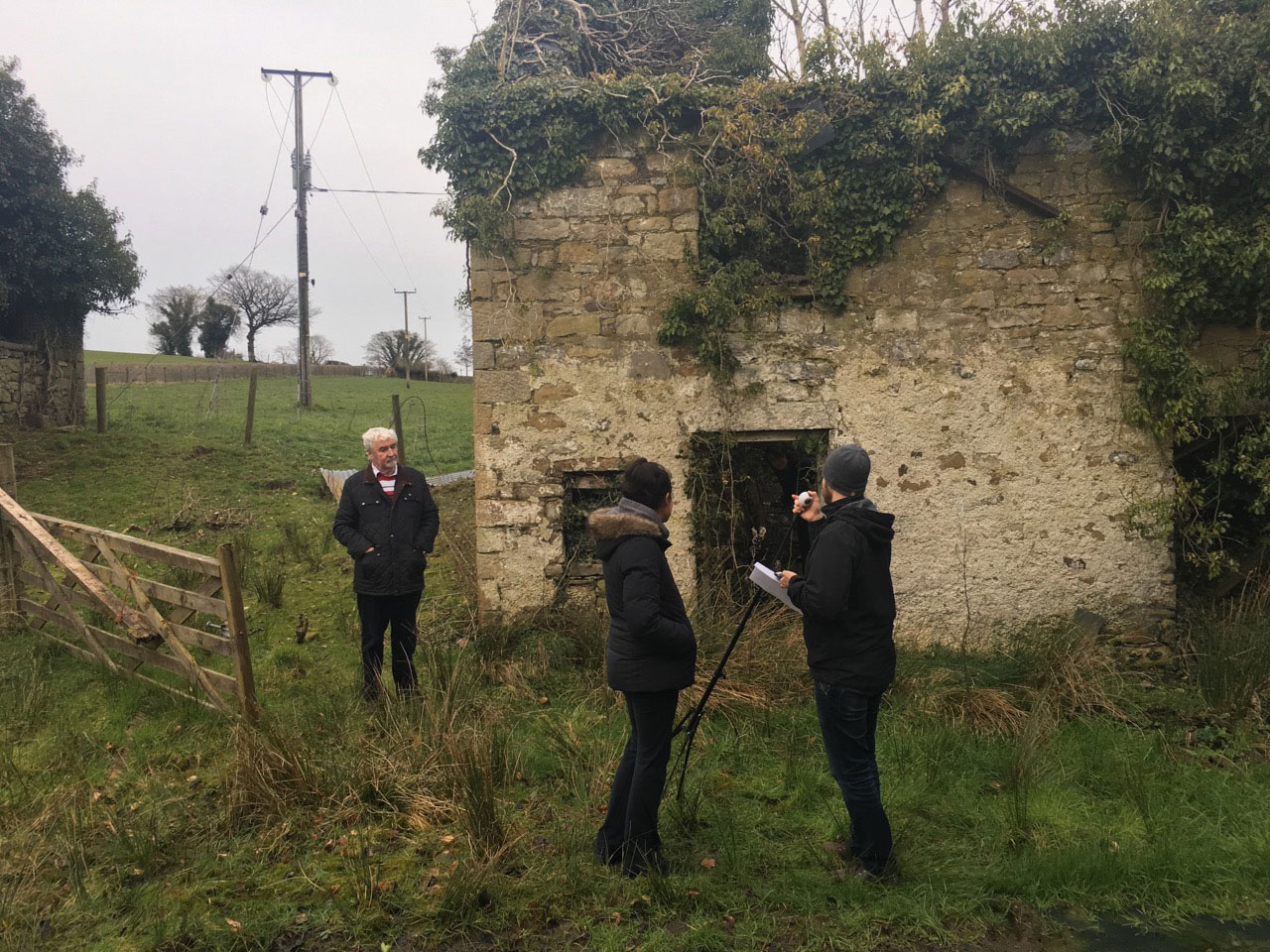 Rebecca Blandón and Stephen Groves prepare to interview Eric Brown of the South East Fermanagh Foundation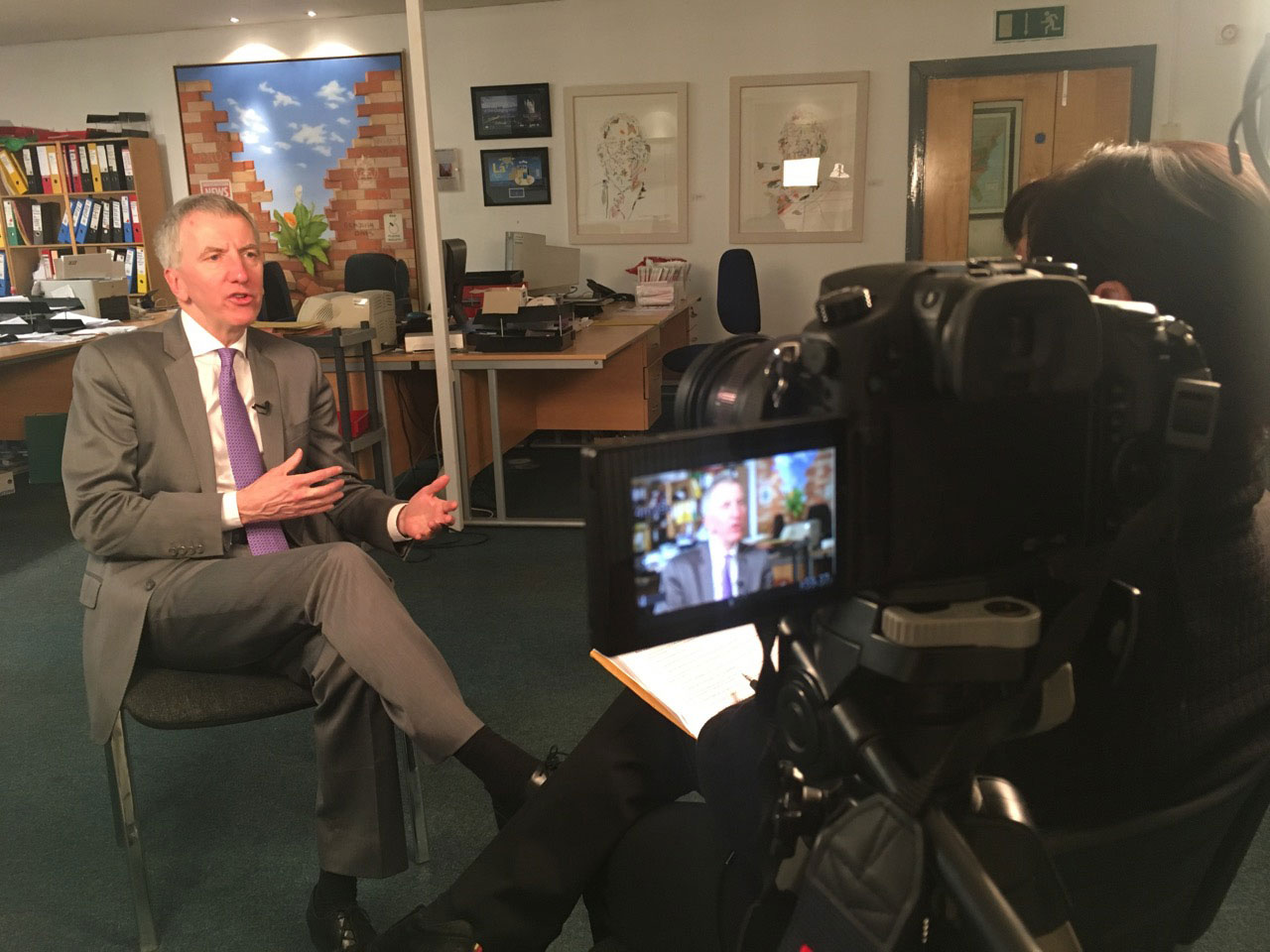 Sinn Fein politician Máirtin Ó Muilleoir discusses expansion of the Irish language in Northern Ireland
Two decades after peace pact, reconciliation still lags in Northern Ireland
Belfast peace walls form a 'no man's land' in divided city
Youth program brings Northern Ireland's Protestants and Catholics into conversation
Violence was rampant in Northern Ireland's rural borderlands. Now, its victims are speaking up
Ireland has some of the world's most restrictive abortion laws. A vote this week could dial them back
---
GlobalBeat 2017 – Cambodia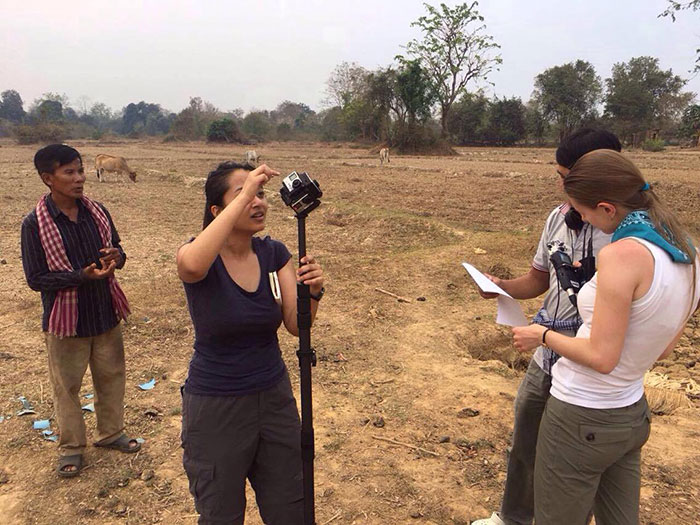 Ayesha Shakya (l) and Olga Slobodchikova (r) set up 360 shot for report on deforestation
In March 2017, GlobalBeat took its first trip to Asia, to cover a series of topics in Cambodia. We continued our partnership with PBS NewsHour, airing reports on former Cambodian refugees struggling to adapt to life back in Southeast Asia after being deported from the United States, and on Cambodia's epidemic of land grabs and forced evictions. We also continued our specialization on 360 "virtual reality" reporting, started in Ukraine in 2016, with reports on the legacy of genocide (with a new media partner, the New York Times) and an immersive look inside an eclectic community development in the heart of Phnom Penh, slated for demolition to make way for luxury condominiums. Final 360 reports on deforestation and Cambodia's Muslim Cham minority are still in production. Our 2017 trip was our most diverse in terms of departmental participation with students from 6 of our 9 concentrations: Global Journalism, News and Documentary, Studio 20, Literary Reportage, Reporting the Nation and Science, Health and Environmental Reporting.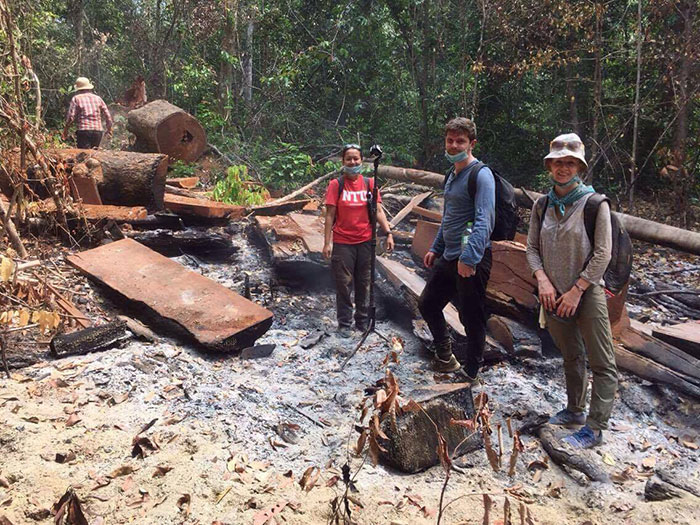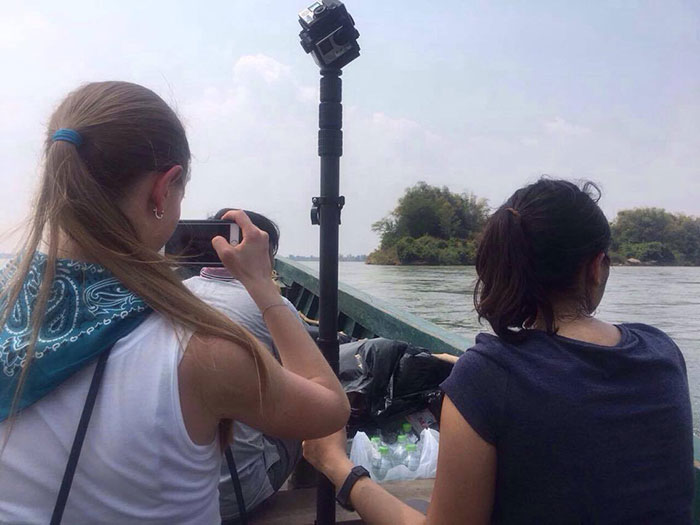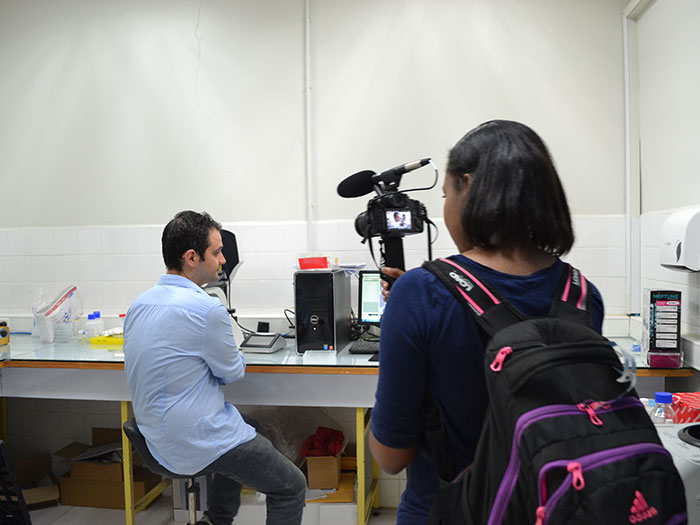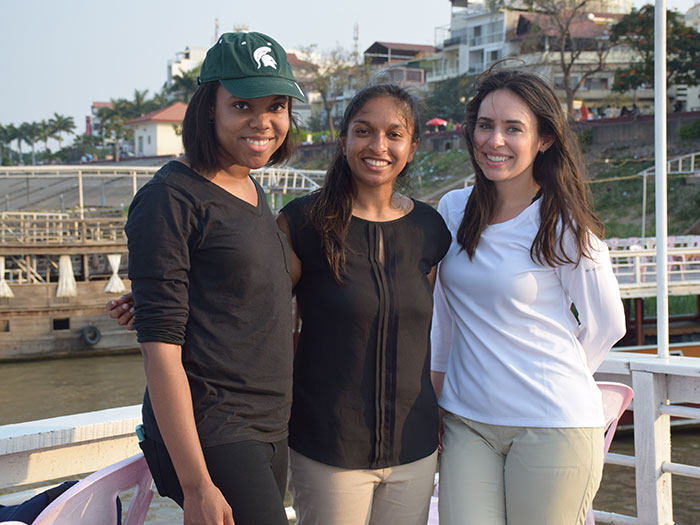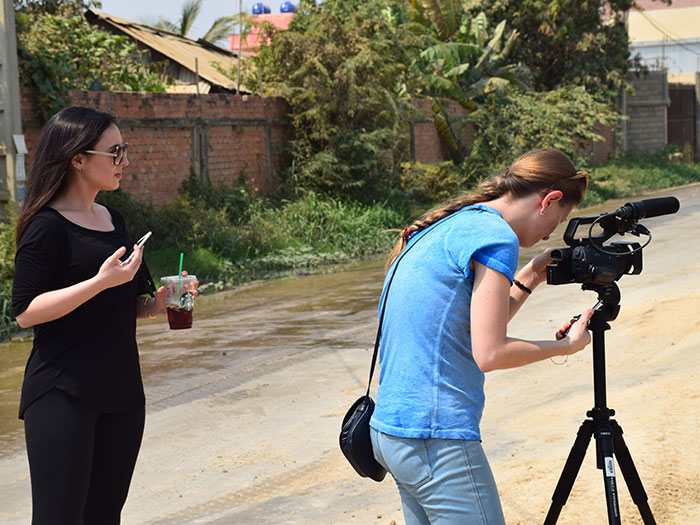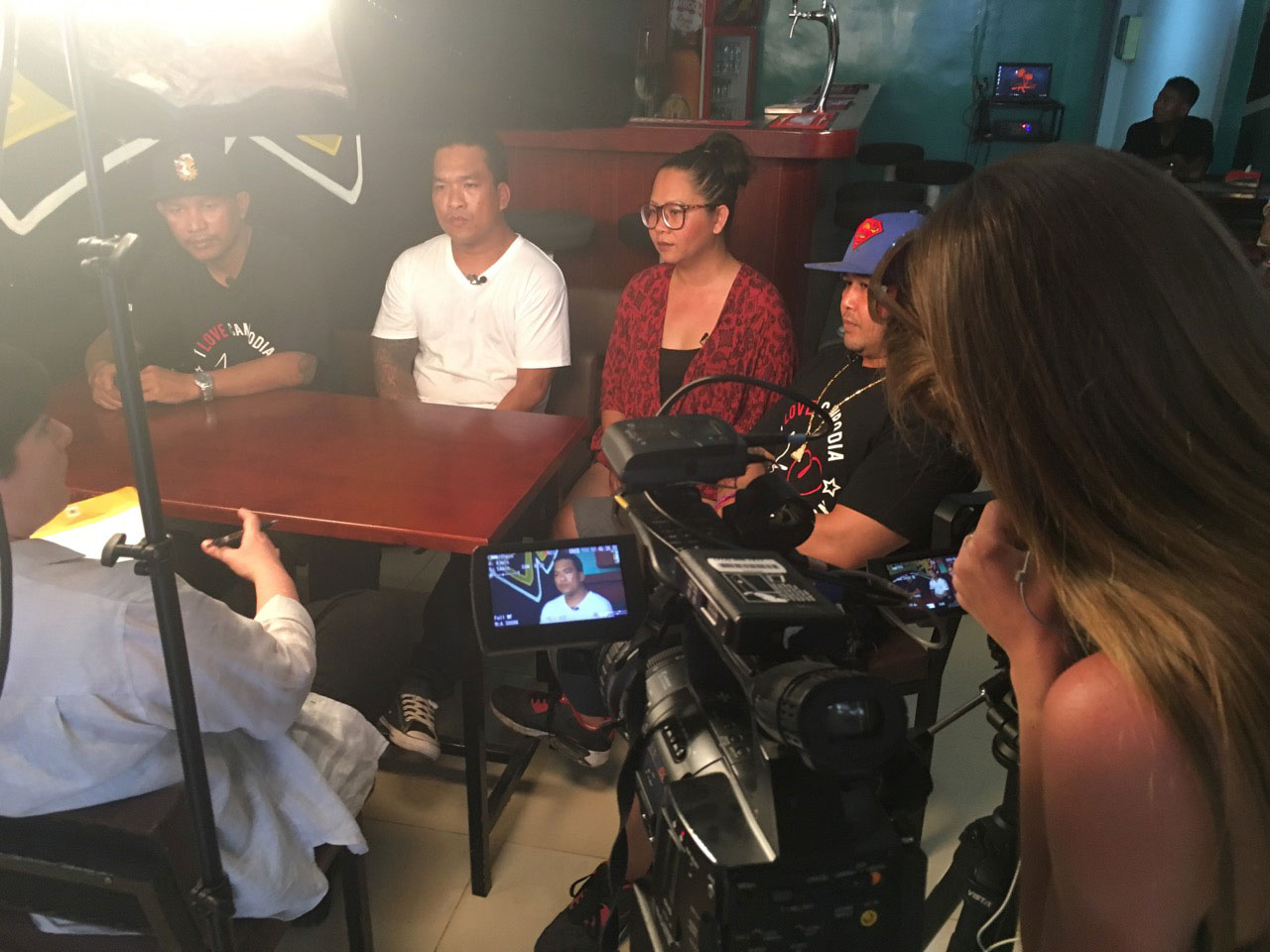 Deported from U.S., Cambodians Fight Immigration Policy
As Cambodia's Economy Grows, Low-Income Residents Left Behind
This Historic Cambodian Building, Set for Demolition, Is a City Within a City
Genocide's Legacy" A Museum in a Khmer Rouge Prison
---
GlobalBeat 2016 – Ukraine

GlobalBeat broke new ground by being the first crew to produce VR (virtual reality) journalism at Chernobyl. Return to Chernobyl premiered with PBS FRONTLINE on April 26, the 30th anniversary of the world's largest nuclear disaster. It reached more than two million viewers in just a few days and remains one of the more talked-about works of VR journalism. The report earned two nominations at the Online News Association awards.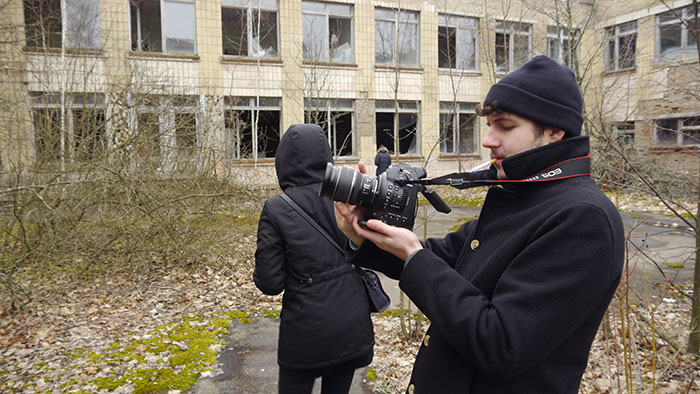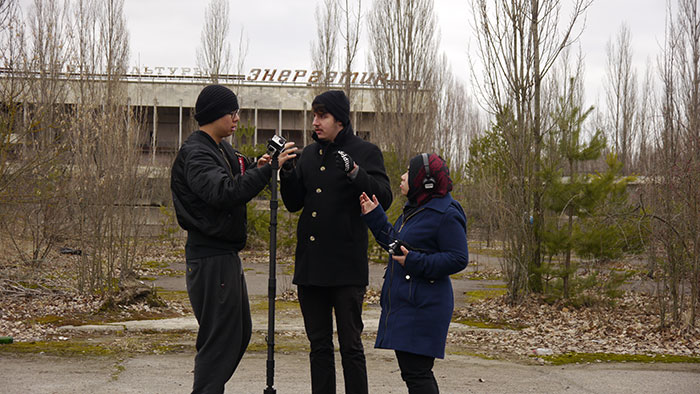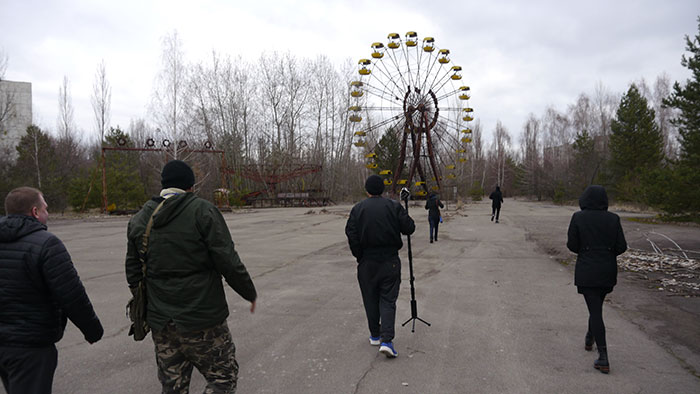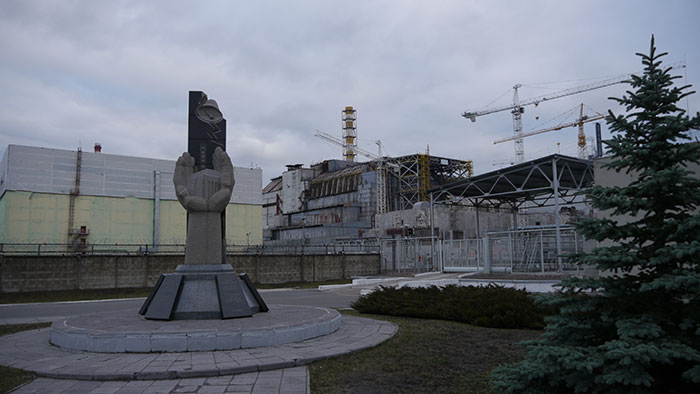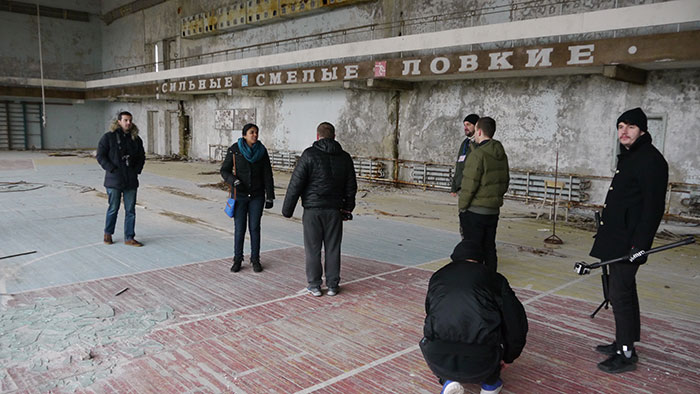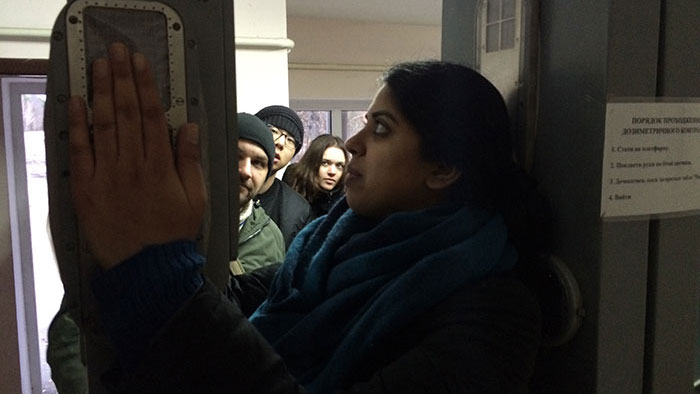 This Chernobyl reporting was just part of GlobalBeat's work in Ukraine. The team reported major segments for broadcast on PBS Newshour on the country's reform process two years after the revolution, a look at the plight of the Crimean Tatars, displaced after Russia's annexation of their land and the struggle of the country's LGBTQ community, already marginalized and now displaced by war.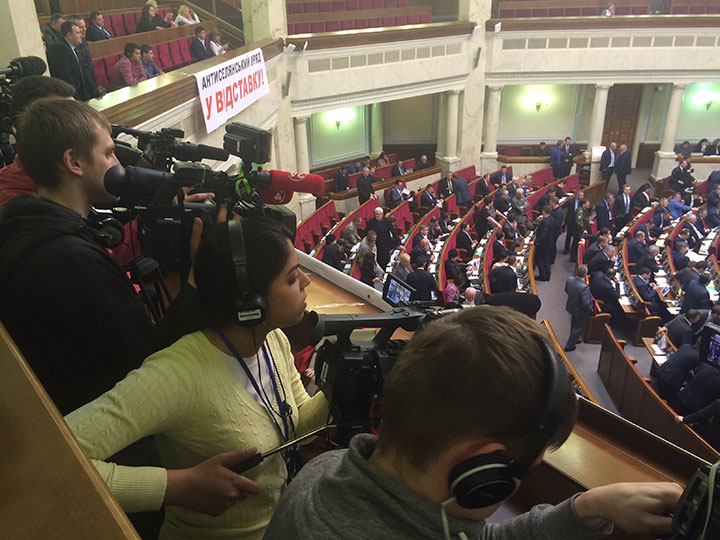 Veda Shastri filming in Ukrainian Parliament
Students also published written pieces on Chernobyl for The Nation, on Lviv's Jewish History for Haaretz, and on LGBT reform for NYU's Journal of Political Inquiry.
Two years into New Regime, Grim Realities Persist in Ukraine
Crimean Muslim Refugees Feel Welcome, but There's No Place Like Home
Students also published written pieces on LGBT Rights for IBTimes, on Chernobyl for The Nation, on Lviv's Jewish History for Haaretz, and on LGBT reform for NYU's Journal of Political Inquiry.
---
GlobalBeat 2015 – Morocco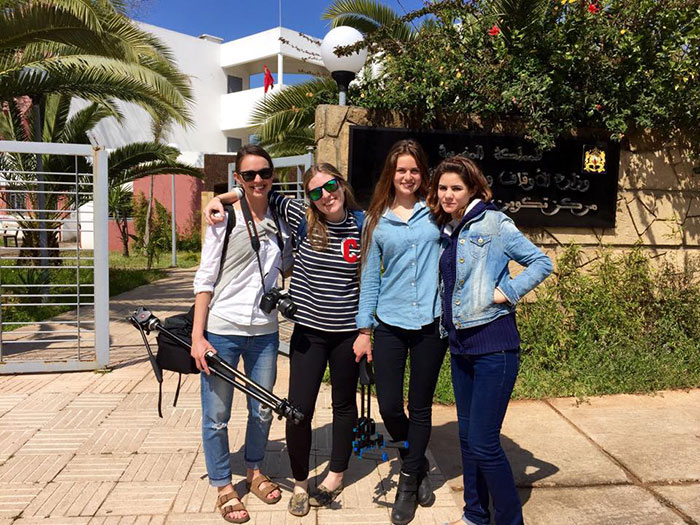 Zoe Lake, Madeline Gressel, Kelsey Doyle and Khadija Boukharfane, outside the Imam Training Center, Rabat, Morocco
GlobalBeat's reporting trip to Morocco was prolific, resulting in four major video reports for PBS NewsHour on: an innovative program using women as religious leaders, a look at problems with international adoption, a profile of globally lauded efforts in confronting regional radicalism, and a profile of Casablanca's shrinking Jewish community. The series is a finalist in Enterprise Reporting at the 2016 Religion Newswriters Association's Religion Reporting Excellence awards. The entirely student-reported segment on Morocco's Jewish community was a finalist at the Society of Professional Journalists' Mark of Excellence Awards.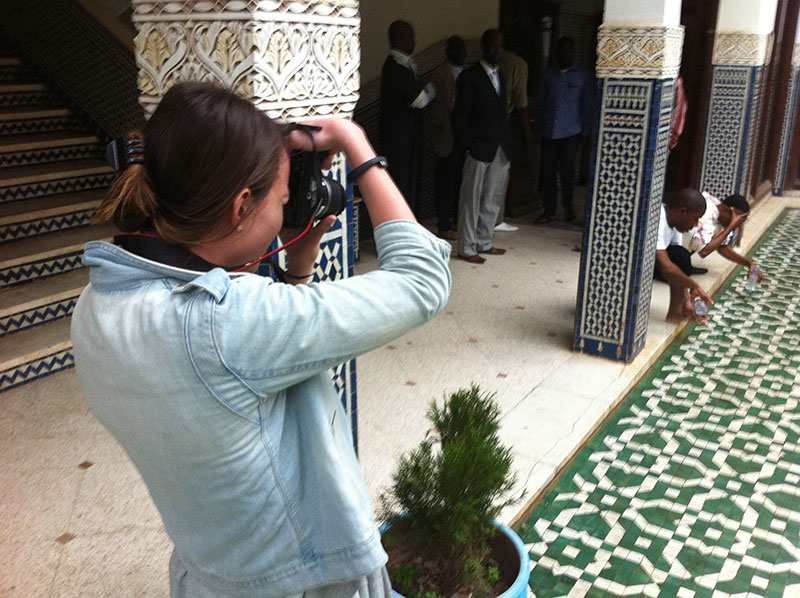 Zoe Lake filming in the Imam Training Center, Rabat, Morocco
Morocco Trains Female Spiritual Guides to Fight Extremism and Empower Women
Strict Adoption Rules in Morocco Leaves Orphans Without Hope
Morocco Trains Malian Imams to Fight Extremism
In Morocco, Muslims and Jews Study Side-by-Side but for How Long?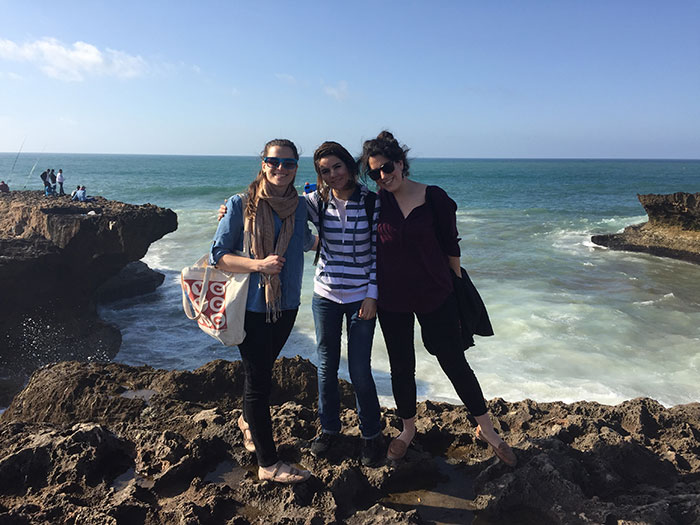 Thaila Beaty, Khadija Boukharfane and Maggy Donaldson, Rabat, Morocco
Students also published written reports on refugees for Al Jazeera and Deutsche Welle, on housing for Quartz, on human rights and trade for Public Radio International (PRI) and Mashable.
---
GlobalBeat 2014 – Senegal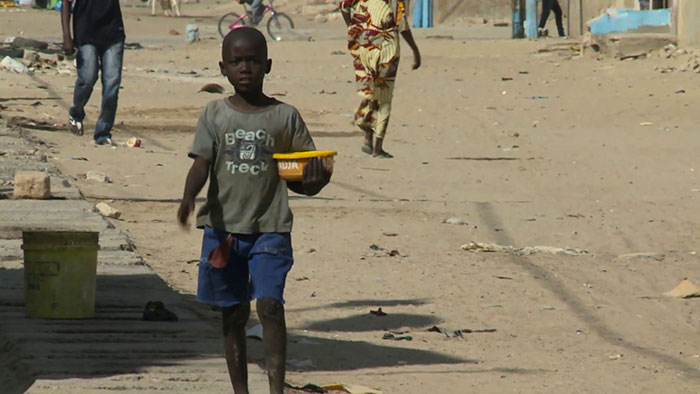 GlobalBeat debuted in 2014 with a trip to Senegal, resulting in two prominent pieces on PBS NewsHour: an important look at forced begging by children, and an entirely student-reported video on Senegal's promising gender parity laws. The joint report earned a National News and Documentary Emmy nomination for Best Feature Story – one of the highest honors in professional journalism. The student report won the National Mark of Excellence Award from the Society of Professional Journalists.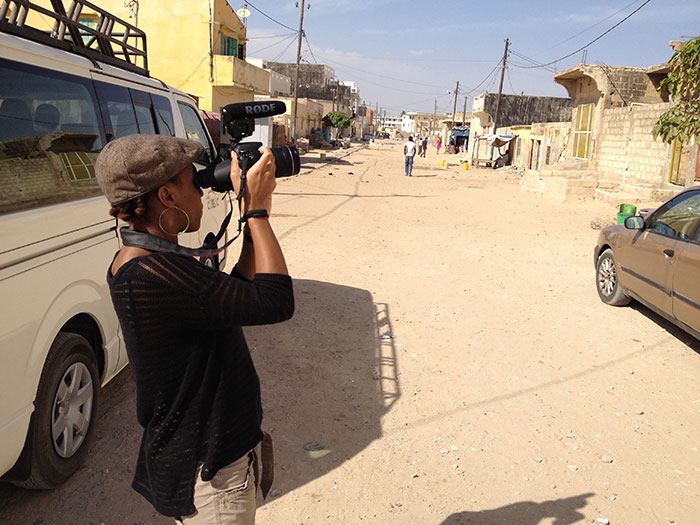 Mel Bailey, St Louis, Senegal
In Senegal, Thousands of Young Boys Forced into Begging System for Koranic Study
Breakthrough Law Strives to Bring Gender Equality to Senegal's Government
---
GlobalBeat is supported through the generosity of:
New York University
New York University Curricular Development Challenge Fund
The Marc Haas Foundation
The Henry Luce Foundation
The Lucius and Eva Eastman Fund