October 3, 2016
NYU GlobalBeat Wins Second Place at RNA Awards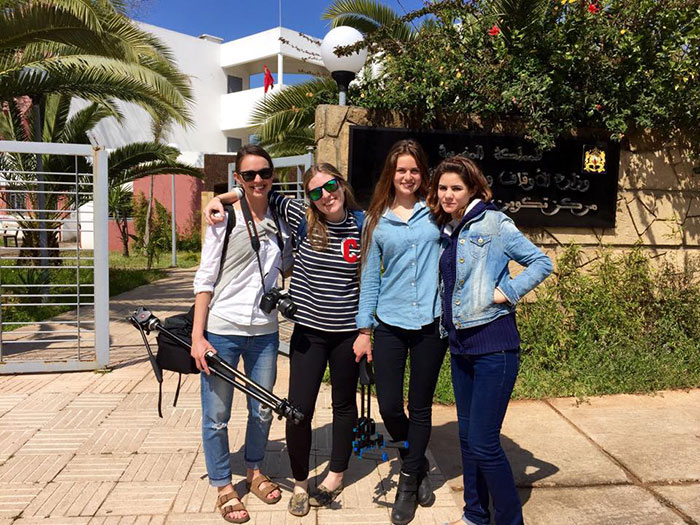 Zoe Lake, Madeline Gressel, Kelsey Doyle and Khadija Boukharfane, outside the Imam Training Center, Rabat, Morocco
NYU Journalism's international reporting class, GlobalBeat, won second place in Excellence in Enterprise Religion Reporting at the Religion News Association's 2016 awards. The submission was a four-part series reported from Morocco in 2015 and run on the broadcast and website of PBS NewsHour.
The series category was highly competitive: for all media and for professional, not student, work. The winners came from four different specializations of NYU's graduate journalism program: Madeline Gressel from Cultural Reporting and Criticism; Maggy Donaldson and Thalia Beaty from Global Journalism; Kris Brant, Siyi Chen and Kelsey Doyle from News and Documentary; and Zoe Lake from Reporting the Nation and New York. The award was collected by Maggy Donaldson, now with Agency France-Presse in Washington, DC.
Through GlobalBeat, professor Jason Maloney has brought students to Bosnia, Senegal, Morocco and Ukraine. The program has earned an Emmy nomination two Online News Association nominations and two Society for Professional Journalism Mark of Excellence Awards.