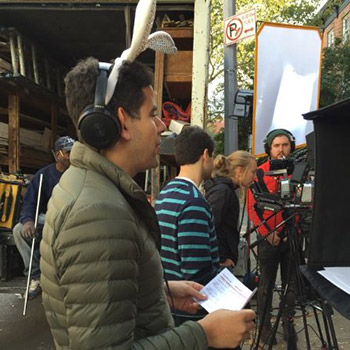 Amir Shoucri
Studio 20 2010
Job: Supervising Producer at NBC Universal
Location: New York, NY
Hometown: Manhattan Beach, CA
---
What I Do Now
I produce Daytime, a show of celebrity interview interstitials that airs on USA, and field produce Talk Stoop, the version that airs on NBC.
Before Studio 20
I was a lifeguard, high school teacher, writer's assistant, copy writer, and filmmaker.
During Studio 20, I worked directly with…
The New York Daily News, The New York Times, The New York Observer
Final Project Partner
The New York Observer
Problem I helped solve…
I developed a video component for the news organization, including creating a workflow, a style guide, and original content.
Professional hops since graduating…
I was a video journalist with NY Daily News, a freelance video director/editor, an associate professor at NYU and Kingsborough Community college, a freelance video producer/editor at NYC TV, a promo producer at NYC TV, and an editor of NBC's "Talk Stoop".
Why Studio 20
I was looking for a non-academic program that didn't fit pre-conceived ideas about journalism education and did reflect the weird mood of the industry, but also respected the basics of storytelling. Amazingly, I found it.