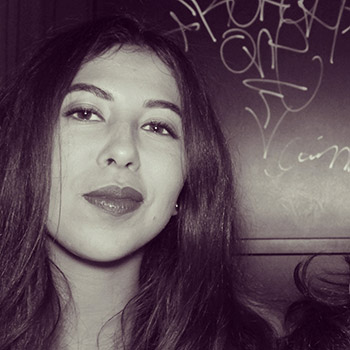 Assia Boundaoui
Studio 20 2011
Job: Freelance journalist and documentary filmmaker – "The Feeling of Being Watched"
Location: Los Angeles, CA
Hometown: Chicago, IL
---
What I Do Now
This documentary film I'm directing is about an Arab American neighborhood in Chicago that suspects it's been under government surveillance for decades —- it's also the neighborhood where I grew up.
Before Studio 20
I was a budding radio journalist interning at Chicago Public Radio and daydreaming about becoming a foreign correspondent…
During Studio 20, I worked directly with…
ProPublica, WNYC's On The Media, CNN documentary unit
Final Project Partner
ProPublica
Problem I helped solve…
I developed an experimental audio project that crowdsourced questions that needed answering and explained the news in an interesting way.
Professional hops since graduating…
I've been a Freelance Reporter for BBC/PRI's "The World", and a producer for HBO Films, Vice Broadley, CNN Films, and AlJazeera America.
Why Studio 20
I met all sorts of brilliant people and was exposed to so many different platforms, mediums and art forms in our training as the digital storytellers of the future.