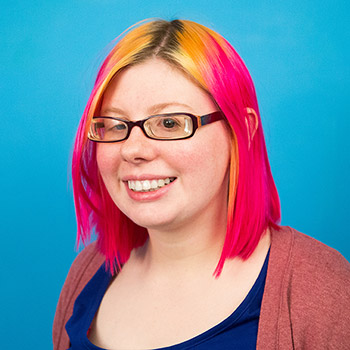 Chelsea Stark
Studio 20 2011
Job: Managing Editor at Polygon/Vox Media
Location: New York, NY
Hometown: Austin, TX
---
What I Do Now
Video games, but now I run stuff.
Before Studio 20
I worked for local television news stations in Austin, TX as a web editor/social media producer.
During Studio 20, I worked directly with…
The New York Times, ProPublica, Forbes
Final Project Partner
Forbes
Problem I helped solve…
I explored ways to make online video a better return on investment for newsrooms. I helped Forbes optimize their YouTube channel and do audience development on their videos.
Professional hops since graduating…
I was a Multimedia Producer at Mashable, and then a Games Reporter at Mashable.
Why Studio 20
Studio 20 was a great place to meet other people interested in challenging the ideas of what journalism is today. You learn the skills to be disruptive, but also how to take your ideas to the right places. The combination of critical thinking and real-world skills make it a valuable graduate degree.