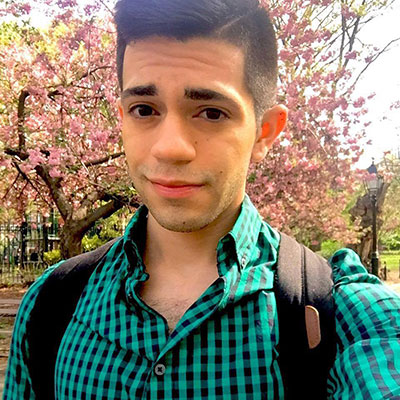 Eric Ramirez
Studio 20 2016
Job: Audience Development Fellow at Heleo
Location: New York, NY
Hometown: San Antonio, TX
---
What I Do Now
Heleo is a startup in the truest sense, especially in that the company is small and allows the freedom to get involved on any project. At Heleo I currently: send daily, metrics-driven link pitches to academics/authors (called "thought leaders" or TLs), produce and distribute their weekly newsletter, send weekly reports to TLs with recommendations to drive development and engagement, reiterate content distribution strategies, and do data dives around social media posts made during and related to TL book launches.
Before Studio 20
I was the editor-in-chief of SCAD District, the student news site at the Savannah College of Art & Design. During this time I also worked as the sex and dating editor of College Magazine, and interned for a summer at Savannah Magazine. Shortly after graduating from SCAD with a BFA degree in writing, I started working as the assistant editor of The Underwear Expert for over two years.
During Studio 20, I worked directly with…
Fusion
Final Project Partner
Fusion
Problem I helped solve…
I helped differentiate audience development and audience engagement practices, with a guideline to engage audience members on a meaningful level (social impact). The overall goal of this was to encourage audience members to have a relationship with the publisher.
Professional hops since graduating…
I discovered Heleo when getting post-work drinks with Fusion's AudDev Team. They were meeting up with a former colleague who currently worked at Heleo. Eventually, I began discussions to have Heleo as my Studio 3 partner, but they offered me a position. I was unable to accept, at the time. Then shortly after graduating, I contacted Heleo and they were still interested in bringing me onboard. Since graduation, I was also asked to speak at the College Media Association 17 convention. This opportunity came through a contact from my undergraduate school, but was offered based on where Studio 20 was able to take me.
Why Studio 20
Like SCAD, where I earned my bachelor's degree in writing, Studio 20 focused on student employment post-graduation. Comparatively, Studio 20 did a much better job at this by focusing on innovation. Post-graduation, the program's heavy emphasis on projects has proven to be wildly valuable – the collaborative aspect of the program especially has enabled me to take on responsibilities across various teams and projects. The program was also beneficial in terms of networking the massive media landscape in New York.