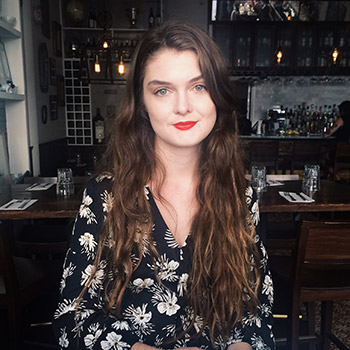 Jacqui Devaney
Studio 20 2015
Job: Mobile Producer for The Wall Street Journal
Location: New York, NY
Hometown: Austin, TX
---
What I Do Now
I run the feed daily inside the WSJ app, doing production for WSJ Asia editions on the iPad and design/dev for Apple News templates.
Before Studio 20
I came to Studio 20 straight from the undergrad program at Texas State University. My undergrad degree is a bachelor's in family and consumer science, with a major in fashion merchandising and a minor in business administration. Prior to Studio 20 I had also interned at AW Media and SocialMedia.org.
During Studio 20, I worked directly with…
The Guardian, Storyful, The Wall Street Journal
Final Project Partner
The Wall Street Journal
Problem I helped solve…
I helped add context around complex, evolving news stories to increase the value and life of the news for both journalists and users.
Why Studio 20
Even before graduating from college, I knew that I wanted to take a different path than many of my classmates. I wanted to write, I wanted to create things and I wanted to work with people. When I found Studio 20, I had an "ah-ha" moment. It was exactly what I was looking for. It was a way for me to cultivate my love for journalism while exploring the power of technology.