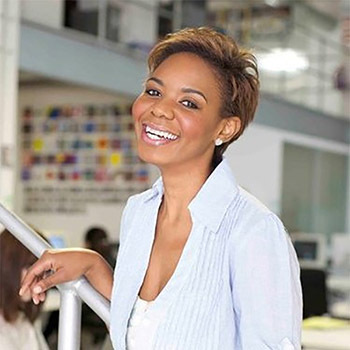 Khwezi Magwaza
Studio 20 2012
Job: Content and Communities Manager for Girl Effect Mobile at Praekelt Foundation
Location: New York, NY
Hometown: Johannesburg, South Africa
---
What I Do Now
I work with research teams to develop content and community management strategies and implementation plans for the Girl Effect mobile platforms across several markets, including Bangladesh, India, Indonesia, Tanzania, Nigeria and South Africa.Girl Effect Mobile (co-founded by Praekelt Foundation and Nike Foundation) is a movement that aims to use mobile to leverage the unique potential of adolescent girls to end poverty for themselves, their families and their communities.
Before Studio 20
I was the Editor-in-Chief of Seventeen Magazine South Africa
During Studio 20, I worked directly with…
The Guardian, BET News, Ebony.com, CafeMom.com
Final Project Partner
Ebony.com
Problem I helped solve…
I launched a multimedia production and consulting startup to help newsrooms create original multimedia content.
Professional hops since graduating…
I worked as a content consultant for startup Africa.com in New York on a six month contract before going back home to South Africa to lead the digital content team at radio broadcast group Primedia. In 2017, I moved back to the United States to work on mobile content for Girl Effect.
Why Studio 20
I had fallen out of love with journalism at that stage of my career, to be honest. It was either Studio 20 or an MBA, and I am so glad I chose the former. I now know how integral content is to strategy, innovation and business models in media. Studio 20 gave me the skills I needed to be able to participate fully in those conversations and lead thinking in the organisations I work in. For me, it was about learning the skills to identify (or sometimes create) my seat at that table of decision makers. As a journalist, that always seemed like the realm of 'suits' – it's been great to break those barriers and take my career to the next level, while still being able to use all that great traditional content skills I had in me all along.