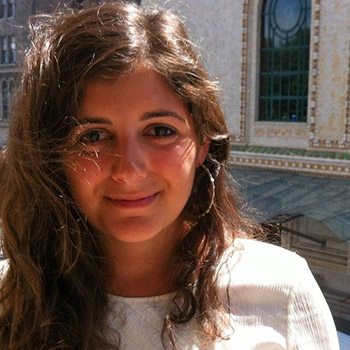 Lilah Raptopoulos
Studio 20 2014
Job: Community Manager at The Financial Times
Location: London, England
Hometown: Boston, MA
---
What I Do Now
I'm responsible for on-site reader participation at the FT, from managing the reader comments community and platform (as well as our small team of moderators) to introducing reader callouts to different desks in the newsroom, to leading major editorial projects that involve readers at their core.
Before Studio 20
I managed all media and communications for a financial startup for two years. Before that, I majored in New Media Studies and ran the student newspaper at Connecticut College.
During Studio 20, I worked directly with…
MIT Technology Review, The Guardian, WNYC, ProPublica
Final Project Partner
Guardian US
Problem I helped solve…
The big complex social systems that govern our lives are often opaque and hidden, until they fail. Through a series of interviews with the players in one of these systems, published on the Guardian, I tested ways journalists can make these systems more accessible and human to users.
Professional hops since graduating…
I worked with the Guardian on its British Award winning environmental campaign, Keep it in the Ground, then reported on the economic crisis in Greece for Quartz, Public Radio International, Buzzfeed News and Fusion. Currently I'm responsible for on-site community engagement for The Financial Times: helping the business and the newsroom find value in their users, and increasing the value of the FT community to users themselves. This includes improving the comment section and experimenting with other community engagement projects, like callouts, Q&As, open threads, etc.
Why Studio 20
Before Studio 20, I was fascinated by ways the digital revolution was going to make journalism better and more inclusive of all the voices we could now finally reach. Jay, Clay and Jason brought me into that conversation, encouraged and focused my ideas, gave me the technical toolbelt, and introduced me to a giant community of journalists at its forefront. Studio 20 pushed us to push back and think broader, and prepared us for meaningful careers as innovators, not cogs.