Come study journalism in the most exciting city in the world. Your city,

New York City

.
The Urban Journalism Workshop at New York University is designed to develop the next generation of great journalists. A diverse group of 20 high school juniors and seniors attending schools throughout the five boroughs of New York City or in nearby suburbs of the Tri-State metropolitan region (New York, New Jersey and Connecticut only) will come together to spend 10 days attending an intensive and rewarding journalism "boot-camp" held at the Arthur L. Carter Journalism Institute at New York University.
July 17 – 26, 2023
The online application portal for the 2023 NYU Urban Journalism Workshop is open. Please see below for application information.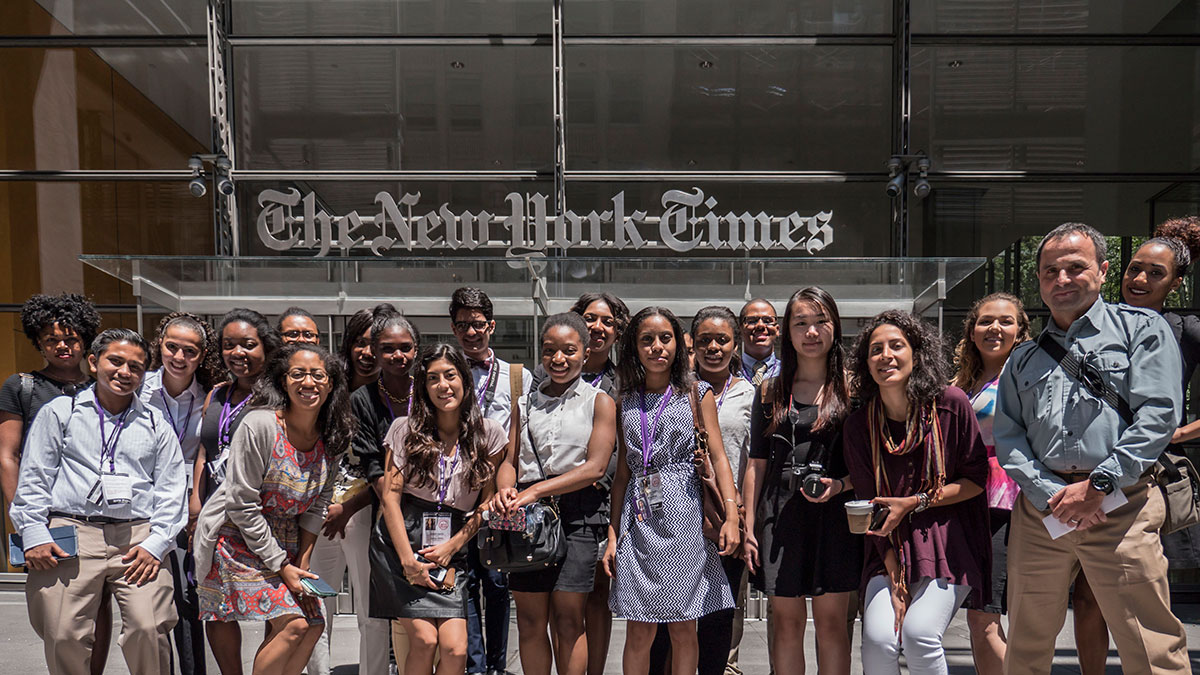 How do I apply?
Students must be at least 16 years of age and live in the New York City metropolitan area to be eligible.
The online application portal for the 2023 NYU Urban Journalism Workshop is live! Applicants can click on the link below to begin an application. The application is due June 1 2023. 
Applicants can begin an application here: https://connect.nyu.edu/register/?id=8751b2d7-66e8-48fa-9a8f-b991551ef41c
For admitted students, the program is free.
Become a Backpack Reporter
During the workshop students will receive hands-on instruction from NYU faculty and visiting professionals and get the opportunity to report and produce their own multimedia stories.
Below is a list of what to expect at the Urban Journalism Workshop:
Experience life away from home, living in the East Village in one of the NYU dorms.
Produce stories to be published on the program's website: The Spectrum.
Visit some of New York's most prestigious newsrooms, and meet with top journalists.
Gain valuable insight into the college admissions process from NYU admissions counselors.
Alumni of the program, now in its 40th year, work at major newspapers, magazines, online publications and in TV and radio.
COVID-19 Vaccination Requirement & Safety Measures
In response to the COVID-19 pandemic, NYU has in place ongoing public health measures and requirements to ensure the safety of all University community members. As enrolled students in a summer program, all Urban Journalism Workshop students coming to campus in person or participating in any in-person University-sponsored activities (whether on or off campus) must adhere to University guidelines and policies.
Below are highlights of these policies as of February 2023.  More information, including updates as the pandemic evolves, can be found on the NYU COVID-19 Information website.  Students will also receive COVID-19-related information via NYU email and at their program orientation.
---
Vaccination Requirement
All students are required to be fully vaccinated and boosted with an FDA-authorized or WHO-listed vaccine and must upload vaccination records to the NYU Student Health Center portal before the start of their program.  Students who are not compliant with the vaccination requirement will not have access to campus buildings, facilities, or NYU-sponsored activities (both on and off campus), and may be de-enrolled from their program or face other serious consequences.
Students participating in an online program who will not be on campus in person or participate in any in-person University-sponsored activities (such as internships, practicums, field placements, immersion experiences, field trips, and events) at any time during the summer do not need to submit proof of vaccination.
Students may request an exemption from the vaccination requirement for medical or religious reasons. Review of exemption requests takes approximately ten business days, so please submit your request with adequate time for review before the start of a program.
Other COVID-19 Protocols
As of February 2023, there are a few protocols in place for the health and safety of the community.  These include the Violet Go Pass to enter any campus building or University-sponsored activity, optional masking, and reporting positive cases and isolating at home if ill or testing positive for COVID-19.  Up-to-date information on University campus health protocols can be found on the NYU COVID-19 Information website.