Collaborations
GloJo encourages student and post-grad collaborations with both independent and GloJo-led media. Below are some projects currently underway and those of recent graduates (e.g. Team Migration 2015) produced on GloJo's watch.
Latin American News Dispatch | The Journal of Political Inquiry
The Transatlantic | Global Beat
Team Migration Crisis Europe
Civic Ideas | Tutawaza
---
Latin American News Dispatch

The Latin America News Dispatch is focused on the Americas. It was founded in 2010 by Roque Planas and Andrew O'Reilly, two enterprising GloJo-Latin American Studies M.A. candidates at the time. Since then, it has continued as a collaboration between students of the Arthur L. Carter Journalism Institute and the Center for Latin American and Caribbean Studies (CLACS). The Dispatch publishes news, analysis and feature writing by NYU students as well as contributors working throughout Latin America. In addition, every morning, the Dispatch staff publishes the newsletter Today in Latin America, a roundup collecting and analyzing the top stories of the region.
The current editorial team are Journalism-Latin American Studies 2016 MA candidates, Dusty Christensen, Nicole Fleischner, Alexandra Hall, Christopher Looft, Camila Osorio and Literary Reportage 2016's Cleuci di Oliveira.
Visit Latin American News Dispatch >
---
The Journal of Political Inquiry

The Journal of Political Inquiry is both an annual academic journal and a website run by Master's degree students of New York University and led by students pursuing joint GloJo-International Relations graduate degrees. Established in academic year 2007-2008, JPI is a student-run publication that seeks to cultivate inquiry into the most pressing issues of political, economic, and social life. The Journal provides a forum for M.A. students to contribute to the intellectual development of not only the department and the university, but also to bring student voices to broader domestic and international academic publishing communities.
Visit The Journal of Political Inquiry >
---
The Transatlantic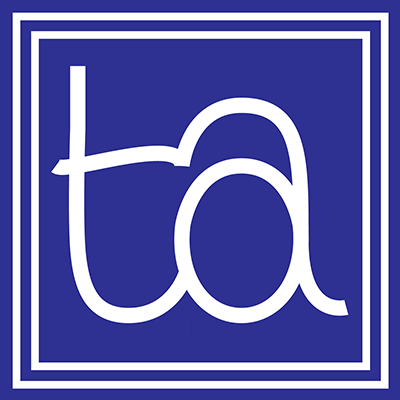 The New York Transatlantic is Europe's home away from home in New York City. We know, you thought that that was the European Delegation to the United Nations. But no, it's right here, where the NYTA team admires (and periodically chastises) its charming crush across the pond. Whether Europhile or Euroskeptic, each of us feels some strange fascination with that second most diminutive of continents, and its here where we quibble, ponder, fret over and generally wrestle with Europe.
Which Europe, you ask? An excellent question. What exactly counts as Europe seems to change almost as regularly as the weather. At The New York Transatlantic we take Europe at its most broad: not merely the European Union of 28, but the Europe of 47 that composes the Council of Europe. (Naturally we also include Belarus and Kosovo.) As our name suggests, we're also interested in the wider transatlantic world and the Mediterranean, and in everything from policy to art.
The NYTA editorial team came together under the the roof of NYU's Center for European and Mediterranean Studies, guided by students in the joint GloJo/EurMed graduate student unit. We wanted to create a hybrid blog/online magazine that would capture the variety and depth to "thinking Europe" that New York City supports, not least through the likes of CEMS, whose leaders were kind enough to sponsor this project with a small operating budget.
The dozens of talks, concerts, film screenings, festivals and conferences put on by New York City's various European organizations are our bread and butter here. We can't cover everything, but we're working to get a broad cross-section of "Europa in New York" as a foundation from which to launch original reporting projects. So if there's a topic or an event that you think we ought to cover, send us an email. We like mail.
---
Global Beat
GlobalBeat is NYU Journalism's international field reporting class in which every spring, students and professor Jason Maloney travel to a global destination to jointly-report a series of assignments for global publications. GlobalBeat has had a long partnership with PBS NewsHour and PBS NewsHour Weekend. The class has always relied on the participation of GloJo students who regularly join GlobalBeat to pitch, develop, report, write and edit work as part of a for-credit class at NYU.
The 2018 trip was to Northern Ireland. GloJo students produced their own reportage in addition to the main anniversary piece for PBS News Hour. The separate work included a dispatch on dueling rallies in the run up to Ireland's abortion referendum for Huffington Post and a team effort of 360/VR reports on the legacy of "The Troubles," also for PBS News Hour. More to come.
In 2017, the Global Beat group included GloJo students who reported from Cambodia on deforestation, drug-resistant malaria and deportation from the United States, also producing for PBS News Hour and other outlets.
In 2016, the reporting was in Ukraine. GloJo students Natasha Bluth (GloJo-Russian/Slavic Studies 2017), Daniel Hoffman (GloJo-European/Mediterraneant Studies 2017) and Dustin Christensen (GloJo-Latin American Studies 2016) all worked on this PBS News Hour special report, and Christensen produced this piece about Chernobyl for The Nation.
GlobalBeat's 2015 reporting was from Morocco. GloJo students Maggy Donaldson (GloJo-French Studies 2015) and Thalia Beaty (GloJo-Near Eastern Studies 2015) joined the class in preparing research on topics ranging from religion, renewable energy, child welfare and migration for the PBS News Hour. With Kristopher Brant of News & Documentary, they produced "More – Not Less – Religion Needed to Fight Extremism." They also produced this report for Mashable: "Carrying the World on their Back: The Human Mules of Morocco" and this report for PRI: "Along Morocco's Border with a Spanish Enclave."
In 2014, the class traveled to Senegal to look at the abusive system of forced child begging practiced across the country at some Koranic boarding schools. They profiled the efforts of government and, importantly, Islamic leaders who are trying to reform the system that sees boys, some as young as 6, in dangerous conditions for hours every day. A second report, produced solely by students, looked at Senegal's progress in gender parity in politics. Senegal exceeds the United States and many European nations in its proportion of women in office, due in part to a landmark gender parity law. GlobalBeat sought to track this movement, and spoke to Senegalese Prime Minister Aminata Touré about her own political career. Glojo student reporters included Mel Bailey (GloJo-French Studies 2014, now Africa54 digital for VOA), Makini Brice (GloJo-French Studies 2015, currently Reuters Dakar) and Kavitha Surana (GloJo-European/Mediterranean Studies 2015).
learn more about global beat >
---
Team Migration Crisis Europe
Walls or Bridges? The Migration Dilemma of Borderless Europe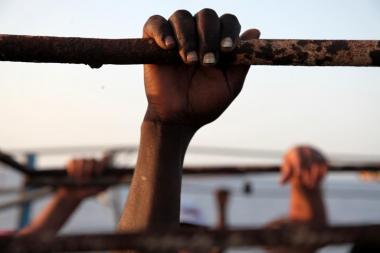 Migrants on a boat headed toward the Sicilian coast, hanging on to a dream.
Francesco Malavolta/The GroundTruth Project / GlobalPost
This project offers a comprehensive look at "Europe's Migration Crisis," which has emerged as a major political enigma of our time.
The number of people arriving on Europe's shores soared to unprecedented heights this year, propelling immigration to the top of Europe's political agenda. As far-right parties push anti-immigrant nationalist platforms across the continent, the European Union is struggling to reconcile the needs of those fleeing war, poverty and authoritarian regimes in the Middle East and Africa with the anxiety of citizens who see these newcomers as a financial burden and a threat to their cultural traditions.
For all of the promise of the EU as a union, each of its member states has developed distinct national migration policies, creating a tangled mess of disparate approaches that often leave migrants without access to basic services and human rights.
This packages of stories sheds light on the toughest issues of a borderless Europe, including a buckling asylum system and increased policing efforts. It also illuminates the nuances of integration and conflict that are molding Europe's new fluid identity.
The project kicked off in June 2014 looking at migration to Italy, an early flashpoint of the crisis:
Migrant Crisis Overwhelms Italy's Churches
Kavitha Surana // Associated Press
Italy's Renzi: Immigration Crisis Tests EU Unity
Kavitha Surana // Associated Press
It continued with the publication in December 2014 of an exhaustive series for the GroundTruth project featured on GlobalPost that identified some salient themes of the migration crisis as top areas of concern:
Smuggler gangs in the Mediterranean are big deadly business
Kavitha Surana and Maggy Donaldson // GroundTruth
Europe's refugee asylum systems buckling under pressure
Kavitha Surana and Maggy Donaldson // GroundTruth
For child migrants in France, growing up could mean losing it all
Makini Brice // GroundTruth
In Greece, young migrants fight to be considered Greek
Lynn Edmonds // GroundTruth
Europe takes a harder line on migrants
Maggy Donaldson and Kavitha Surana // GroundTruth
In spring and summer 2015 published work examined the push and pull factors driving migrants:
EU plan to target smugglers in Libya too little, too late
Maggy Donaldson and Kavitha Surana // Al Jazeera America
Morocco sets unlikely precedent in hosting sub-Saharan migrants
Maggy Donaldson and Thalia Beaty // Al Jazeera America
Maggy Donaldson and Thalia Beaty // Deutsche Welle Radio
Senegalese risk lives in migrant exodus despite stability at home
Makini Brice // Reuters
Reporting continued throughout summer 2015 as the influx of migrants reached unprecedented heights:
Data show how manageable Europe's refugee crisis could be
Kavitha Surana // Quartz
Paris turning schools, hotels into housing for migrants
Maggy Donaldson // Associated Press
Britain and France crack down on economic migrants
Maggy Donaldson // Associated Press
Crisis Fuels Migration Crisis in Africa
Makini Brice // Reuters
Reporters involved in this ongoing enterprise are Thalia Beaty, Makini Brice, Maggy Donaldson, Lynn Edmonds and Kavitha Surana, all 2015 graduates of our GloJo joint programs in Near Eastern Studies, French Studies, Africana Studies and European-Mediterranean Studies, respectively
"The correspondents who came to us through NYU did outstanding work in the field at one of the most dramatic years for migration into Europe from Africa. The stories of these immigrants were riveting and the images were powerful. A very important story to tell."
– Charles Sennott, GroundTruth Founder and Executive Director
---
Civic Ideas

Civic Ideas reports on efforts to solve important but seemingly insoluble public problems in the United States and around the world. Its articles examine initiatives on a wide range of issues, such as fighting impunity and corruption, advancing gender equality, developing secure and humane migration policies, making foreign aid more effective, reforming elections, and countering climate change.
Professor Barbara Borst runs Civic Ideas, which has published reporting and photography from many NYU journalism students and recent graduates, including Katie Schlechter, Clare Church, Thalia Beaty and Kavitha Surana.
---
Tutawaza

The Swahili word "tutawaza" means "we will think, reflect, imagine." The Tutawaza website publishes commentary, analysis and reporting on problem-solving efforts around the world.
Contributors include NYU journalism students and recent graduates Esmé Montgomery, Prianka Srinivasan, Kate Drew, Thalia Beaty and Maggy Donaldson. Professor Barbara Borst runs the website.