How to Apply
Applications are available from the GSAS application resource center starting in late September.
Note: All application materials (including test score reports) should be sent directly to GSAS, not to the Carter Journalism Institute. Please visit the application resource center (linked below) for further instructions.
Applications are accepted on a rolling basis, or until the program has filled. Contact graduate.journalism@nyu.edu to check if there are still spots open in this program.
Required Materials
Podcasting and Audio Reportage requires applicants to submit a statement of purpose that will be used to help us understand your suitability for participation in a demanding course of study that requires both individual initiative and collaboration. The statement of purpose should detail your goals and vision for your academic and professional development.  As audio storytellers and reporters, we are interested in voices, and as this is your first opportunity to let us hear yours.

You will have opportunities to upload links to audio work or writing examples. Use the sections under video or writing samples to share these links. Past journalism experience is relevant, as is writing or audio production work. Experience can be understood expansively, so, for example, if you have been a private investigator, social worker, therapist, or labor organizer, connect the dots for us in how the skills of journalism have come into play in your professional life. Similarly, if you have past audio production experience, whether directly in audio journalism or in a related area (music or video production, professionally or as a hobby,) we encourage you to share the details and provide evidence with links, if possible. 
We expect all applicants to have a keen interest in journalism and improving it, a strong command of written English, a devotion to high standards in reportage and verification. 
Feel free to include any other information about you that would help the Podcasting and Audio Reportage admissions committee understand what you bring to the mix and what you hope to get from your graduate training.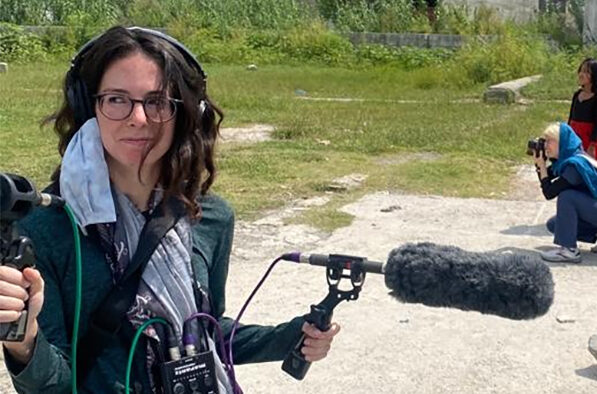 Note to International Applicants:
You must receive your undergraduate degree (U.S. baccalaureate or equivalent) from an institution of recognized standing before enrollment in the Graduate School. Students from India, Pakistan, Sri Lanka, Myanmar and Bangladesh must show completion of both the baccalaureate and master's examinations prior to registration in the Graduate School. The examinations for the Bachelor of Engineering and the Bachelor of Technology meet the application requirements for the Graduate School.