Jina Moore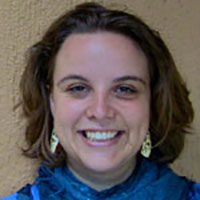 2011 Winner
Jina Moore is a freelance multimedia journalist and a correspondent for the Christian Science Monitor.  She specializes in covering human rights, foreign affairs and Africa, where she has reported from ten different countries. Her work has appeared in The Columbia Journalism Review, Newsweek, Foreign Policy, The Boston Globe, and The Walrus, among others, and on National Public Radio's World Vision Report. Her narrative "Reading the Wounds," about doctors who treat torture survivors, was anthologized in Best American Science Writing (2009). She has written extensively on post-conflict communities' reconstruction and reconciliation, United Nations peace operations across Africa, and African Great Lakes political and social issues. She has also covered such unusual subjects as food in Sierra Leone, notions of beauty in Rwanda, cattle rustling in the Democratic Republic of Congo, camel insurance in Kenya, and whitewater swimmers in Uganda.
Moore is a summa cum laude graduate of Boston University, where she studied literature with Elie Wiesel, Saul Bellow and James Wood and narrative journalism with Mark Kramer.  She also holds master's degrees from the School of International and Public Affairs and the Graduate School of Journalism, both at Columbia University, where she studied as a Jack Kent Cooke Graduate Scholar. Prior to working full-time as a journalist, she helped run the Nieman Conference on Narrative Journalism at Harvard University. She is a four-time American Society of Journalists and Authors award winner, a recent Fulbright Fellow in Journalism, a two-time grantee of the Pulitzer Center on Crisis Reporting and a United States Truman Scholar. In 2007, she was named a Global Young Leader on Genocide Prevention, as an Echenberg Fellow of McGill University's Center for Human Rights and Legal Pluralism.
Moore will spend her time as a Reporting Award affiliate investigating so-called "vulture funds," distressed-debt investors who purchase the delinquent debt of foreign countries. Usually vulture funds must sue to recover any assets from their new debtors, many of them among the world's poorest – and, in some cases, most corrupt – countries. Some argue that the process encourages transparency and accountability in countries with very little of either. Others say that payment of these debts to vulture funds can incapacitate countries whose economic progress is specifically encouraged by various global initiatives—including, paradoxically, debt relief granted by other creditors. Moore will look at all sides of the issue, including the effect of these funds on the countries whose debt they purchase. She'll travel to Zambia and the Republic of Congo in the course of her reporting.
---
Reporting Award Articles