Mansi Choksi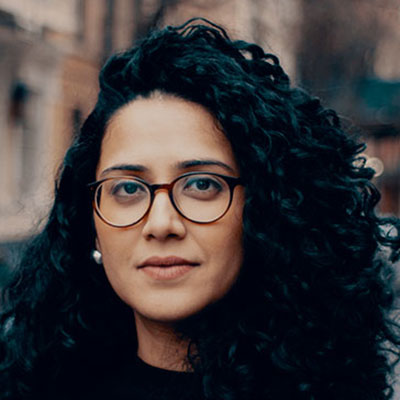 2018 Winner
Mansi Choksi is a freelance writer based in Dubai, United Arab Emirates and Mumbai, India. She writes about crime, gender, identity, opportunity and pop-culture.
Her writing has appeared in print and online at Harper's, The New York Times, The New Yorker, National Geographic, Slate and The Atlantic. Her story, "The Newlyweds," about love and crime in India, was a 2018 finalist for the Livingston Award in International Reporting. "Champ of the Labor Camp," a story about a singing competition in Dubai's labor camps, was a 2016 finalist for the South Asian Journalists Association's Outstanding Arts and Culture Reporting Award. In 2014, she won the same prize for "Toppling a Delicate World," a story about sexuality and culture.
In 2016, she was named an inaugural fellow of the International Women's Media Foundation's Reporting Grant for Women's Stories to write about women in post-conflict Sri Lanka. She previously received two African Great Lakes Fellowships from the same organization to explore counter-narratives in Uganda, and completed two courses in hostile environment training and first-aid.
In 2013, she graduated with honors from Columbia University's Graduate School of Journalism in New York, which she attended as a Fulbright-Nehru Master's Scholar. At college, she was also named a Delacorte Fellow, an Ed Gold Scholar and winner of the Lars-Erik Nelson Prize for national affairs reporting.
She grew up in Mumbai, India, and previously worked as a correspondent for the Times of India.
Mansi will spend her time as a recipient of the Award reporting on the rise of Hindu nationalism in India.