Top Ten / 100 Works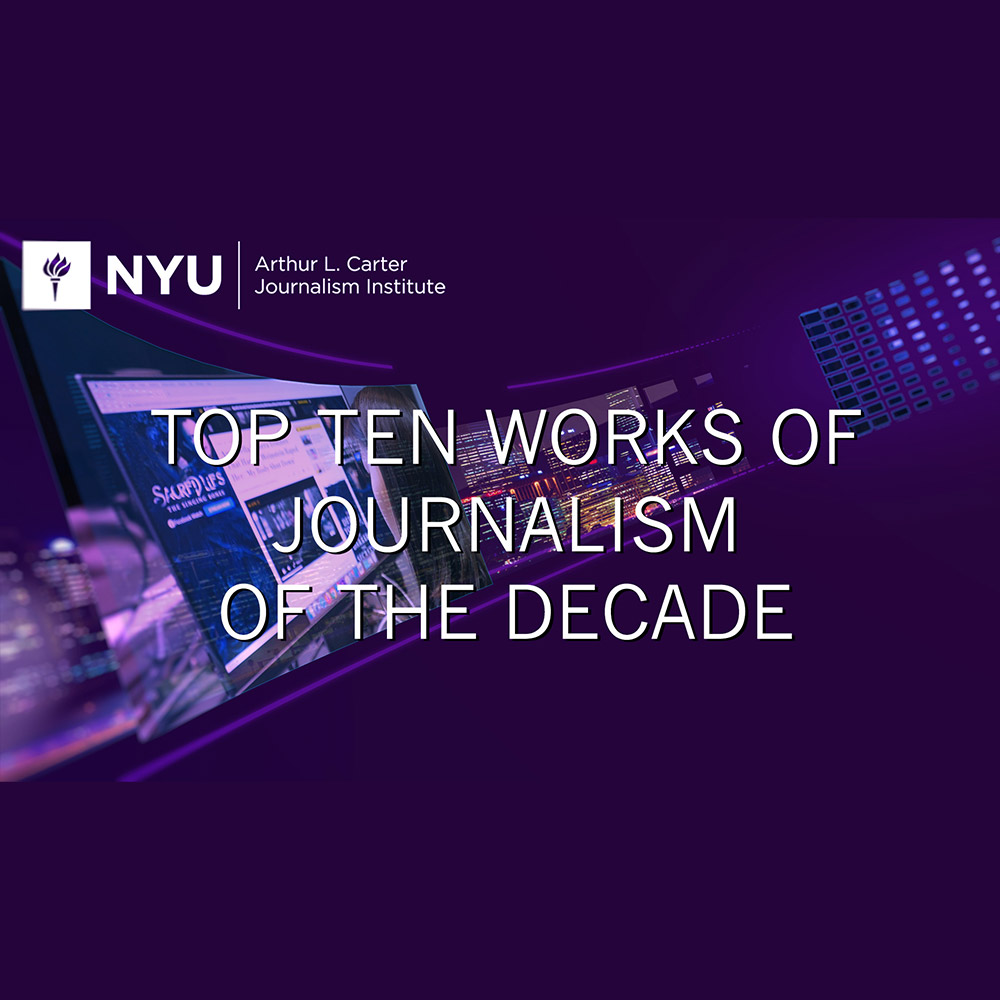 The Top Ten / 100 Works series is a collection of journalism honorees dating back to 1999, organized by Professor Mitchell Stephens. These lists celebrate high achievement in the field of Journalism. As Professor Stephens explains here, "These lists are intended to begin, not end, a conversation on what makes for outstanding journalism."
Top Ten Works of Journalism of the Decade, 2010-2019
From the Article: The faculty of New York University's Arthur L. Carter Journalism Institute, together with a group of distinguished outside judges, selected the 'Top Ten Works of Journalism of the Decade in the United States.' The honorees were selected from a list of 122 nominations. All forms of journalism in all media were eligible for consideration. The 'Top Ten' for the past decade were announced in an event on October 14, 2020. [Professor Mitchell Stephens]
The 100 Outstanding Journalists in the United States in the Last 100 Years
From the Article: In March 2012, the faculty at the Arthur L. Carter Journalism Institute at New York University, together with an honorary committee of alumni, selected "The 100 Outstanding Journalists in the United States in the Last 100 Years." The list was selected from more than 300 nominees plus write-ins and was announced at a reception in honor of the 100th anniversary of journalism education at NYU on April 3, 2012. [Professor Mitchell Stephens]
---
Top Ten Works of Journalism of the Decade, 2000-2009
From The Article: The faculty of New York University's Arthur L. Carter Journalism Institute, together with a group of distinguished outside judges, has selected "The Top Ten Works of Journalism of the Decade in the United States." We began with a list of eighty nominees. Our purpose was to call attention to and honor work of exceptional importance and quality – journalism that brilliantly met the challenges of this difficult decade.
The eighty works of journalism listed here were nominated by the faculty at New York University's Arthur L. Carter Journalism Institute (with some student suggestions) and by our outside judges, listed below.
Judges: Madeleine Blais (University of Massachusetts), Dorothy Rabinowitz (Wall Street Journal), Morley Safer (60 Minutes), Gene Roberts (University of Maryland), Ben Yagoda (University of Delaware), Eric Newton (Knight Foundation), Leon Dash (University of Illinois), Juan Williams (NPR), Sylvia Nasar (Columbia) and Greil Marcus (cultural critic).
---
The Top 100 Works of Journalism of the [20th] Century
This list was announced in 1999 by faculty at NYU Journalism along with an additional panel of distinguished judges, listed below.
As Selected By: Madeleine Blais, Alan Brinkley, David Brinkley, Lydia Chavez, Karen Durbin, Clay Felker, Jeff Greenfield, Pete Hamill, Mary McGrory, Nancy Maynard, Eric Newton, Dorothy Rabinowitz, Gene Roberts, Morley Safer, David Shaw, George Will and Ben Yagoda;
New York University Journalism Faculty Judges: David Dent, Todd Gitlin, Lamar Graham, Brooke Kroeger, Susie Linfield, Michael Ludlum, Robert Manoff, Anne Matthews, Pamela Newkirk, Michael Norman, Richard Petrow, Mary Quigley, Marcia Rock, Jay Rosen, Stephen Solomon, Mitchell Stephens, Carol Sternhell, Jane Stone and Ellen Willis. Project director: Mitchell Stephens.